Inside: the best scrapbooking tips that will make your pages look amazing!
When I started scrapbooking all those years ago I started it because I wanted to remember the stories behind the photos. It wasn't about beauty or design at first, just about the memory. But slowly, being the artistic person that I am, I wanted my pages to look good and tell the story in amore impressive way. It's like a show with a nice set, beautiful costumes and fancy lighting compared to a show that is poorly produced and has no set, costumes or lighting to speak of. They both tell the story, but which is more interesting, more compelling and more enjoyable?
SCRAPBOOKING TIPS TO UPGRADE YOUR PAGES
Making beautiful scrapbook pages that tell the story behind the photos in an interesting, original and engaging way is much easier than you think! By following a few simple tips you can upgrade your layouts and give them a wow factor!
SCRAPBOOKING TIPS TO MAKE YOUR PAGES LOOK BETTER
USE TWO COLORS OF PHOTOS
Pair a black-and-white photo with a color photo on a layout. Put the color photo under the black and white photo because color photos have more visual weight. That means that the colored photo will act as a frame or a mat for the black and white photo. Doing the reverse would not work because the black and white photo in the back will simply disappear into the background.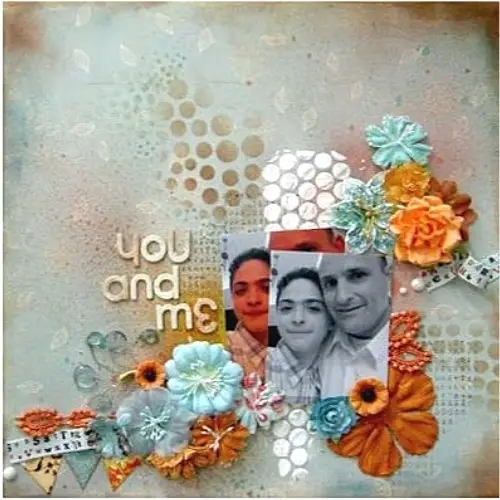 CHANGE PAGE SIZE
If you're pressed for time and don't have time to create 12x12 layouts switch to smaller page size. You can work on different size of srapbook at the same time. When you have more time make large 12x12 pages but when your short on time make 8x8 or even 6x6 pages that can be great for a specific event, holiday or occasion. When working on a smaller page composition is easier and adding elements and text is faster because eveything needs less space.
Check out these different scrapbook album sizes:
12x12                                 8x8                       6x6                     8.5x11
LOOK FOR THE DESIGN IN THE PHOTOS
Look to your photos for elements of design, such as lines or shapes that you can repeat on your layout. Repetition of lines or shapes will help the eye move across the page. You can also draw the colors of the page from the photo and match them to your design.
QUICK PAGE ACCENTS
For fast page accents, simply cut out designs from patterned papers like flowers, images or other shapes. Adhere these cut accents to your page using foam tape to give them extra dimension and you're done! This will not only save you time but it'll also save you money on store bought embellishments. Here's a great guide on how to fussy cut images from pattern papers to add to your scrapbook page.
CUSTOMIZE BACKGROUND PAPERS
Customize your patterned paper by layering a piece of vellum or printed transparency over it. It will add another dimension and layering to the background making it more unique and interesting to look at.
ADD HIDDEN JOURNALING
Make your page interesting by adding hidden journaling that is not visible immediately. Journal on a tag or a piece of cardstock and tuck it neatly behind a photo or inside a pocket. This is a great way to maximize the space on your page and add ineterst by making the viewer engaged and interact with the page. Here's where you can write more heartfelt words without others looking at it too.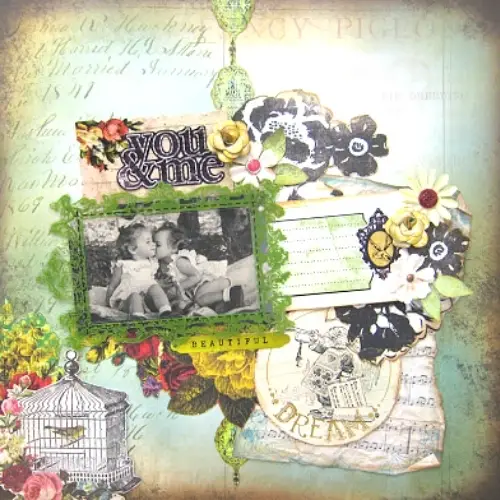 USE INTERESTING FONTS
Be bold with your titles and text:
Mix different types of fonts like capital letters and script.
Use different materials of letter stickers such as felt, chipbaord, paper or glitter.
Play with the size of the letters by assembling titles with large and small fonts.
Build letters from other materials.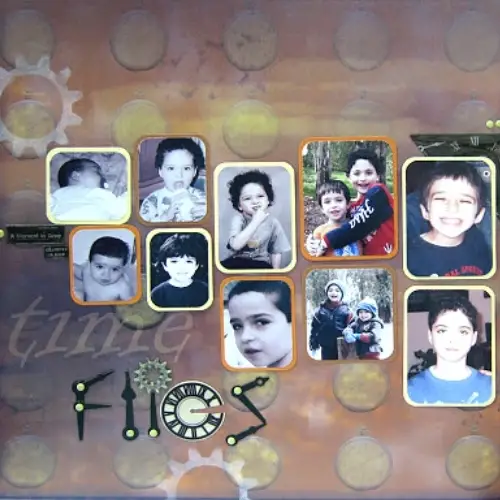 ADD NON TRADITIONAL ITEMS
Add non traditional items to your scrapbook pages to add more interest and make them more surprising. You can use staples to fasten journaling blocks or other accents, attach elements with masking tape, add metal embellishments such as clock parts or cogwheels.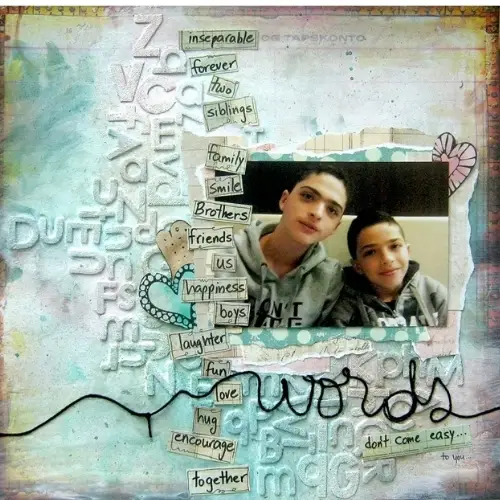 MAKE THE PAGE MOVE
Add movement to the page by tilting your photos slightly, arranging the title in a wave or even adding an interactive element like a flap or a pocket. Check out the basics of interactive design here!
SAVE TIME ON MATTING
Save time by matting a few photos on the same piece of cardstock to create a "filmstrip" effect. Just place and space the photos evenly and cut the paper around them.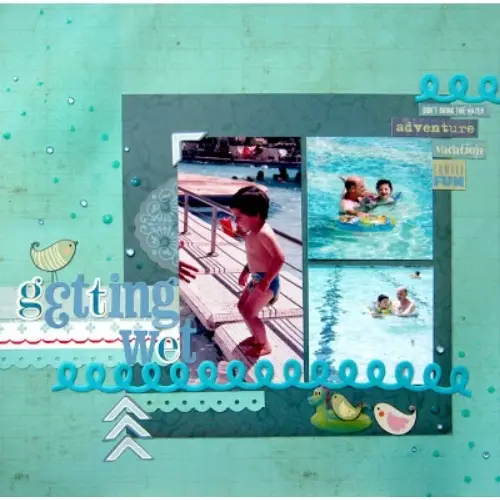 ADD DIMENSION
To create a 3-D look to your embellishments, adhere the embellishments to your layouts using foam tape or a piece of chipboard. Adding a dimensional look to different items on the page will make it more interesting and give it more depth.
MAKE INTERESTING TITLES
Racking your brains for more creative titles? How about looking to movie titles to create your next page theme? "My Best Friend's Wedding", "A Cinderella Story", "Chocolate Girls" and tons of interesting ones around.
USE MULTIPLE PHOTOS
Do you have many photos from the same event? You can use all of them in these creative ways:
Crop these photos and line them up to form a page border for your scrapbook layout.
Make a small booklet with the photos and attach to the page.
Develope the photos in a smaller size and arrange in a grid on the layout.
Attach your photos to tags and slot them into pockets added on your layout.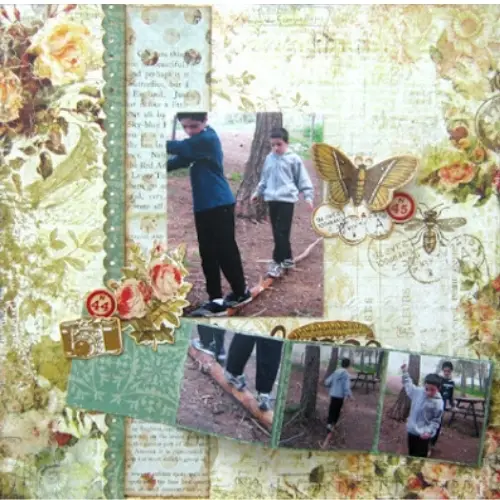 Do you need some more scrapbooking tips and page inspirtion and layout ideas? Check out the 45 Scrapbook Page Idea eBook
In the book you'll get more than 40 page ideas complete with detailed sketches, step by step instructions and colored photo for each page. The ebook is full of useful tips and tricks that will help you make amazing layouts to tell your photos' stories and memories!
Sharing is caring - PIN IT!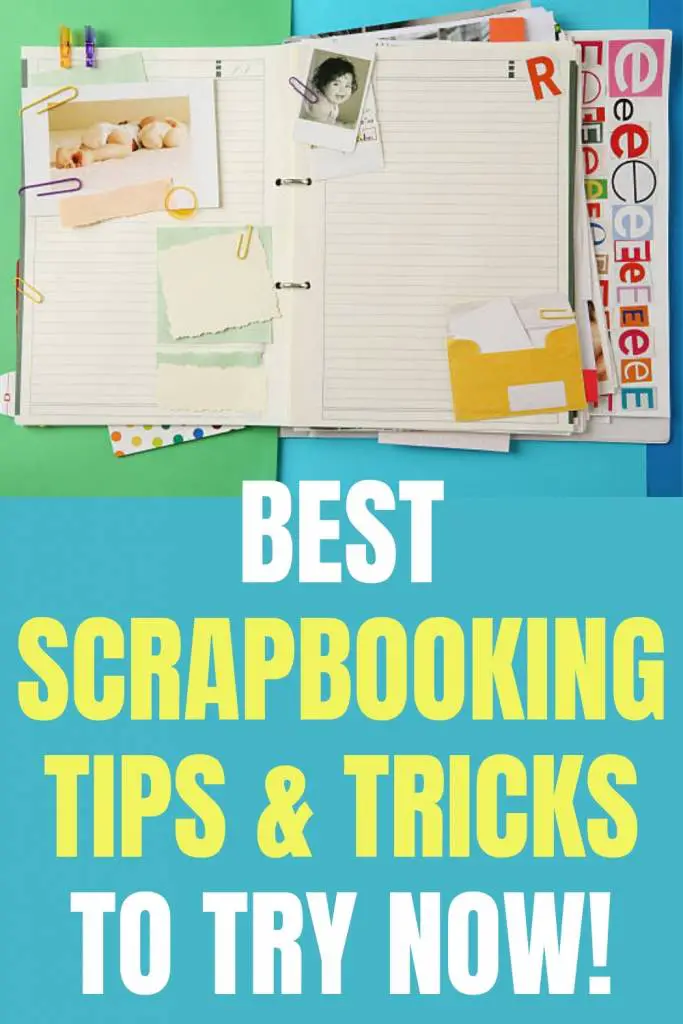 Have fun creating!