inside: why foam stamps are the best for your mixed media projects
For years I've been looking for stamps to include in my mixed media projects but all the stamps that I found only worked with ink. I wanted to stamp images on the background and as focal points on my art journal pages and canvases with acrylic paints and not ink. However the types of stamps available on the market didn't work with acrylic paints. But then I found foam stamps and my life changed!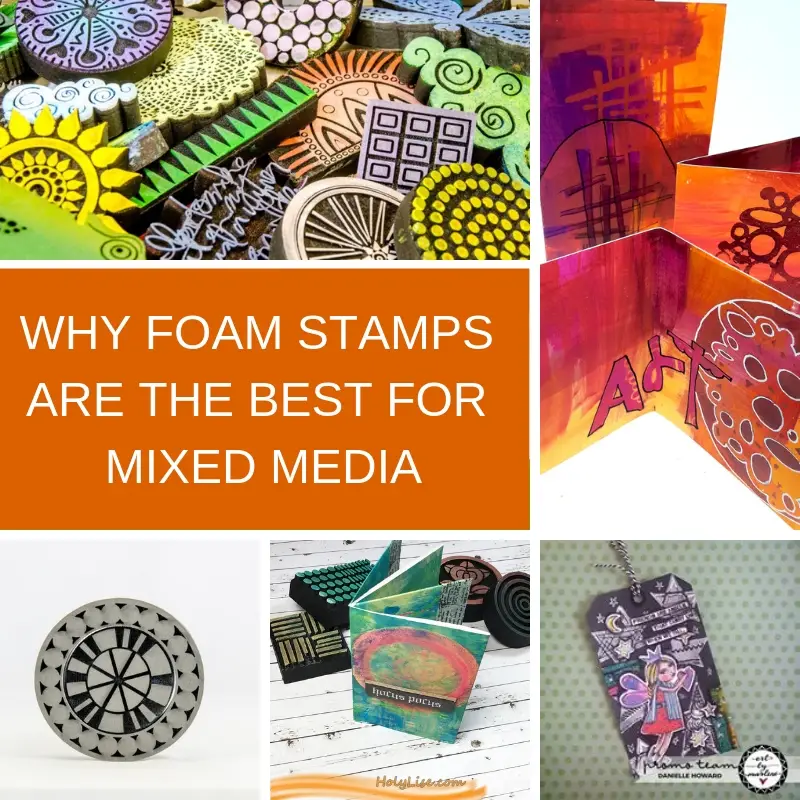 WHAT ARE FOAM STAMPS
Foam stamps are an interesting alternative to traditional rubber stamps. As the name suggests they are formed from foam and not from rubber or acrylic. They are durable, bold foam stamps designed for use on many surfaces. They can be used with acrylic paints, inks and glazes. You may know foam stamps from kids crafts but today these stamps have evolved into much more versatile and accurate stamping tool for many types of projects especially mixed media.
SURFACES YOU CAN STAMP ON USING FOAM STAMPS
Due to the fact that foam stamps hold paints much better than traditional stamps this opens up an entire range of surfaces you can stamp on other than paper.
FABRIC
Natural fibers like cotton, smooth linen, or dye-ready silk are best.
Here's the process:
You need to wash the fabric before you stamp on it without using any fabric softener.
For best results iron the fabric before stamping.
Stamp on the fabric with fabric paint.
You can make aprons, pillows, clothes, shoes, towels etc.
WALLS AND FLOOR
Smooth walls and floors are perfect for stamping with foam stamps. Use a durable paint from the DIY store and create decorations and patterns on any wall or on the floor. Cover the stamped area with a protective layer of transparent lacquer.
WOOD AND FURNITURE
Recycle or decorate old furniture with foam stamps or create a home decor piece. Make sure to smooth the wood before stamping and cleaning it from dust. Use acrylic paint or wood paint and cover with lacquer after it's completely dry.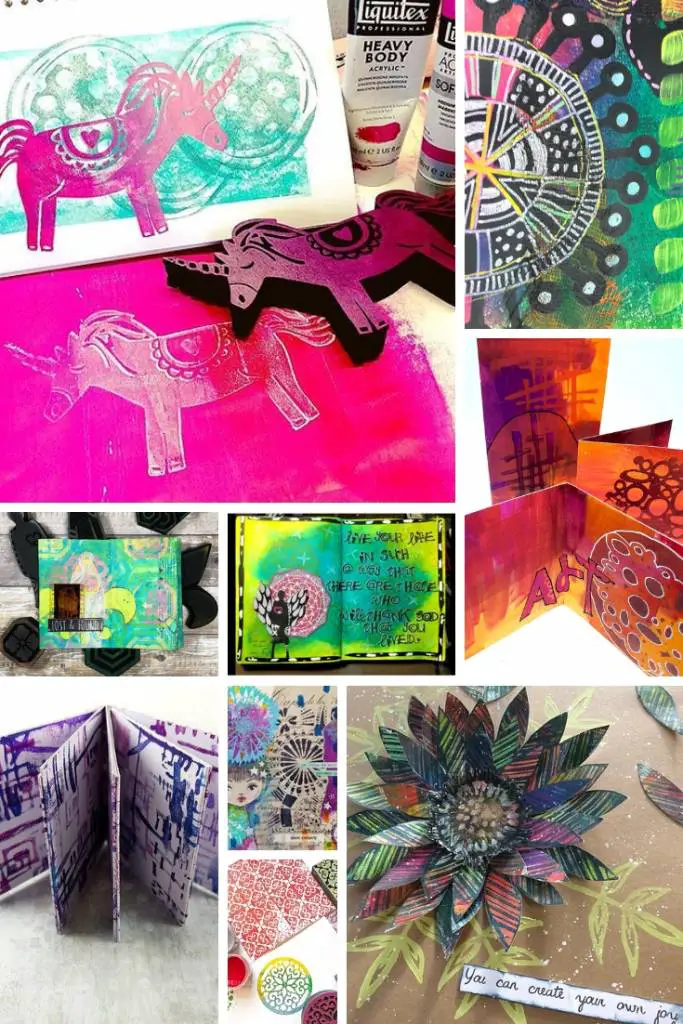 CLAY AND POTTERY
You can stamp glazed or un-glazed clay and pottery creating dishes, jewelry and even decorative pieces. If you need to burn the clay make sure to use the right paint for that purpose.
OTHER SURFACES
You can stamp many other surfaces like:
Paper and chipboard
Cork
Chalckboard
Glass
Metal
Plastic
Basically you can stamp on almost any surface provided you use the right paint!
PAINTS AND PIGMENTS
The recommended paints to use with foam stamps are:
Acrylic paints
Water-based or water-cleanup mediums like gesso, modeling paste and gel medium.
Pigments, and ink pads.
Non-alcohol, non-solvent spray mists.
Fabric paint
Glass paint
Watercolor
Oil-based paints and markers are not recommended because they can damage the foam surface.
If you want to explore other mediums with foam stamps check out the video tutorial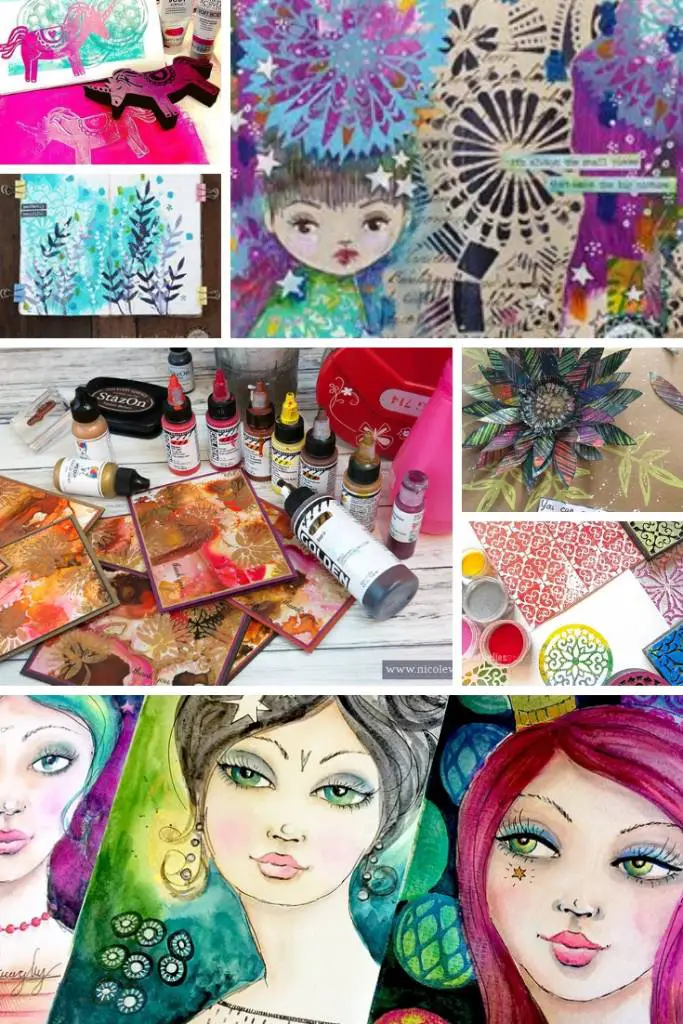 HOW TO USE FOAM STAMPS
PREP THE SURFACE
Surfaces like paper don't need any prepping. However you need a little prepping for other surfaces:
Wood: sand and clean from dust.
Fabric: wash and iron for a smooth surface.
Plastic: clean.
Wall and floor: make sure the surface is smooth and clean.
Canvas: cover with gesso if it's not primed.
LOAD THE PAINT
You can load the paint on the stamp in a few different ways:
Use a brush to cover the surface of the stamp with a thin layer of paint.
Load the paint using a brayer.
Dip the stamp into a saucer of paint.
Use a StampBuddy pad: sized to fit the stamp, the StampBuddy ensures even distribution of paint to get clean, crisp prints. It is customizable, holding one or more paint colors at a time for unique multi-color effects.
STAMP THE SURFACE
Stamp the surface with your favorite foam stamp to create a background, focal point, embellishment or patterns.
Don't move the stamp to ensure images stay crisp.
Let the paint dry before continuing the project. Heat fabric paint as needed. Burn paint on clay in special oven.
SPECIAL EFFECTS TO CREATE WITH FOAM STAMPS
Here are a few ideas to take foam stamping to the next lever with a few special effects:
Load more than one color on the stamp to create interesting color affects and shades.
Use a sponge or a brush when loading the stamp with paint to add texture to the stamped image.
Paint fabric with a brush and use a clean foam stamp to lift color and create a negative pattern. (The lift technique works best if a lighter color or extender is painted first).
Create shadow effects by stamping several times without more ink or paint.
Stamp paper with gel medium and then paint the paper with acrylic paint to make a resist technique pattern.
Use foam stamps on your Gel printing plate to get amazing effects.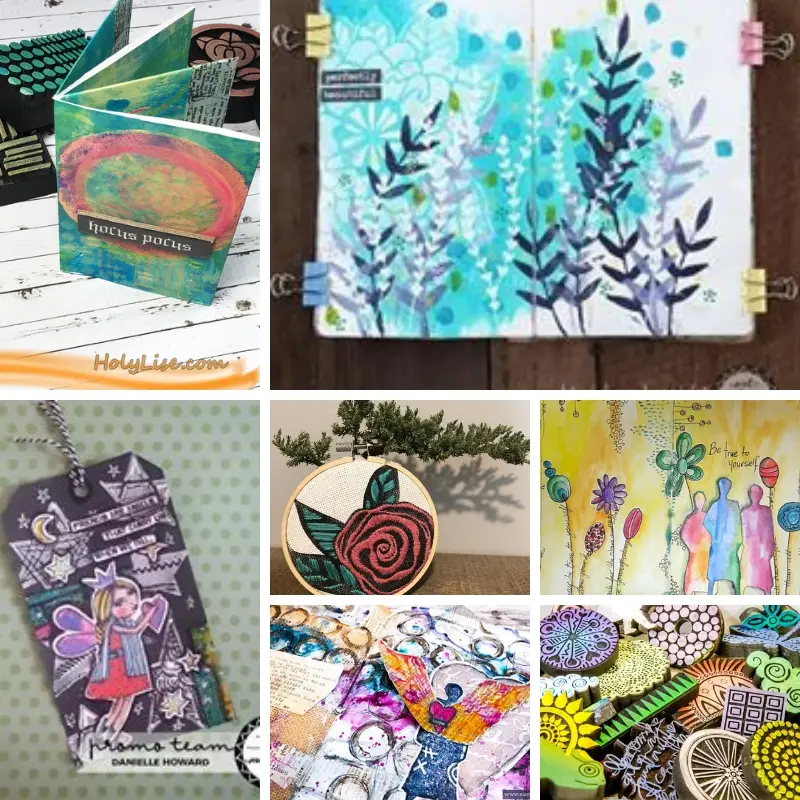 CARE AND STORAGE
Rinse foam stamps with running water immediately after use.
Gently and thoroughly clean the grooves in the stamps.
Do not let paints or inks dry on the stamps.
Dish soap can be used if necessary, but do NOT use chemical cleaners.
Stamps may stain, but the stains won't affect your art work.
Store the stamps flat in shallow trays or boxes. Make sure nothing presses into the stamps' surface when they are stored.
WHY USE FOAM STAMPS ON YOUR MIXED MEDIA PROJECT
If you're not convinced yet here's why I think foam stamps are the best for your next mixed media project:
Easy to use
Works on many surfaces
Can be used with acrylic paints, different mediums and specialty paints
Easy to clean and store
Great for bold images, backgrounds and patterns as well as intricate images and designs.
Allows special effects with different techniques
WHERE TO GET THEM
The best foam stamps are made by ArtFoamies! They make the stamps with a quality foam that can carry very delicate patterns.
Check out their amazing stamps!
SAVE it for later - PIN IT!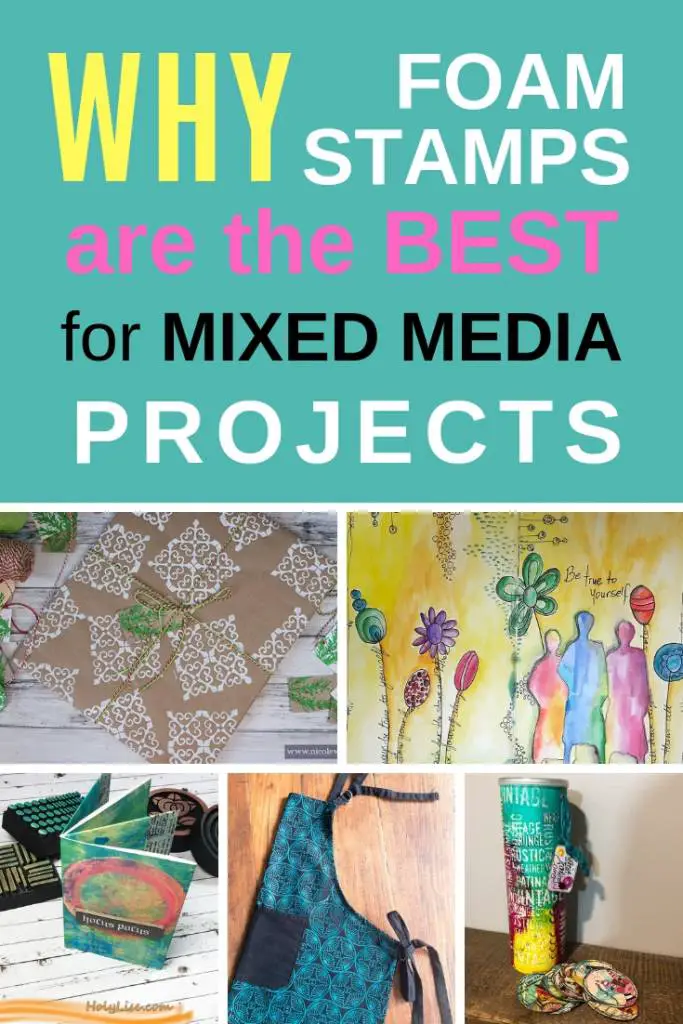 Have fun creating!