Inside: The best tips to working with stencils and getting amazing results
Stencils are one of the most common crafting tools, we use it in mixed media, art journaling, scrapbooking and card making. As a long time crafter you can be sure I've made every mistake possible using stencils and paint. So make sure to read through these tips I've figured out over the years before you use stencils in your next project.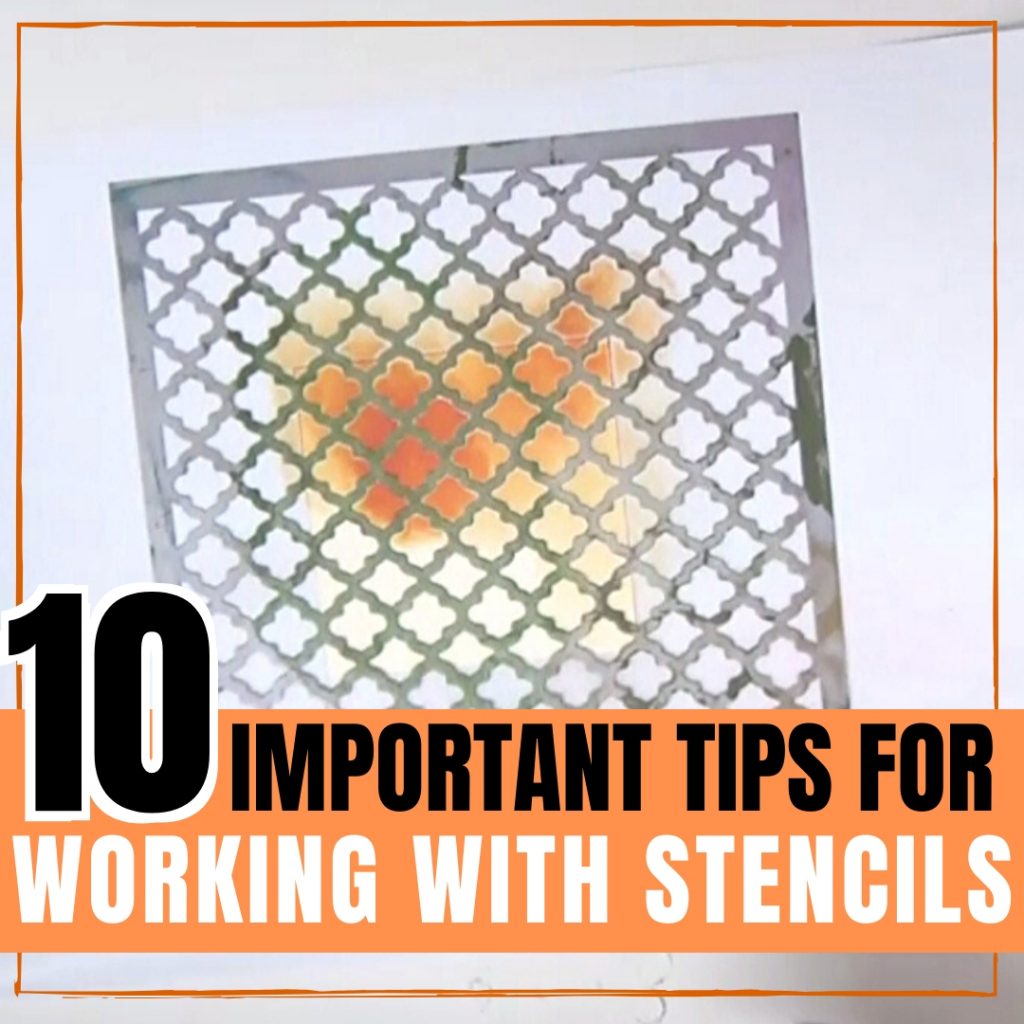 HOW TO USE STENCILS
Stencils are very versatile and can be used in many different ways. They allow you to create patterns and images on almost any surface. The end result depends on the material you use with the stencil. The most important thing to remember about this is that the drier the material you use the better the result!
TIP #1: HOW TO HOLD YOUR STENCIL IN PLACE
The best way to make sure your stencil doesn't move is to secure it with a low tack or removable adhesive. This will ensure that the surface you're working on will not be damaged by the adhesive. You can also use a stencil adhesive that is designed especially for this purpose. FolkArt® Stencil Adhesive will hold your stencil in place over and over, as it's reusable once applied to the stencil.
TIP #2: WORK ON FLAT SURFACE
Before you start working make sure the surface you're working on is flat and that the stencil is flat to avoid bleeding or areas that the pattern didn't come out right.
TIP #3: USE THE RIGHT BRUSH
Stenciling brushes are round with short, stiff bristles. Use them in a quick up-and-down movement to dab paint onto your stencil. This helps prevent paint from getting under the stencil's edges. A sponge or small roller works well too. A sponge is perfect for larger less detailed areas and brushes are best for more detailed patterns and small lines.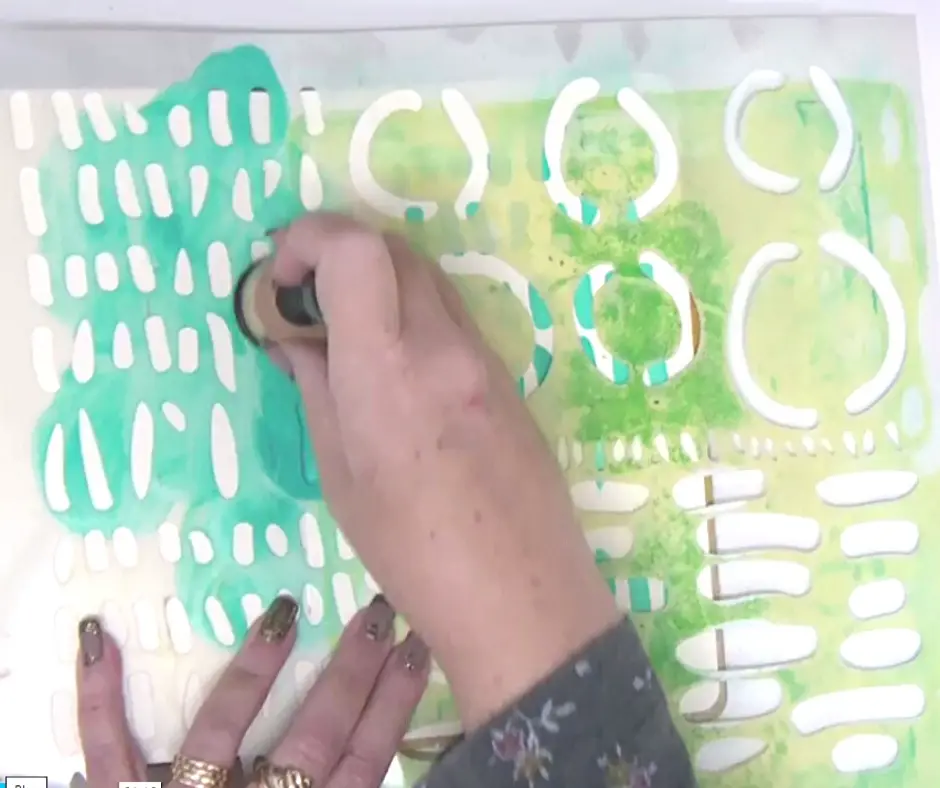 TIP #4: USE LITTLE PAINT
Always use a dry brush and don't overload a brush with paint, as it'll seep under the edges of the stencil. Load the brush lightly, so that the ends of the bristles are covered evenly; wipe off any excess on a piece of paper or cloth. You'll get better results by applying two thin coats rather than one thick one. Wait for the first to dry before applying the second.
TIP #5: PREVENT STENCILS FROM BLEEDING
Apply clear Mod Podge over top of the stencil before you paint. The Mod Podge seals the edge of the stencil, creating a crisp line when the stencil is removed after you paint it with a different color on top. Dab Mod Podge onto the edges of the stencil with a stiff brush or your finger. Allow to dry. Then apply your favorite paint through the stencil. Peel away the stencil to reveal a crisp, clean edge to the stenciled design.
TIP #6: START STENCILING FROM THE EDGE
Instead of working from the center toward the edges start working from the outside of the stencil. This will prevent bleeding and you accidentally bump against the edge of the stencil.
TIP #7: GET THE PERFECT LOOK WITH STENCILS
When you are using stencils to make 'hand-painted' signs or titles, there may be some times you don't want it to look like you used a stencil. Stencils have little connector lines that are a dead giveaway that you used a stencil. Sometimes these lines are so perfectly placed, it adds to the beauty of the finished product But sometimes you don't want these lines to show. Use toothpicks with a little paint to complete the lines of the letters.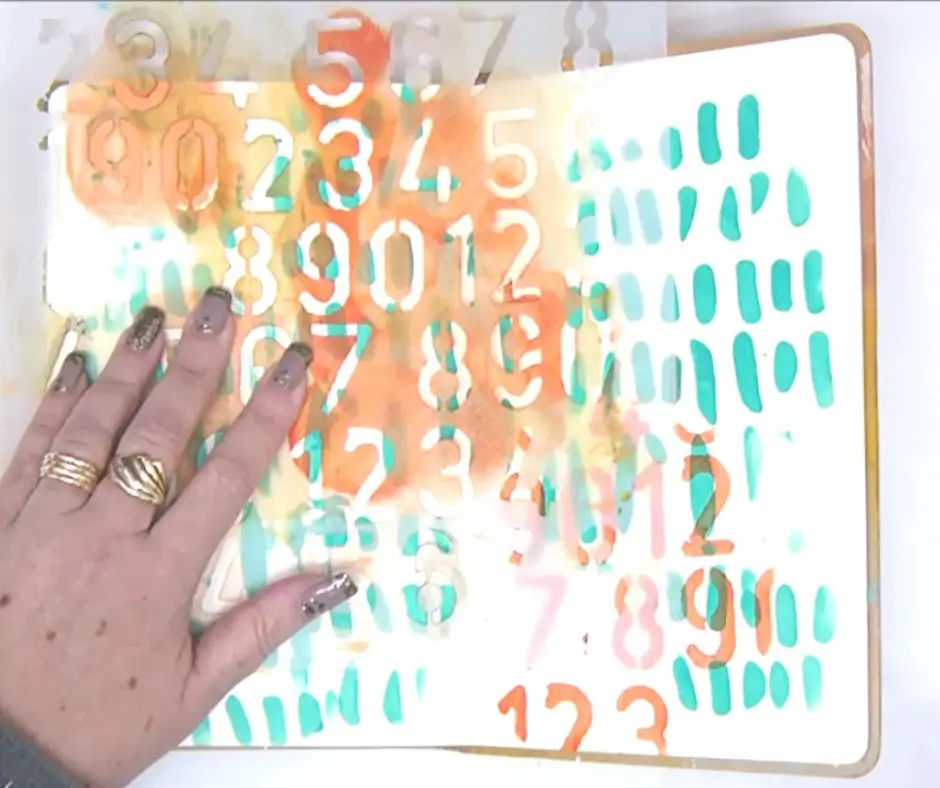 TIP #8: USE THE RIGHT PAINT WITH THE STENCIL
Certain surfaces need the use of specific paints:
Wood (interior use) - acrylic paints, enamels
Wood (exterior use) - acrylic paints for outside use (or you can use a regular acrylic paint, then spray a finish on top, to protect from weathering)
Fabric - acrylic paints, enamels, fabric paints
Interior walls (example: bedroom wall) - acrylic paints
Glass/tile - enamels
Paper - acrylics paints, sprays, ink
Plastic - enamels
TIP #9: CLEAN YOUR STENCIL
Clean your stencils with soap and water or a wet wipe after using them. It's very important to prevent dry paint accumulating in the corners of the stencil because that will damage the stencil and prevent you from getting a perfect crisp pattern.
TIP #10: HOW TO STORE STENCILS
To prevent stencils from bending it's important to store them flat or against a hard surface.
HOW TO FLATTEN A CURVED STENCIL
If the stencil is bent or has a curled corner there are a few things you can do:
Lay the stencil under some books or even under a rug (leave it overnight).
If there's just a small area/letter curled, you try gently curling it in the opposite direction with your fingers.
Lay your stencil flat on the table and put paper on top (tissue paper, newspaper, etc.), then roll it in the opposite direction of the curl. Blow a hairdryer on the stencil for a minute or two, then quickly lay it flat under books for 1-2 hours. ……If you are trying to flatten your stencil after you have painted with it multiple times, make sure to clean all the paint off your stencil… multiple layers of paint collected on a stencil (especially in delicate/skinny areas) can cause a warped/curl look.
You can use stencils in all kinds of projects. Here are some ideas:
Art journal page with modeling paste pattern
Sharing is caring! - PIN IT!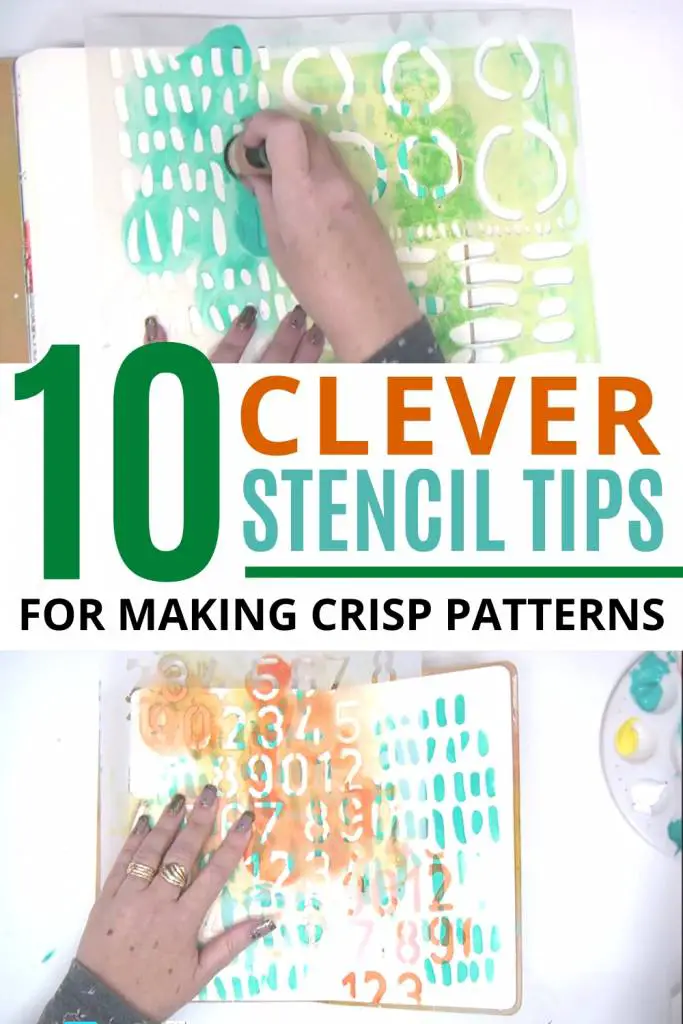 Have fun creating!