Inside: 12 ways to use distress inks in your craft projects
When I first tried Distress Inks all those years ago I didn't really understand what was all the noise about. But that was not because they were a bad product it was because I didn't understand their potential and how to use them properly. Today when I teach or create Distress inks almost always find their way to my project. But until this day I get a lot of questions on how to use them and what you can do with them and most importantly what they are better than regular inks.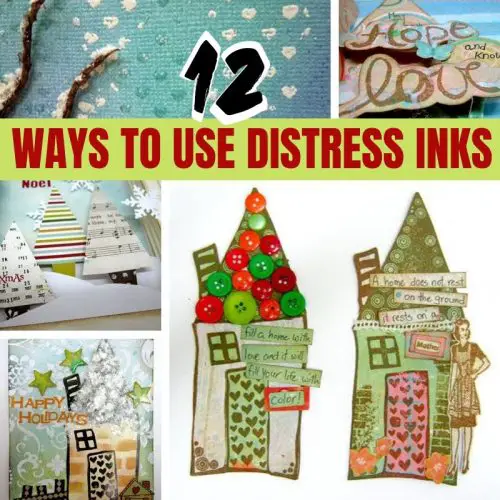 WHAT ARE DISTRESS INKS
They are water-based dye inks that have incredible color stability. Unlike other inks, Distress Inks react to water. It means that water doesn't break down the color. Water also allows the ink to move on the paper. They are perfect for traditional ink techniques but their unique qualities open a new set of possibilities.
DISTRESS INKS TECHNIQUES
AGING
The grungy shade of the ink is perfect for aging and distressing paper. This look is great for grunge, vintage and shabby-chic projects.
Here's how to age or distress paper:
Apply ink to the edges and some of the surfaces of a paper using a sponge or a blending tool.
Apply the ink in small repetitive motions that will color just the edge of the paper.
You can also wrinkle or tare the paper for a stronger effect and gently go over the ridges with the sponge adding a light touch of color to them.
STAMPING
Unlike what you might think distress inks are great for stamping. Distress inks stamp well on porous surfaces and can be used with all kinds of stamps however the image stamped is slightly less sharp that other inks. A look which is great for a grungy, vintage, shabby chic projects.
Do this:
Load your stamp with distress ink. The best stamps to use are less detailed because the ink is not as bold as regular ink.
Stamp a paper or any other porous surface.

You can add simple stamping techniques, such as spritzing the inked stamp before stamping to get a watercolor look.
BLENDING
Distress Inks are perfect for blending techniques. Because this is a water based ink it stays wet longer and that allows the colors to mix on the surface.
Here's how to blend:
Pick up ink using a sponge or a foam blending tool.
Working in circular motions, apply ink to the surface, blending the inks as you go. Layering two or three ink colors together provides endless color variations and a beautiful graduations of tone.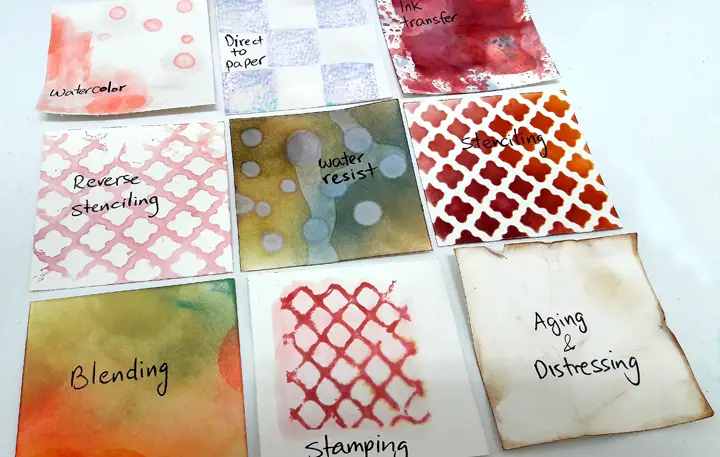 STENCILING
Distress inks are great for stenciling because of the possibility to blend and layer them.
Do this:
Layer a stencil on your paper and apply Distress Ink with the same technique as ink blending.
You can repeat the same pattern with different colors to create a gradual effect or a colorful background.
REVERSE STENCILING
Reverse or direct stenciling is applying the ink to the stencil instead of on the paper and then press the stencil, ink down to the paper, creating a "negative" pattern of colored background and white shapes.
Here's how to use this simple technique:
apply distress ink to the stencil and mist with water.
Turn over the stencil and press against the paper. You'll get a watercolor pattern that is the reverse image of the stencil.
WATER RESIST
Since distress inks react with water you can create really pretty effects by combining the two. Water moves the ink around the surface, and by adding drops of water to an inked background, you will get beautiful water washed areas.
Do this:
Apply ink to paper.
Spritz water on the paper to "repel" the ink.
You can also wet a stamp and stamp the paper to create a ghost stamp that is basically a white image created by the repelled ink.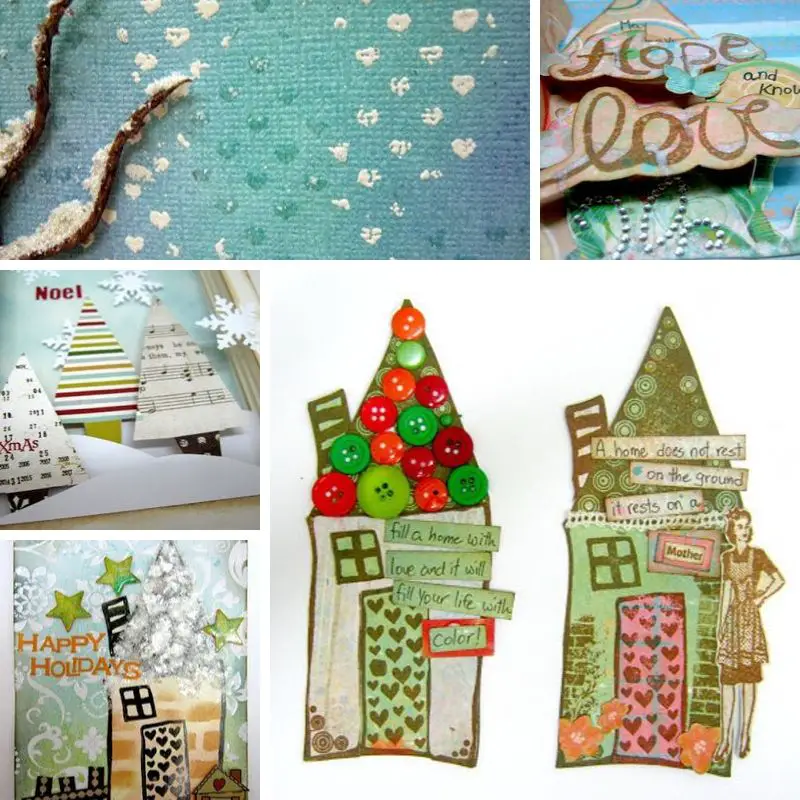 EMBOSS RESIST
As a water based ink, distress ink do not attach to a non porous surface like embossing ink. However you can create an embossing resist effect by combining embossing powder and distress inks.
Here's how:
Emboss your paper with white or transparent embossing powder.
Apply distress ink to the entire paper surface on top of the embossed images as well.
Wipe the ink with a paper towel or a baby wipe from the raised embossed pattern to get a colored background with embossed images.
INK TRANSFER
Ink transferring is applying ink to a non-porous surface, blending the ink with water and then transferring it to the project.
To apply this technique:
Apply distress ink on your acrylic block.
Mist with water and then stamp the block on a paper, water color paper is best. The effect you'll get is of blending colors like a water color background..
DIRECT TO PAPER
Direct-to-paper inking is so simple that you might not even want to call it a technique! You simply apply the ink from the pad directly onto the paper. After the ink is on the paper you can activate it with a water mister or a baby wipe. This will allow you to blend it, smudge the edges, create dripage and more.
USE AS WATERCOLORS
You can use distress inks as watercolor paints on a project. The inks activated by the water will give a very light watercolor effect to the paper.
Here's how to do it:
To access the ink in the ink pad stamp the ink on your non stick surface or acrylic block (non porous surface).
Pick up the paint with a wet brush.
You can also dab the wet brush directly on the ink pad to load it with the ink.
PHOTO TINTING
Distress Inks have been formulated to tint photos — both originals on glossy or matte photo paper and copies made with ink jet, toner or laser copiers. Pick up color with a brush, sponge or cotton swap and lightly apply the ink over the areas of the photo you want to add paint to.
WRINKLED DISTRESS
This technique is a combination of direct to paper stamping and misting. It looks great on solid cardstocks or papers.
Do this:
Crumple up a piece of paper or cardstock.
Swipe the ink pad directly on the paper.
Spritz the paper and activate the distress ink. You'll get an amazing affect of colored veins and dripage on an aged looking paper. If you want to straighten the paper you can iron it with a craft iron.
SETTING DISTRESS INKS
The only important thing to remember is that even though the ink is on the paper it doesn't mean it's set. If it comes in contact with water or other water based materials like paint or gesso it will be activated and might smear or smudge. If you want to set it apply a fixative spray on it or a thin layer of gel medium. That will allow you to work on the ink with other materials and keep its original design on your project.
Distress inks are so much fun to play with and unlike permanent inks they come off your clothes when you wash them! Give them a try! Here's an idea for an art journal page made with nothing but Distress inks and stencils.
Here are some of my favorite Distress ink colors and stencil patterns
Sharing is caring! SAVE it for later - PIN IT!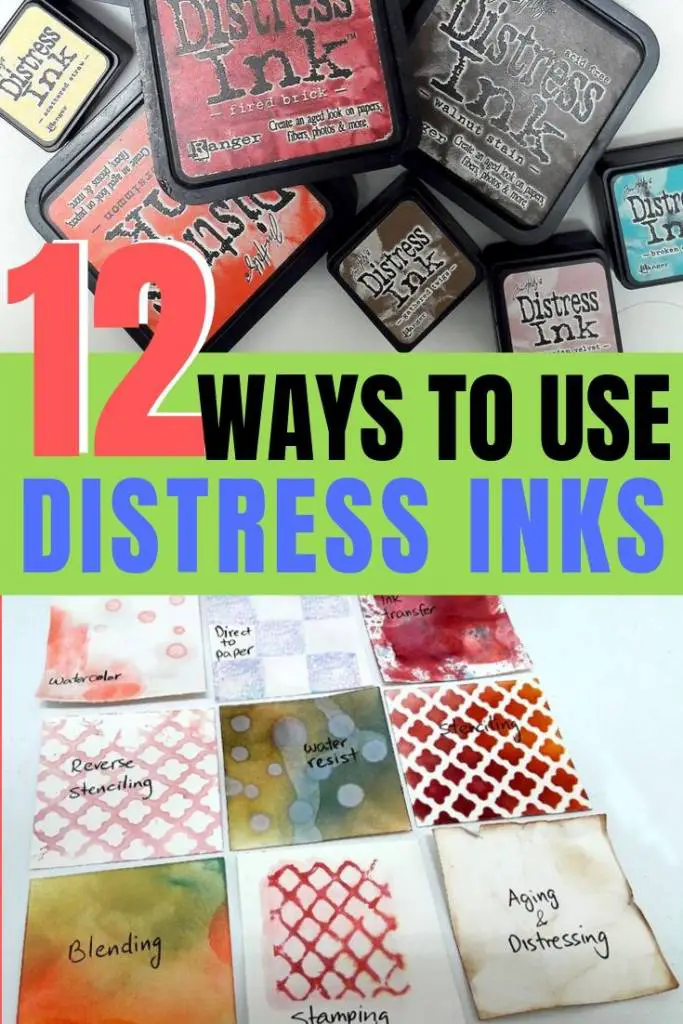 Have fun creating!