Inside: how to make art journaling with Distress ink
People often complain that they don't have enough materials or supplies to make art journal pages or other crafts. I think that not having everything is sometimes an advantage. I once taught an art journaling class and I said that you can make an art journal page with just two materials. The girls laughed at me and challenged me to show them how to do it. So I made an art journal page with just Distress inks and stencils!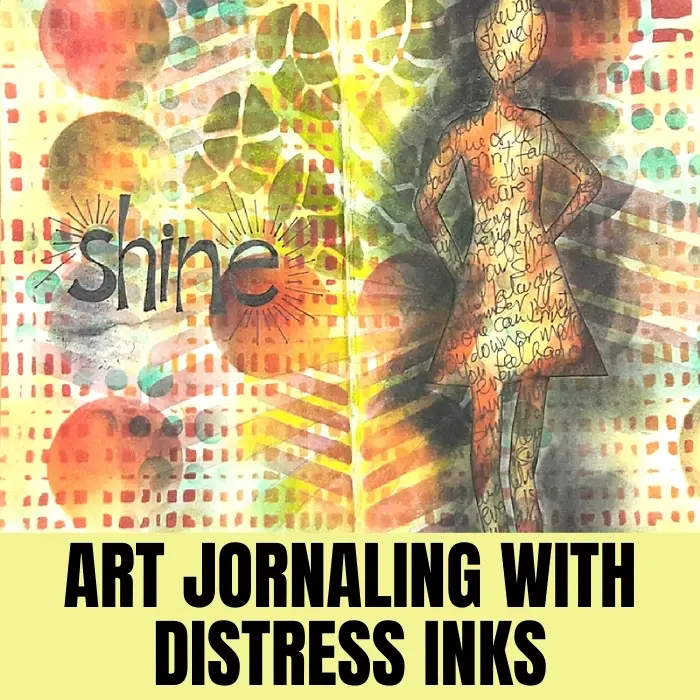 ART JOURNALING WITH DISTRESS INK
Every art journal page has two main elements: background and a focal point. In order to make these elements you can use any material or technique. Limiting your supplies forces you to be more creative and come up with ways to make what you want with what you have.
DISTRESS INKS
Distress inks are water-based dye inks that have incredible color stability. Unlike other inks, Distress Inks react to water. It means that water doesn't break down the color. Water also allows the ink to move on the paper. They are perfect for traditional ink techniques but their unique qualities open a new set of possibilities.
To learn more about Distress inks and how to work with them check out the 12 awesome ways to use Distress inks
STENCILS
They come in many sizes and in two main styles: patterns and images. Working with stencils gives you the opportunity to make your own backgrounds, images and elements on scrapbook pages, cards and art journal pages. By layering stencils you can achieve alaborate patterns and depth to your pages, as well as add a focal point or text.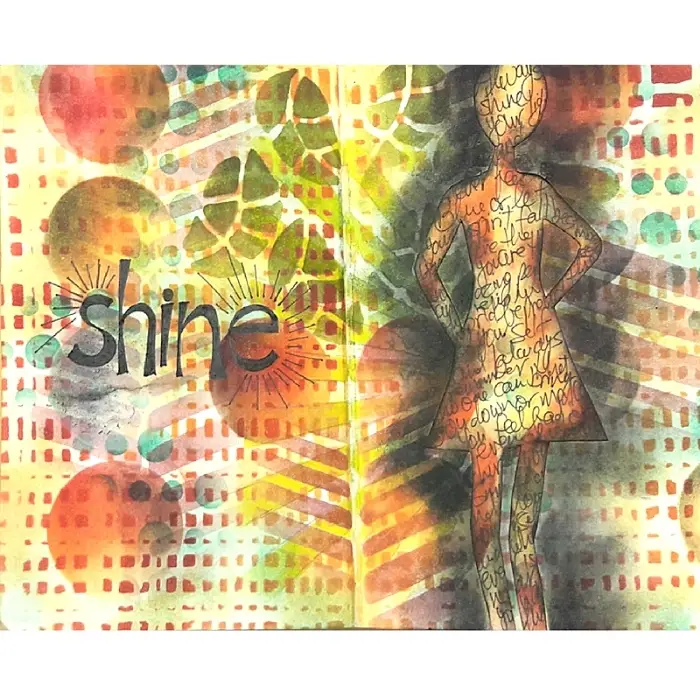 WHY MAKE ART JOURNALING WITH DISTRESS INKS AND STENCILS
Unlike other types of inks Distress inks smear and spread on the paper which makes them suitable to work with stencils.
Since they don't leak like sprays or acrylic paints you can get crisp and sharp images.
Art journaling with Distress inks is not messy or make your fingers dirty.
You can make endless layers of patterns and images depending on the stencils you have.
Both Distress inks and stencils are easy to carry, don't spill and easy to clean.
Doesn't require previous knowledge or special skills.
ART JOURNAL PAGE WITH DISTRESS INKS TUTORIAL
Start with creating patterns on the art journal page with different stencils and Distress inks. Add layers of patterns by adding different shapes and changing the colors.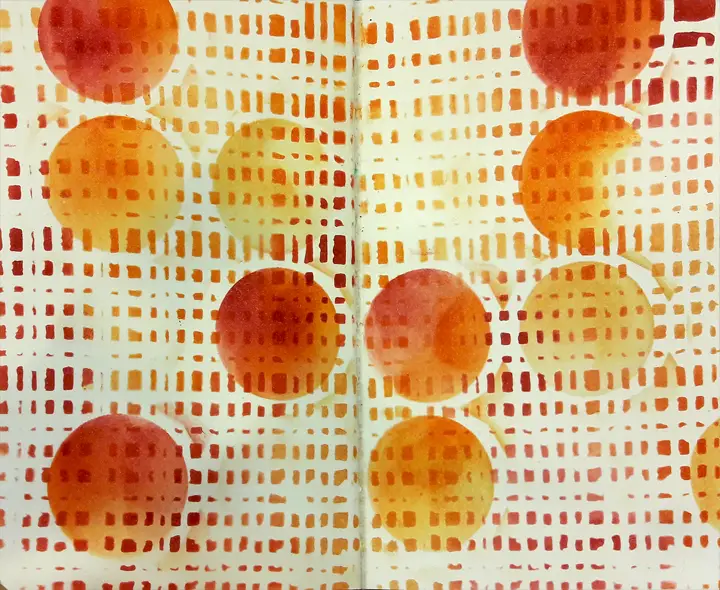 2. The great thing about Distress inks is that they blend so well together. That gives you the option to create shadows and illusions of lighting or volume. Add a little black ink to the sides of the circles to add dimension and make it look like they're jumping out of the page.
3. Add a focal point to the page.
You can draw the shape freehand and then cut it out and color it with Distress inks.
Use a stencil to add the image to the art journal page.
4. Add more interest and dimension to the image by wrting inside it.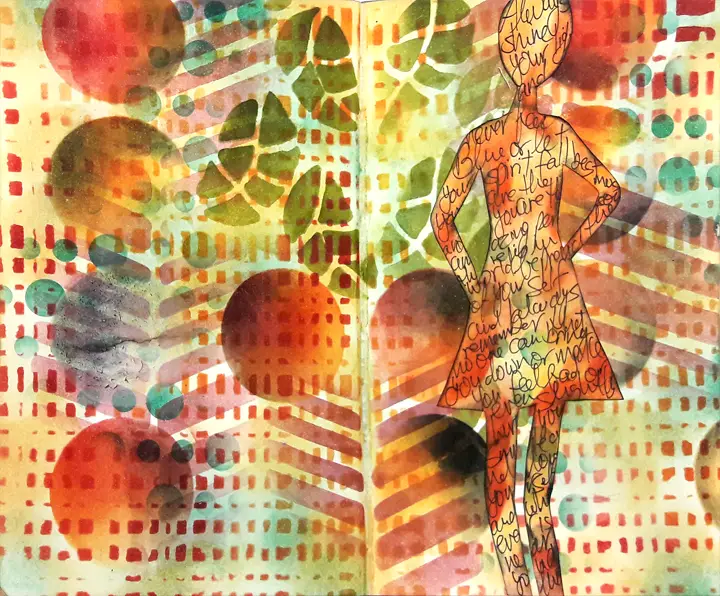 5. To make the image pop out more add a shadow to it with some black ink. You can also extend the shadow or add pattern to emphasize the image even more.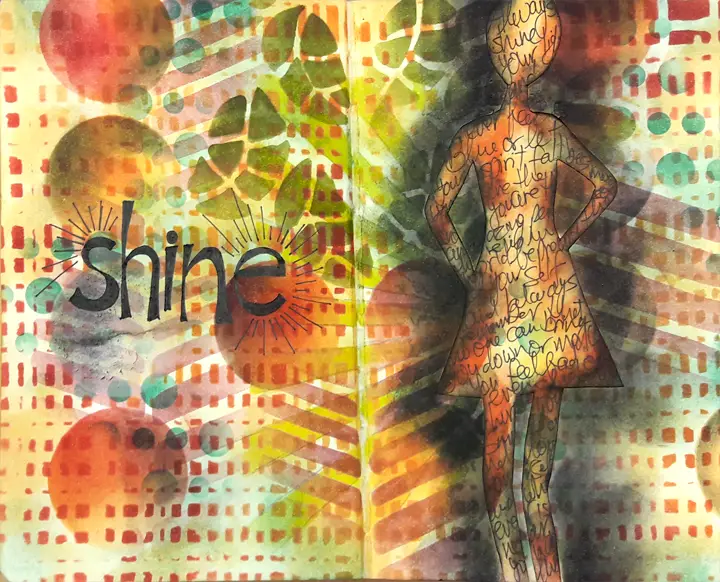 6. Finally add a title or text to the page with a black pen.
TIPS AND TRICKS FOR ART JOURNALING WITH DISTRESS INKS
Start stenciling with smaller pattern and as you continue with more layers use larger patterns and shapes.
Use 3 colors for the background and create new colors by blending the inks.
Stencil the background with similar shapes. For example if you choose, like on this page, circles then use different sizes and types of circles.
Add no more than three types of shapes. In this page you can see circles, lines and leafs. If you add too many shapes the background will become too busy.
Make sure to create balance on the page by stenciling the same shapes on both sides of the page.
When layering the patterns add the shapes on different parts of the page and not all of it.
Here are some of my favorite Distress ink colors and stencil patterns
Need more art journaling inspiration? For more art journal page ideas check out the 30 Art Journal Tutorials eBook!
Sharing is caring - PIN IT!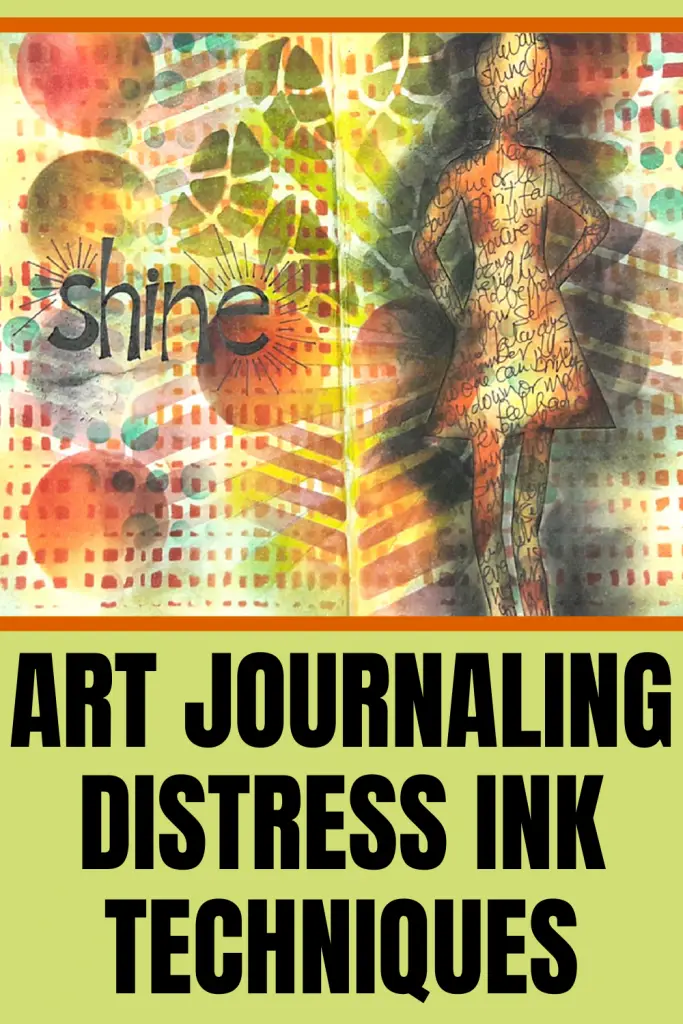 Have fun creating!