Inside: 20 easy and fun ideas to scrap your leftovers without using special skills or tools.
Leftover supplies...paper scraps... we all have them in boxes, drawers and containers! Some of us have a lot and some of us just a little but we all stare at them not knowing how to use them. In this post I want to share with you some fun and easy ways to use your leftovers on your scrapbook pages so these piles will get a little smaller.
WHY DO WE HAVE SO MANY LEFTOVERS?
We love buying craft supplies for a specific project or just because we saw something we like at the craft store. But we usually buy more than we need. We use the supplies in a project but we don't use all of them so we have little pieces of paper, ribbons etc. These leftovers go to a drawer or a box and we kind of forget them. Then we start a new project and the process repeats itself and before we know it we have a huge pile of leftovers.
HOW TO SCRAP YOUR LEFTOVERS?
First you need to make a conscious decision to use them. If every time we create a project you simply put the leftovers away you'll forget about them.  Before every project you start you need to:
Look in your leftover stash and see what you have.
Find the leftovers you think will fit your project in color, image or shape.
Think how you can include your leftovers in the project: cut images, create embellishments or use them for background or texture.
IDEAS TO SCRAP YOUR LEFTOVERS
CREATE A PAGE FROM PAPER SCRAPS
I love using lace papers. They look really unique and add a special look to a scrapbook page. Lace papers are openwork design papers in imitation of lace. They are usually made by cutting out pieces of the paper and leaving decorative holes that create a pattern.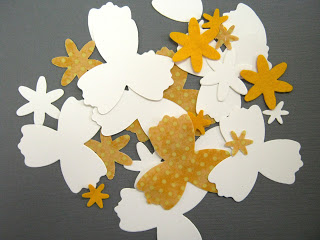 You can create lace paper from your scraps:
Place a piece of white paper on a flat surface. The paper can be any size, but it must be shaped like a perfect square to make this paper lace project.
Punch out shapes from paper scraps. I used flowers but you can use any shape you have and even mix a few different shapes.
Start attaching the shapes to each other by applying glue on the edge of the shape. Keep attaching the shapes while leaving gaps between them.
Create a large surface with the attached shapes and when it reaches the size of you paper trim the edges to make your page straight.
Now you have a lace paper you can create your layout on!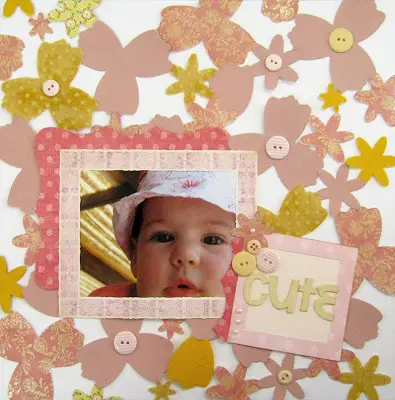 SCRAP YOUR LEFTOVERS ON THE BACKGROUND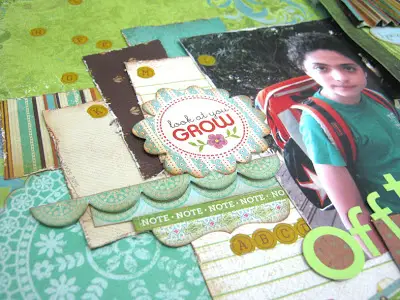 Here's how to do it:
Pick scraps of paper with matching colors and pattern for your page.
Cut them into different size squares.
Distress the edges or ink them.
Add to the background in layers with foam tape to add more texture.
These squares will not only add texture to the page they will also frame the photo and add color and interest.
SCRAP YOUR LEFTOVERS INTO EMBELLISHMENTS
Paper scraps are a great resource for making your own custom made embellishments. The possibilities are endless and only depend on the tools you have and your imagination.
Here are a few ideas:
MAKE DIY FLOWERS
Find paper scraps that match your page's color and theme. Create paper flowers in one of these techniques:
SCRAP YOUR LEFTOVERS INTO FUN OBJECTS
Make fun objects with paper piecing technique and some creative cutting.
BALLOONS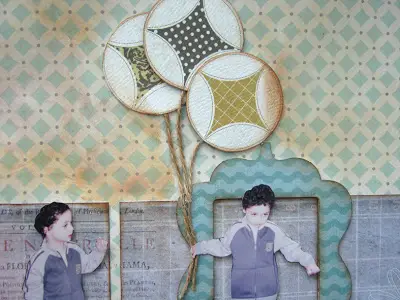 Creating a balloon from paper scraps is really fun and easy. You need to:
Cut out or punch circles from pattern or solid paper.
Attach a twine to each of the circles with a piece of tape on the back side.
Embellish and add to layout with foam tape to add dimension.
KITES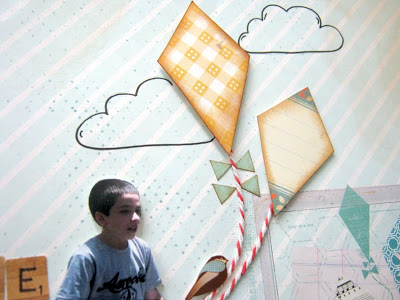 Repeat the same process you did with the balloons only this time cut your paper scraps into diamond shapes.
HOT AIR BALLOON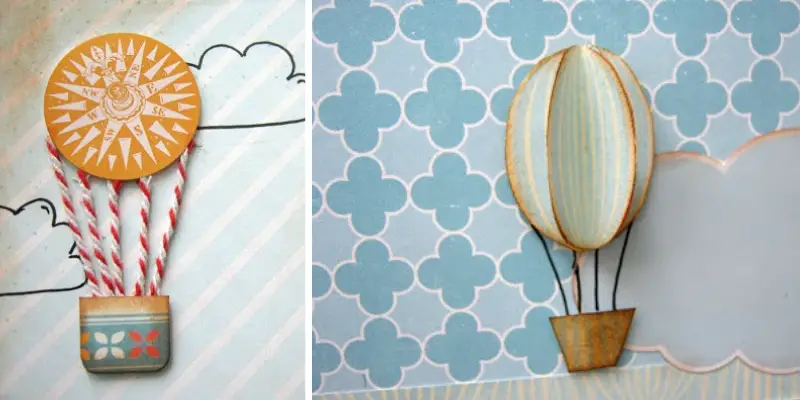 I love hot air balloons...I can't really explain why they just make me smile 🙂 You can make two types of hot air balloons: 2 dimension and 3D:
To create a 2D hot air balloon cut a circle and then attach a few twine pieces to its back side with tape. Attach the other side of the twine edges to the "basket" you cut from another piece of paper
Make a 3D hotair balloon by punching 3-4 circles and folding them in half. Then attach the folds back to back to create the balloon.
FLAGS AND BANNERS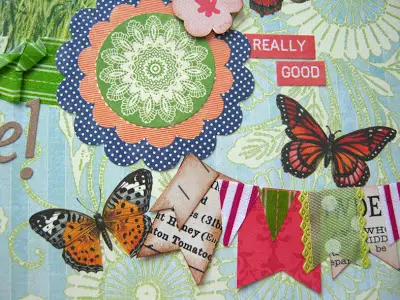 Flags and banners are very popular embellishments on scrapbook pages. You see them in stickers, die cuts and other embellishments but you can make them yourself:
Find paper scraps that match
Cut triangles, squares and flag shapes in different sizes.
Arrange them on the page in a curve with or without a twine.
CANDLES
Use paper scraps to make candles for birthday cards or Hanukkah pages.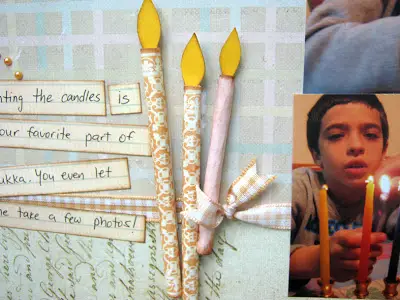 Here's how to do it:
Cut a rectangle from double sided paper scrap.
Roll it into a tube and glue the edge.
Cut out an eye shape from a yellow paper for the flame.
Attach the flame to the candle.
PUNCHED SHAPES
If you have a stash of punches they can be a great addition to any scrapbook page. Just pick a matching paper and punched out shapes to embellish your layout.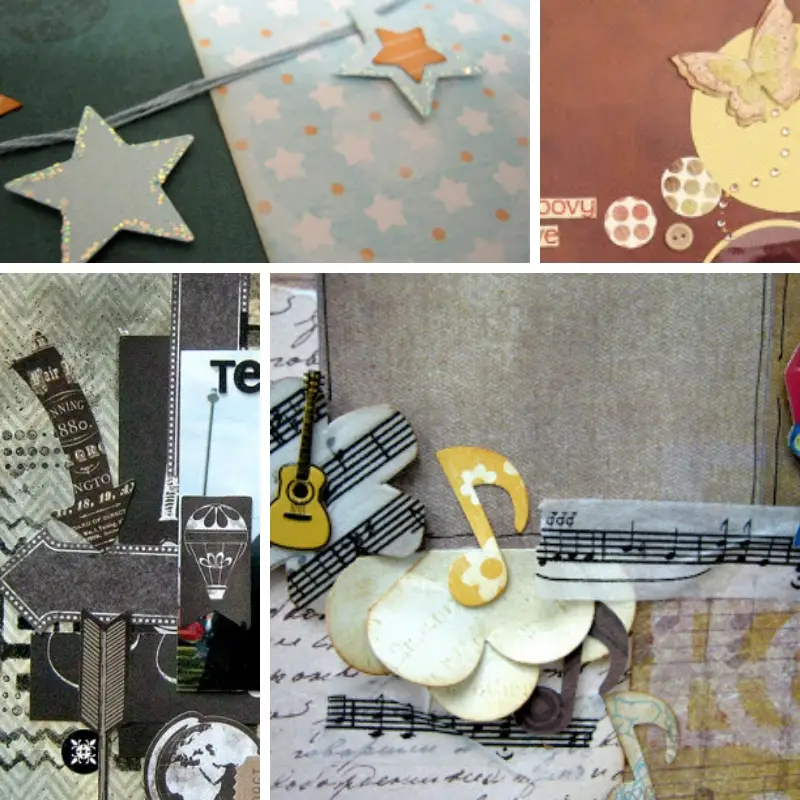 Here are a few ideas:
Music notes
Stars
Circles
Arrows
SCRAP YOUR LEFTOVERS: LETTER STICKERS
You probably have lots of letter sticker sheets that only have those letters that no one uses like Q, Z, X and W. You've already used the E, N, R, A and the other commonly used letters and now you're left with leftovers that just sit there. I have a few ideas how to use them:
ADD TEXTURE TO THE BACKGROUND
Letters are shapes and beautiful shapes at that. It means you can use them not just for their primary function of building words but as shapes for texture or background.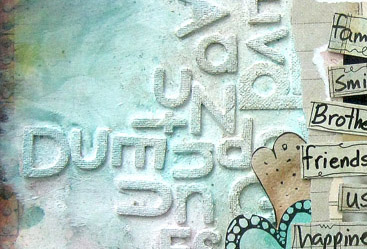 Do this:
Attach all the letters you don't need to the background of the page.
Use dimensional letters for extra height.
If their color doesn't match your page paint them!
Complete your page with photos and other embellishments.
Here's the full step by step video tutorial on how to create this page
USE LETTER STICKERS AS DESIGN ELEMENT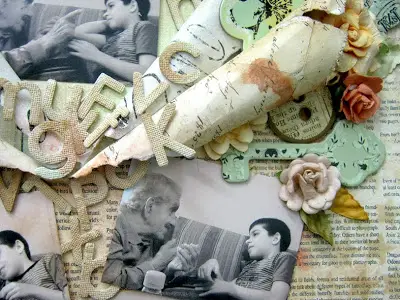 When you create a page you tell a story with the photo, the colors and patters and the embellishments. Letters are a great element to tell stories about conversations, words, stories etc. In this page about my grandfather and son engaged in a conversation I used the letters to tell the story of their vivid and fluent conversation and the many words they used.
MIX AND SCRAP YOUR LEFTOVER LETTERS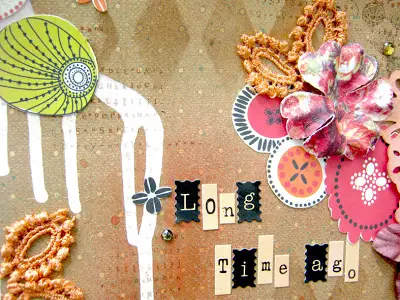 Another idea to use leftover letter stickers is to mix different stickers. If you have half used letter sticker sheets then assemble the title from different stickers to create a title collage.
SCRAP YOUR LEFTOVERS: RIBBON
How many little pieces of ribbons you have? a lot right? You use a ribbon on your page and most often you're left with a little piece of ribbon you have no idea what to do with.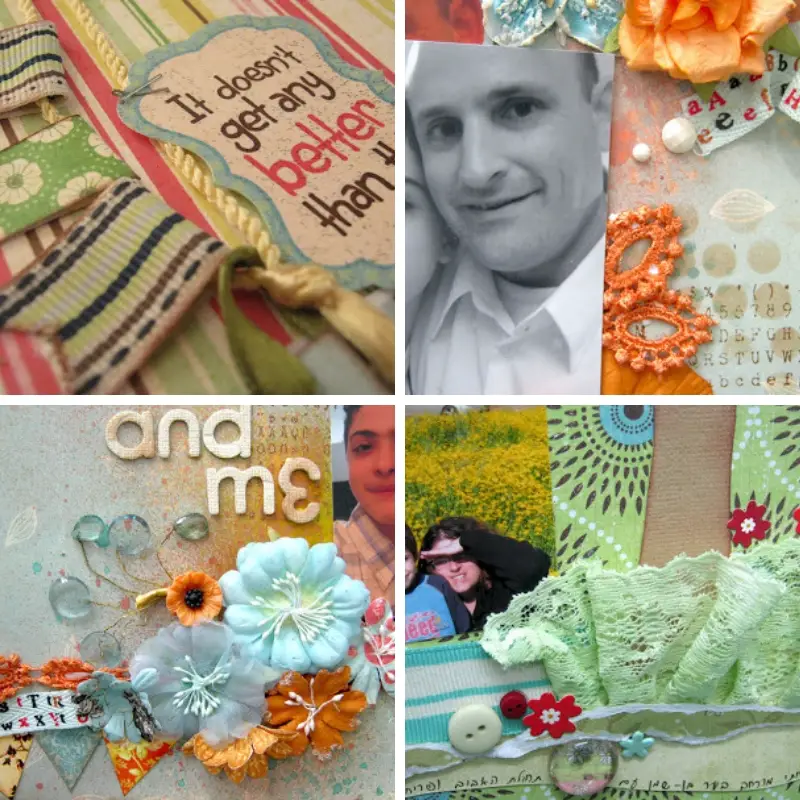 Try these ideas:
Create little flags by folding a ribbon in half and trimming the edges in an inverted triangle shape.
Turn the ribbon into grass. Follow this tutorial to see how.
Cut out shaped ribbon to create leafs or flowers.
Use pieces of ribbon as accents on a page like you would use paper pieces.
SCRAP YOUR LEFTOVERS: RUB-ONS
Raise your hand if you don't have leftover rub-ons in your stash! They were once a very popular embellishment but have since fallen from grace and today are hardly used anymore. I try to use them as much as possible and here is a cool idea: Add rub-ons to a page as an element in the background like you would use a stamp.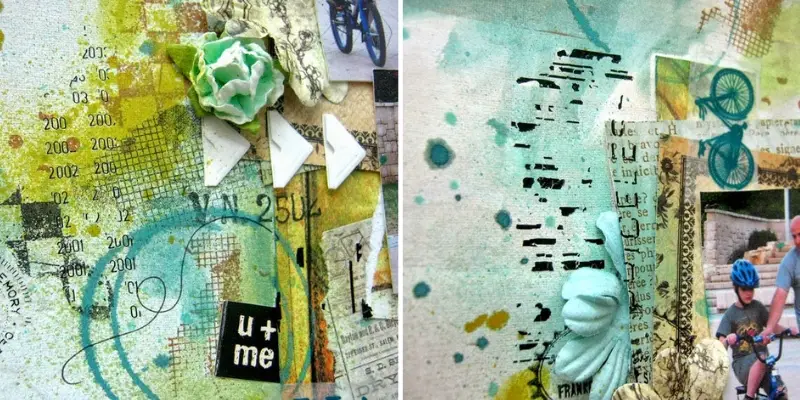 Do this:
Rub on a black rub-on on the page.
Make sure all the parts are attached properly. That would give the impression it's part of the background and not a full image.
SCRAP YOUR LEFTOVERS: BUTTONS
I have a lot of buttons and I don't sew so I don't have a lot of opportunities to use them. I constantly try to come up with ways of using them...
One idea I had was to use them as leafs on a tree!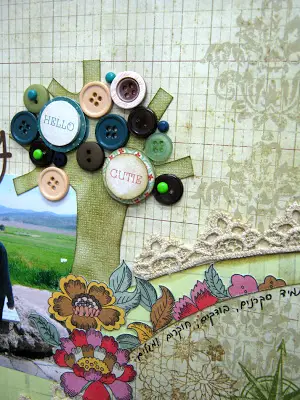 I hope you'll try some of these ways to scrap your leftovers and use your stash instead of buying new supplies!
SAVE it for later - PIN IT!
Have fun creating!