In today's 5-Minute Craft: Eraser Bulletin Board . This fast project will solve all your memory problems! You'll never forget what you need to do when you have a pretty bulletin board in front of your eyes. All you need for this project is an old picture frame with glass. You can also use a store bought frame or a lid from an unused tea bag box. The important thing is to have a frame with glass in the center. You will also need a piece of pattern paper. I recommend not to use a noisy pattern because you need to write things on the bulletin board that you want to be able to see.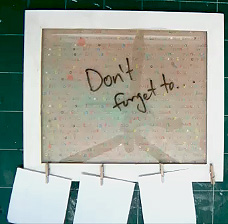 5-Minute Craft: Eraser Bulletin Board
The fun thing about the 5-Minute Craft: Eraser Bulletin Board is that you can give it your personal touch by changing things around. Create a bigger board by using a larger frame, add embellishments such as flowers or metal parts. Add cloths pins to be able to add some notes or even add different pattern papers as backgrounds. This is a great activity to do with kids. They can design their own boards for their rooms with their favorite themes such as sports or music and even use it during the school year for homework reminder! It can also be a great gift to someone special to hang in their office or craft room!
Join the new VIP Room where every month you'll get new class grade video tutorials, be the first to hear about new products and get access to printables, patterns, have more chances to win fabulous giveaways and much, much more!
Don't miss out! Keep up with all the crafty goodness by subscribing to the Einat Kessler creative newsletter
Have fun creating!