Inside: 4 art journaling background ideas that will inspire you to start creating!
You all know this feeling... we want to create an art journal page. We stare at the blank page and nothing... no ideas come to mind, zero! No inspiration at ALL! So we close the art journal and go to do something else in the hopes that maybe the inspiration will come later. The problem is it doesn't. This ritual repeats itself over and over and it's frustrating. So frustrating that it makes us give up art journaling all together.
Is your art journaling experience similar to this? Do you also spend a long time staring at the blank page with no idea how to start?
DISCOVER NEW ART JOURNAL BACKGROUND IDEAS THAT WILL INSPIRE YOU TO CREATE NOW!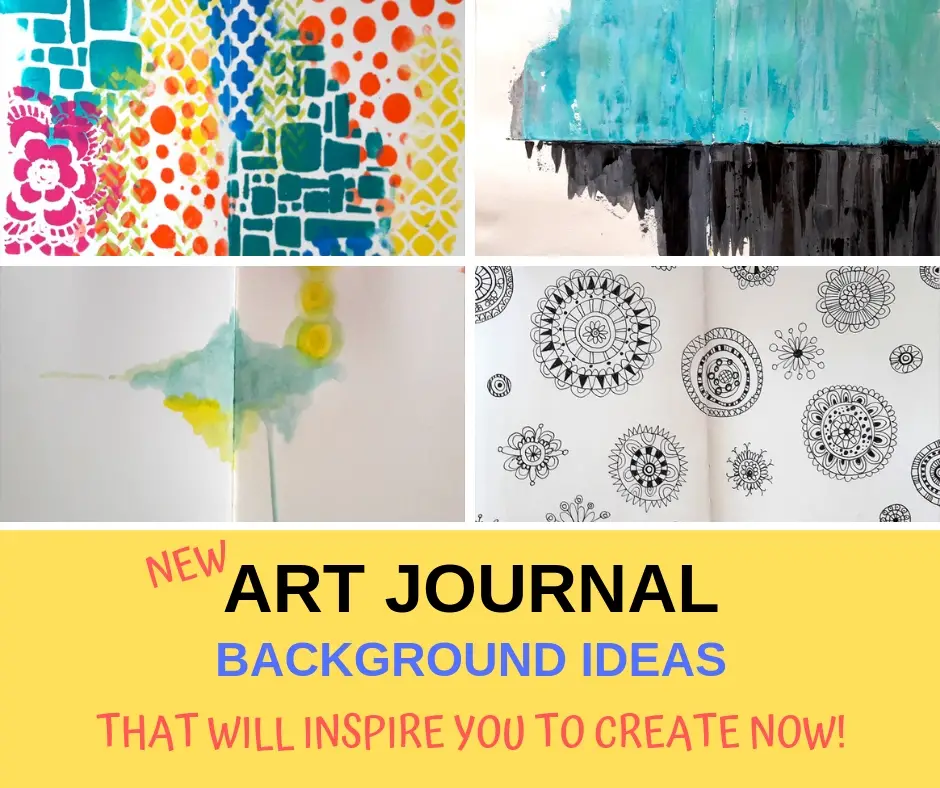 WHAT IS THE FIRST STEP TO CREATE ART JOURNALING PAGES
It's sounds counter intuitive, but the first step is to start. Do something on the page. The problem is that we get in our own way. We start thinking about how will it come out, or is the page going to be pretty enough, is it going to be like the pages we see online. Our answer is usually NO... we tell ourselves that we are not talented enough to make beautiful pages like that and we give up before we even start.
ART JOURNALING IS A SAFE PLACE
Art journaling is supposed to be fun, non judgmental and safe. It's your place to think, feel and speak with no words, but with colors and free expression. When we face that blank page we need to change the way we think and speak to ourselves. Replace the negativity and self doubt with creativity and joy from the art you're about to create. Tell yourself that your page will be pretty,beautiful, creative and artistic, even if you don't really believe it. Your words and thought create a reality!
SIMPLIFY THE ART JOURNALING PROCESS
Once you change your energy you'll see that your creativity will start to flow. However if you're still unsure I have a full proof way for you to start and complete an art journal page.
Make things simple. Think about the first step only and nothing more. The first step to create an art journal page is to create the background. Once you have the background it'll be much easier to continue!
Choose one or two types of materials or tools to work with. For example: stencils and acrylic paints or black pen and colored pencils. When you limit yourself you become more creative and less overwhelmed with creative options.
Just start. Even if you don't have a plan decide on one thing and do that. Color the page, draw something, stamp on it etc.
Move to the next step. If you get stuck then go back and do one thing with a different material. For a covered page with paint add stamps. If you stamped the page add a layer of watercolors or color the stamps. After adding tissue paper or a stenciled pattern add stamping or a few brushes of paint. And so on...
NEW ART JOURNALING BACKGROUND IDEAS
Add a little color
Add just a little splash of two colors on the page. You can spray it and add acrylic paint or watercolor with a brush or use stamps or stencils. Cover only a small part of the page and leave the rest blank. Once you did this first step you can leave the background like that or add a little more color with complementing shades or shapes.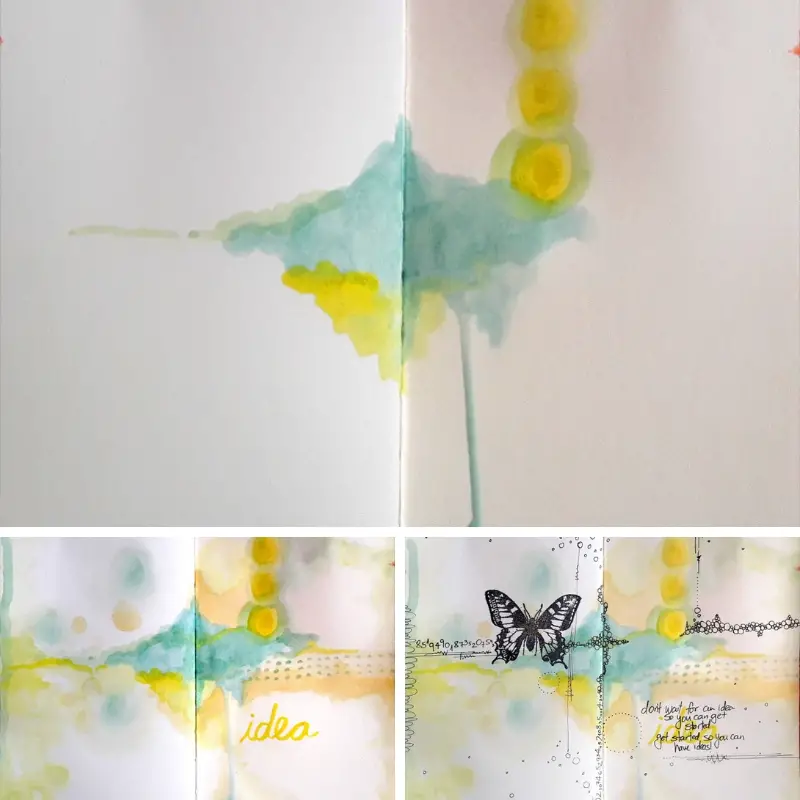 In this page After adding a little yellow and blue watercolors, I added some different size circles and dots to complete the background. I used more shades of the yellow and blue so the background will be more interesting. To complete the page I added text with a black pen, some doodling and a sticker.
Click here to see the full tutorial for this art journal page. 
Doodle
Doodles are simple drawings that can have concrete representational meaning or may just be composed of random and abstract lines. Sounds difficult? Not at all! You don't need to know how to draw. You just need to take a pen or a pencil and add a few abstract and simple lines on the page. Circles, hearts, swirls, curves, lines and more. When you add enough doodles you'll see a pattern emerging.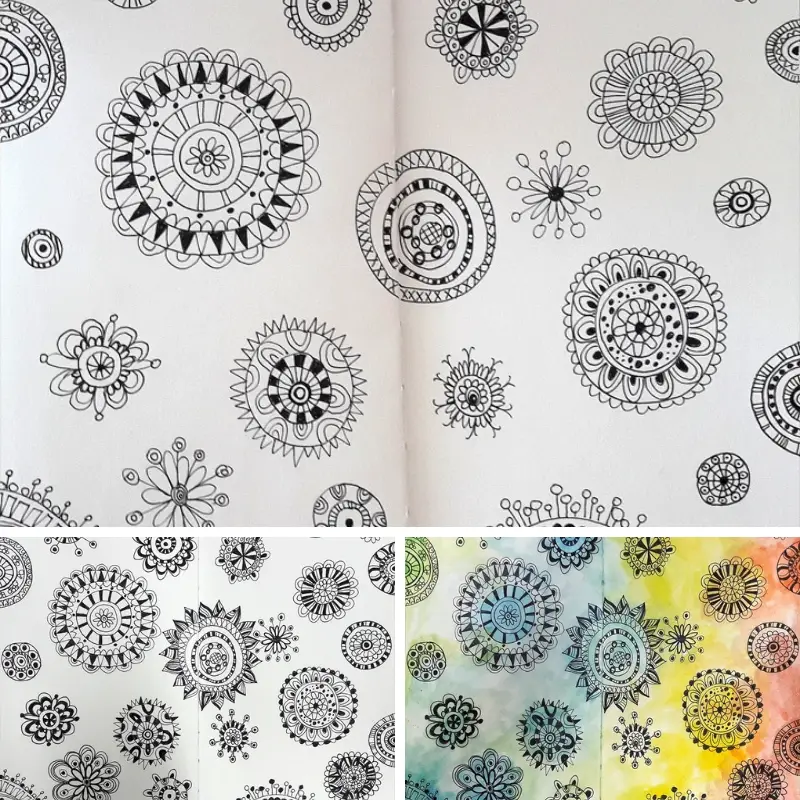 In this page I started with circles.Please note that they are far from accurate or symmetrical 🙂 Then I added details in and around the circles. Lines in different directions, small circles, dots etc. I painted some of the shapes in black to create even more elaborate and interesting patterns.
Click here to see the full tutorial for this art journal page
Half and Half
Another idea to create a background is to divide the page in half and apply different paint to each half. It doesn't have to be exactly two halves, but try to have two distinct parts. You can use opposite colors or complementing colors and apply them lengthwise or width wise. You can cover the entire page or leave some white blank parts.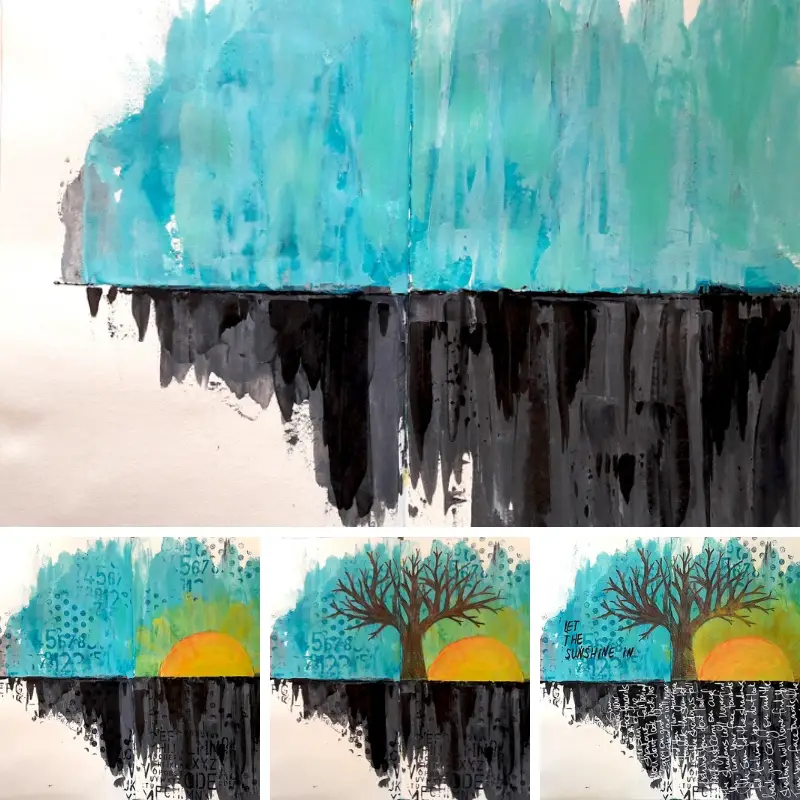 In this page I used black and blue without a specific idea in mind and later when I looked at the background it looked like ground and sky so I took it from there and created a scene.
Click here to see the full tutorial for this art journal page
Stencil Background
Pattern background can be the base for many art journal page. Pick a few stencils with patterns and create patterns with different colors on the page. You can combine stencils with patterns and stencils with larger images to create a focal point.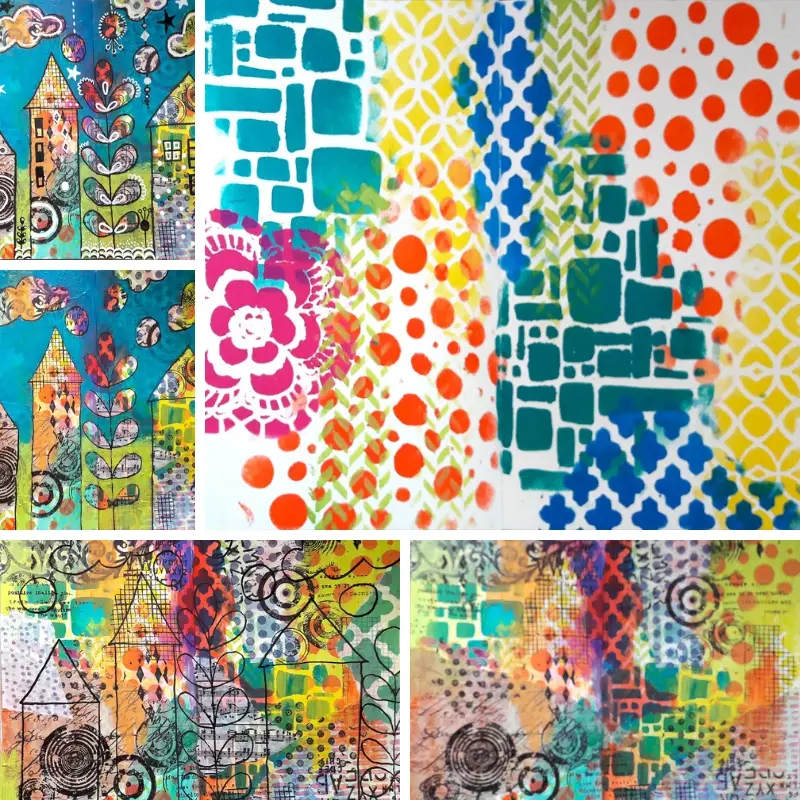 In this page I used the pattern background to add patterns to the houses I created. I covered the background with a solid color around the houses leaving them unpainted.
Click here to see the full tutorial for this art journal page
Another idea for a background with stencils
TURN THE BACKGROUND INTO ART JOURNALING PAGE
Now you have all these backgrounds and you wonder how to turn them into art journal pages. First, smile, be happy that you created something in your art journal!
Decide what you want to say on your page. Add words, quotes, lyrics or just random thoughts that will support what you want to say.  Find over 20 tutorials for art journal pages with text HERE.
If you don't want to say anything you can add different elements like stamping, papers and stickers to your page. I usually use things I like or things I want to use from my stash because I haven't used them in awhile. Your page doesn't have to say anything. It can be an art piece that you like and that you're proud of. HERE's an idea for an art journal page I created because I wanted to use some new markers I got. It doesn't say something specific it's just an art piece.
Combine art with saying something. Try to say what you want in images only without words. it might take a little practice because it's not always easy to say something without using words. HERE's a page tutorial like that.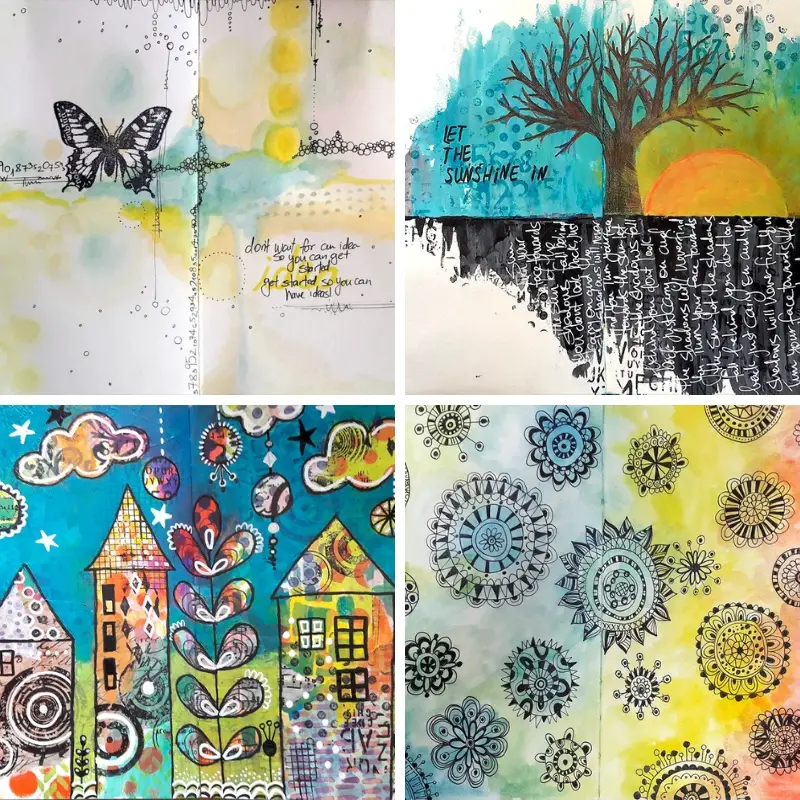 Art journaling is supposed to be a creative fun activity and if you find yourself stuck or uninspired that defeats the purpose. Try these simple ideas to create art journaling backgrounds and then complete them into pages.
For more art journaling ideas and tutorials visit my YouTube channel!
SAVE it for later: PIN IT!
Have fun creating!