Inside: you'll find what is gel printing and the basics of gelli printing - materials, tools and techniques you need to know!
Although I have a room full of craft supplies I never seem to have the paper I need. I'm a control freak so I like to match my papers to the theme, mood, colors and basically everything.
So it drives me crazy if I don't have the exact same paper I envision in my head.
The solution:
Compromise on the projects I make, which is unacceptable to me...
Make my own papers
Move in the craft store so I'll have access to as many papers I want
I decided to make my own papers and I found the most fun, easy and creative way to do it!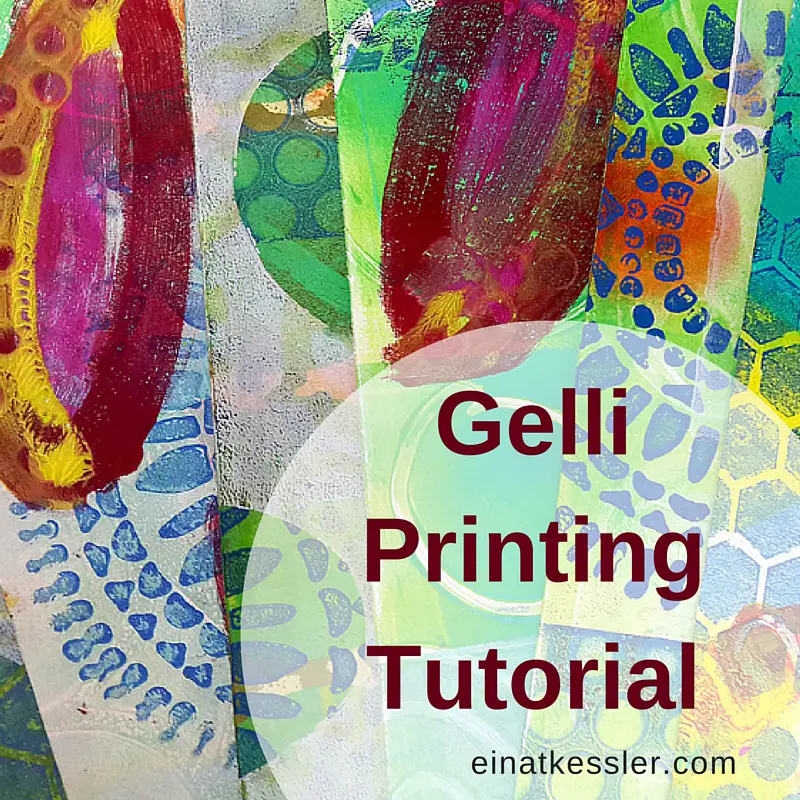 WHAT IS GEL PRINTING
Gel printing or gelli printing is a form of art to make prints called monoprinting. Previously in order to make monoprints you had to have a press to transfer the paints from the plate to the paper or fabric. Today there is a new thing called a gelli plate, which is a soft silicone plate that allows you create beautiful prints without a press.
When I discovered this methods I was happy and thrilled on one hand and a little intimidated on the other hand.
While this looked like the best, most fun and creative print making technique I didn't know how to even start. It took a lot of trial and error until I was satisfied with the prints I got.
WHAT MATERIALS DO YOU NEED FOR GEL PRINTING
There are a few basic materials and tools that you need to make gel prints.
GEL PRINTING PLATE
The first thing you need is a gelli plate. Gel printing plate is a soft surface that comes in a variety of sizes that is made with a mineral based glycerin which give the plate a flexible and moldable surface so that you can spread paints, add textures, and make many prints.
Gel plates come in different sizes and shapes. As a beginner I recommend starting with an 8.5" x 11" plate. This plate is large enough to experiment on and use other pattern making tools like stencils and stamps. If you want to start smaller you can always use a part of the plate with a smaller paper. However if you use a small gelli plate and want to make a larger print you'll be limited by the size.
There are a few different manufacturers which make Gel Plates, the two leading companies being Gelli Arts and Gel Press.
Instead of purchasing a gel plate you can make one yourself! Here's a great tutorial on how to create a DIY gel plate.
BRAYER
Although you can apply paint to the gel plate with other tools like a plastic card or brush the best tool to use is a brayer. It makes applying paint easier and more even across the plate and gives you more control on the amount of paint you apply.
Brayers cone in different sizes and I love to use the Speedball Art brayer.
ACRYLIC PAINTS
Acrylic paints are the main medium to use on the gelli plate.
You can use any type of paint you have however here are a few points to consider:
Heavy body paints will "grab" the texture more than the thinner soft body and craft paints – so you will definitely notice different effects depending on which types of paints you use.
The lighter the color the faster it dries so you have to consider how fast you want to work.
Different artists like different brands but ALL brands work great so use what you have!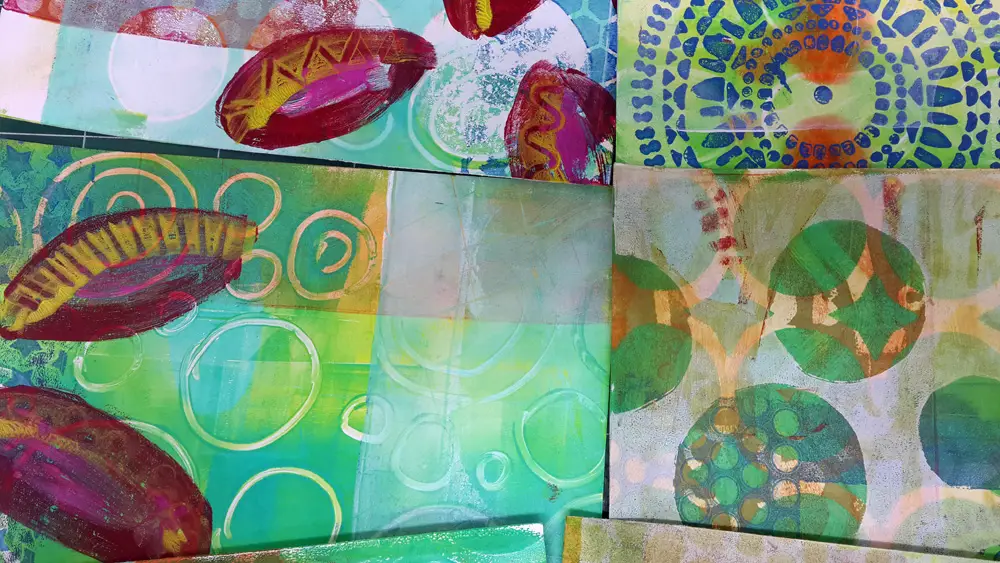 TEXTURE AND PATTERN MAKING SUPPLIES FOR GEL PRINTING
Using acrylic paints to make the prints is just the first part of gel pinting. The next stap is to add texture and pattern to the prints you're making.
There are unlimited possibilities for different things you can use to create textures and patterns with your gel plate.
CRAFT & ART SUPPLIES
The main tools for adding patterns and textures to your prints are stencils and stamps. Any pattern will work, and any brand will work. You can use stencils, masks and stamps that has patterns or an image - experiment with what you have in your stash!
You can also make your stencils by punching out shapes or cutting them out with scissors and placing the punched paper on the plate. Create your own masks with the punched or cut shapes.
HOUSEHOLD ITEMS
You can also use items you have around the house. Here are a few ideas:
Combs
Plastic Forks and Knives
Ribbon and Lace
String and Twine
Plastic Canvas Pieces
Crumpled up Wax Paper or Tissue Paper
Buttons
Hardware nuts & washers
Bubble wrap
Plastic cards
TP rolls
FREEHAND DRAWING
Another fun way to add patterns and textures is to draw in the paint with a pencil, popsicle stick or other tool. Just be careful not to damage the plate!
PAPER
You can use any type of paper you want to print on but it also depends on what you want to make with your prints.
Here are some paper ideas to use:
Cardstock
Watercolor paper
Delli paper
Tissue paper
Book paper
Music sheets and maps
OTHER MEDIUMS
Acrylic paint is not the only paint or color medium you can use on the gel plate.
Many materials will work and create great prints however they might stain the plate. However staining will not affect the quality of printing and usually can be cleaned.
Here are other materials you can use:
Inks
Markers
Crayons
Watercolors
Sprays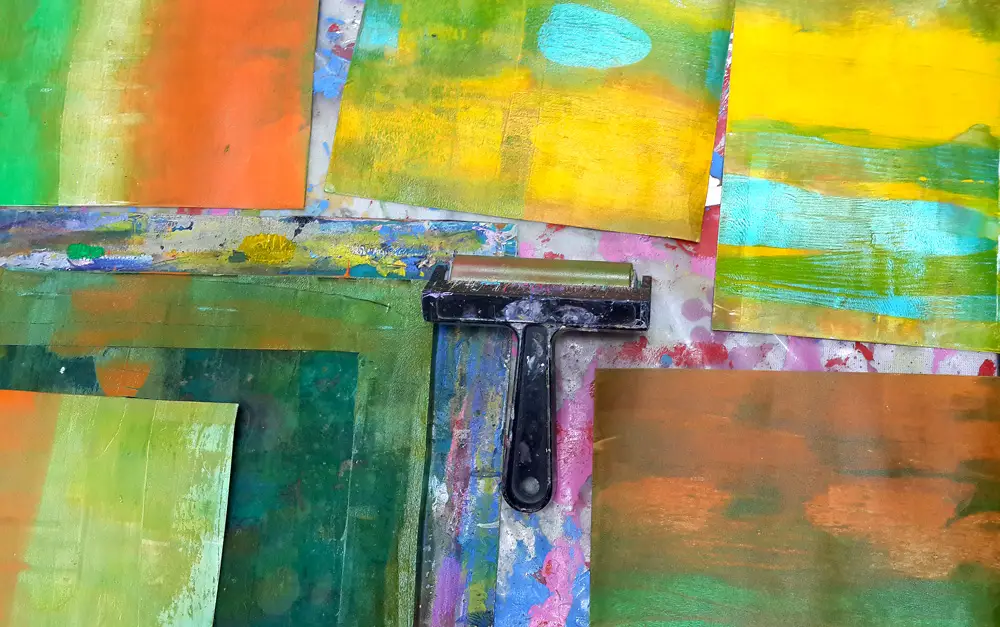 WHAT DO I DO WITH ALL THE GEL PRINTS
You probably ask yourself how do I use gelli prints and what do I do with them. True, these are fun to make but in the end what are they good for?
My favorite way is to use them for art journaling:
Make an art journal page background from an entire print
Use pieces of different prints to make a collage
Cut out a focal point
Cover the art journal background
BUT there are many more things you can do with your gel prints.
So in order for you to not waste time making something you won't use I created the complete list of what you can do with your gel prints.
Click here to get it sent to your email right away!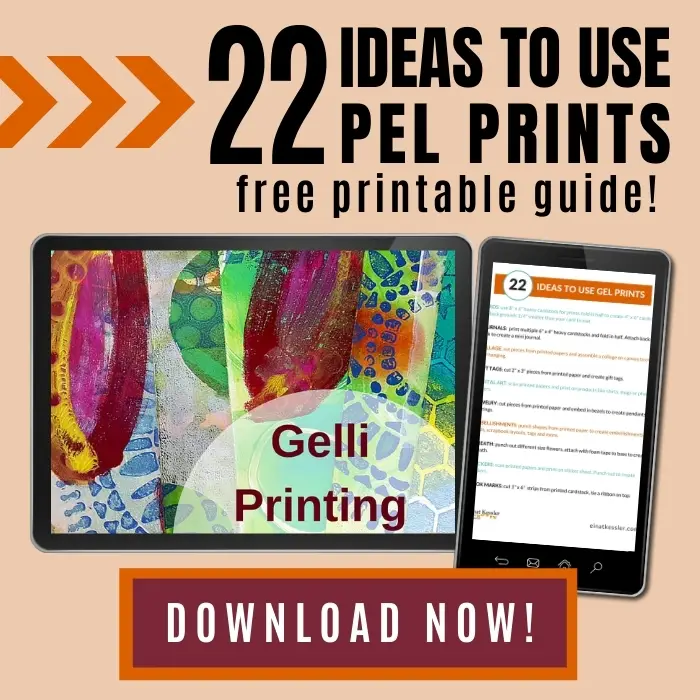 THE BASICS OF GEL PRINTING
Here is the step by step process to print with a gel plate and make custom made papers and patterns.
APPLY THE PAINT
The first step is to apply some paint to the gel plate. You can do this with a palette knife or just dab a few drops of paint onto the plate's surface straight from the bottle. You can apply more than one color.
SPREAD THE PAINT
Once there is some paint on your plate, the next step is to take the brayer and roll it over the paint and spread it along the gel plate.
There are no rules for how you should do this or which direction you go so have fun and let yourself experiment! If you are using multiple colors, try to roll the brayer in one direction and lift it up when you reach the edge, rather than going back and forth. This can help prevent colors becoming muddy when mixing contrasting colors.
MAKE PATTERNS AND TEXTURE
This is the part when you get to use stencils, masks, stamps and tools.
Here are a few ideas you can do and some different gel plate printing techniques:
Place a piece of twine over the painted gel plate
Using a comb to create different designs and lines
Stamp the plate with different materials – such as buttons, cabinet pulls, hardware washers and nuts
Press a piece of decorative lace ribbon into the gel plate
Use stencils and masks to create areas that won't be covered with paint
Stamp an image
Remove paint with a baby wipe on a stencil
PRESS AND PULL
Once you have your textures or patterns, you simply lay a piece of paper on top of the gel plate, press down with your hands to smooth it out – and then pull it off to reveal your design.
If there is still paint on your gel plate after the first print is pulled, you can always place a second piece of paper onto the plate and repeat the press and pull process. These are called "ghost prints" and sometimes the ghost prints can be just as every bit as beautiful and interesting as the original!
After the first print is dry you can do another print. Layering prints on the same paper will result in beautiful patterns and prints.
GELLI PLATE ART BEST RESULTS
Gelli printing sometimes has an unpredictable aspect. When you apply the paint on the gelli plate you never really know how it will look on paper.
First of all it's reverse and second you build layers that you don't know how will look together once you are finished.
Some people are uncomfortable with this lack of control and never tried gelli printing because of that. But I love it! I think that this is part of what art is all about, use your imagination and accept whatever comes out.
The basics of gel printing step by step video tutorial will help you overcome this uncertainty and embrace these surprises.
Start with the first step and go slowly with the video and before you'll know it you will be a master in gelli printing and you won't even remember what you were uncomfortable about... Keep play and experiment beyond the basics of gelli printing and try new found objects to create textures, try new color combination and use DIY stencils or stamps to create even more amazing gelli prints.
THE BASICS OF GELLI PRINTING VIDEO TUTORIAL
GEL PRINTING MISTAKES TO AVOID
For best results and to keep your gel plate in perfect condition for many years make sure to avoid these gelli plate problems
USE SHARP OBJECTS
The girlplate is very soft so any sharp object can cause marks, dents, scratches or holes that can't be repaired! Take care when using any object to make prints to avoid damaging the gelli plate.
THINK YOU NEED JUST THE RIGHT...
Tools
Paints
Ideas
Techniques
YOU DON'T! You can make gel prints with any tool, paint and try any idea or technique - this is what gel printing is about. Discover, experiment and be creative!
EXPECT PERFECT GEL PRINTING RESULTS
Part of gelli plate art is the surprise element and the unexpected result. There might be a learning curve but with time and practice you'll be able to plan the result and control the process.
THROW AWAY "FAILD" PRINTS
If you don't like a print you made wait a few days and look at it again. If you still don't like it cover part or most of it with white paint and make a new print.
MAKE "SAFE" GEL PRINTING
Don't be afraid to try and experiment after all it's only paint and paper!
PUT TOO MUCH OR TOO LITTLE PAINT
This is tricky because it depends on the paint you're using. After making a few prints you will get the feeling of how much paint to use.
Applying too much paint can result in blury and inacurate patterns because when you press the paper against the plate the paints spreads to the sides.
Applying too little paint can cause the paper to stick to the plate.
MIXING TOO MANY PAINTS
When you mix too many paints you are at risk of getting "mud" instead of a few clear separate colors. So instead of mixing many paints at once work in layers and create different prints one on top of the other.
HOW TO STORE GEL PRINTS
Gel printing can be addictive, so once you start you'll see you'll create many prints. Organize a sorting and storage system for them so they'll be accessible for any project you'll want to make.
Store gel monoprints by colors or patterns
Arrange the grlli prints by the type of paper you used
HOW TO USE GEL PRINTING PRINTS
After organizing all your prints you now have custom made papers you can match to any project you need and you'll always have the paper you need! 
It's time to use your gelli monoprints...
I've made a printable guide with 22 ideas you can use your gel prints.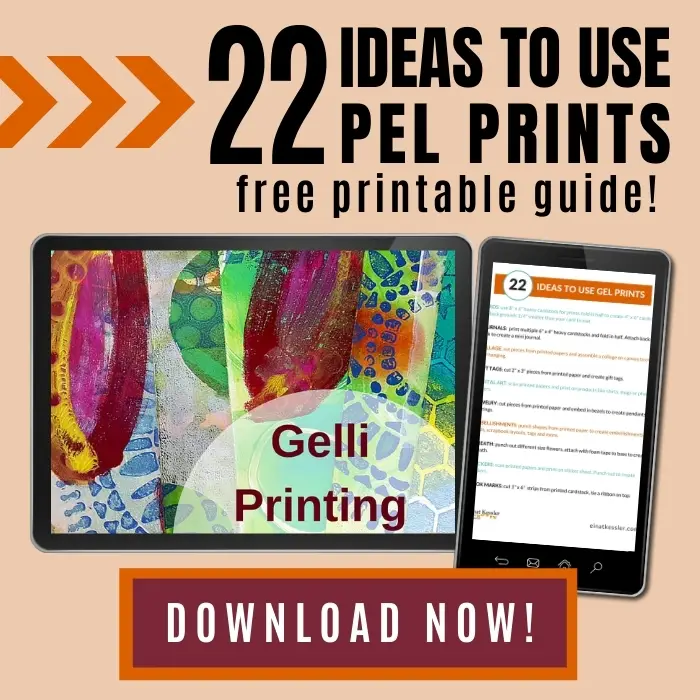 GEL PRINTING IN ART JOURNALING
Many artists are create their own art journal backrounds and even complete art journals with gel prints.
Here's an art journal page I created using pieces of a gel prints to create the background. Click here to watch the video tutorial.
CLEANING THE GEL PLATE FOR FUTURE GEL PRINTING
After using the gelli plate it's important to clean it. You can use baby wipes or wash it with soap and water.
It's also important to clean the brayer so it won't accumulate dry paint that will interfere with rolling the paint. After using the brayer roll it on a scrap piece of paper or an art journal page. This way you won't waste paint and create another background or a start of a new print. After that clean the brayer with water and soap.
Store your gel plate horizontaly and cover it with plain white papers on both sides.
Sharing is caring - PIN IT!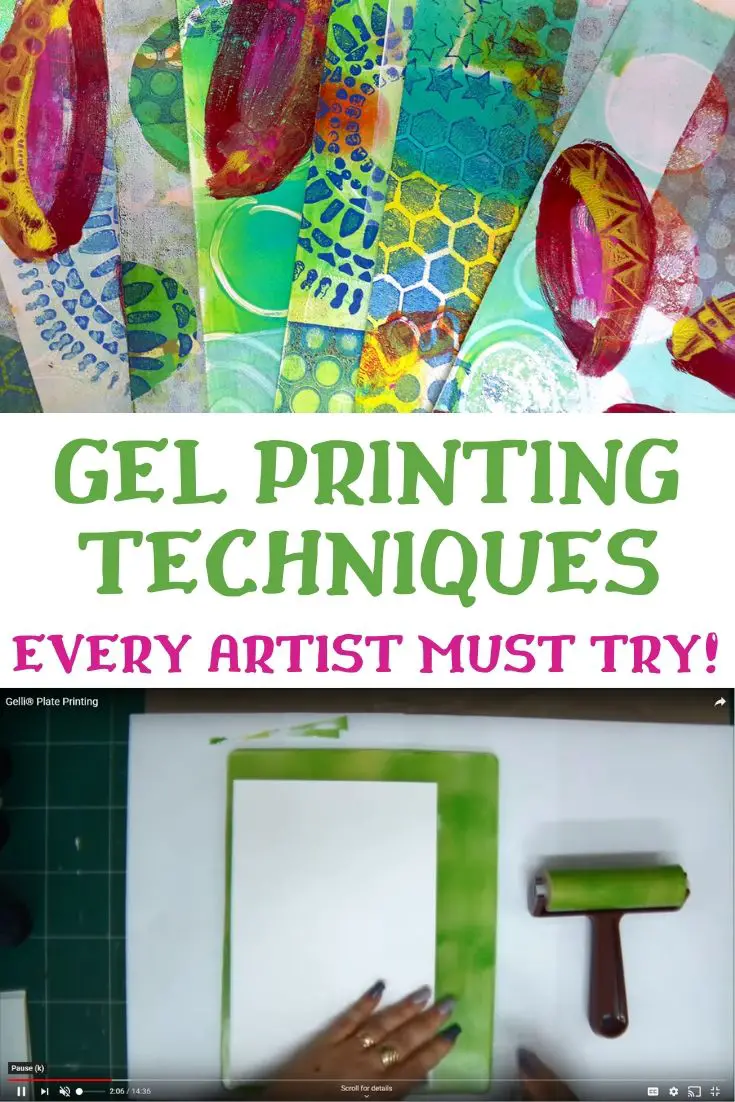 Have fun creating!