Inside: how to make a Christmas advent calendar to countdown the days until Christmas!
Since I was a kid whenever I had an important event coming up I always made a table with the number of days I had to wait and I crossed off each day counting down the days remaining. It was such a thrill to see fewer and fewer days that needed to be crossed off and that whatever I was waiting for almost here. With the holidays and Christmas fast approaching I imagine many such tables or advent calendars are popping around your homes.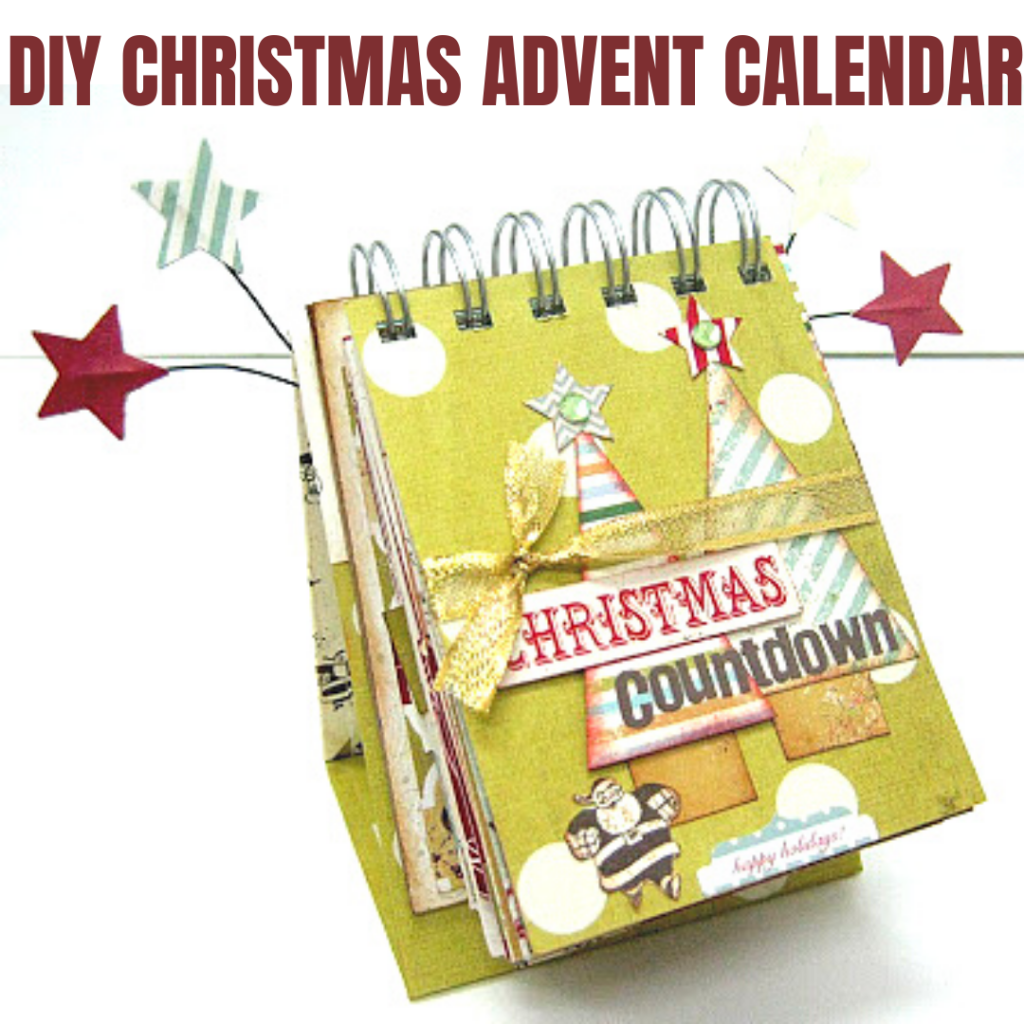 WHAT IS AN ADVENT CALENDAR
Advent is an important part of the Christian calendar. It means 'coming' and it's the period before Christmas, which celebrates the birth of Jesus. It is all about preparing for Christmas Day.
An Advent calendar is a special calendar used to count the days of Advent in anticipation of Christmas. Since the date of the First Sunday of Advent varies, falling between November 27 and December 3, many Advent calendars, especially those that are reusable, often begin on December 1, although those that are produced for a specific year often include the last few days of November that are part of the liturgical season. The Advent calendar was first used by German Lutherans in the 19th and 20th centuries.
HOW TO START IT
There are two main approaches in regards to how to start a Christmas advent calendar:
The calendar should start with one counting up to 24 - according to this logic the point of the calendar is not to countdown, but rather to count up towards the days before Christmas. Think about it this way: if you were going to use candles for your advent calendar, you'd want to end up with 24 lit candles, not one.
The calendr should start at 24 counting down to 1 - accoring to this approach it's much more exciting to countdown to that one big day everyone is waiting for s well as keep track of how many days are actually left until Christmas.

Some calendars are only for 12 days like the 12 days of Christmas song.
The decision which caendar you want is completely up to you!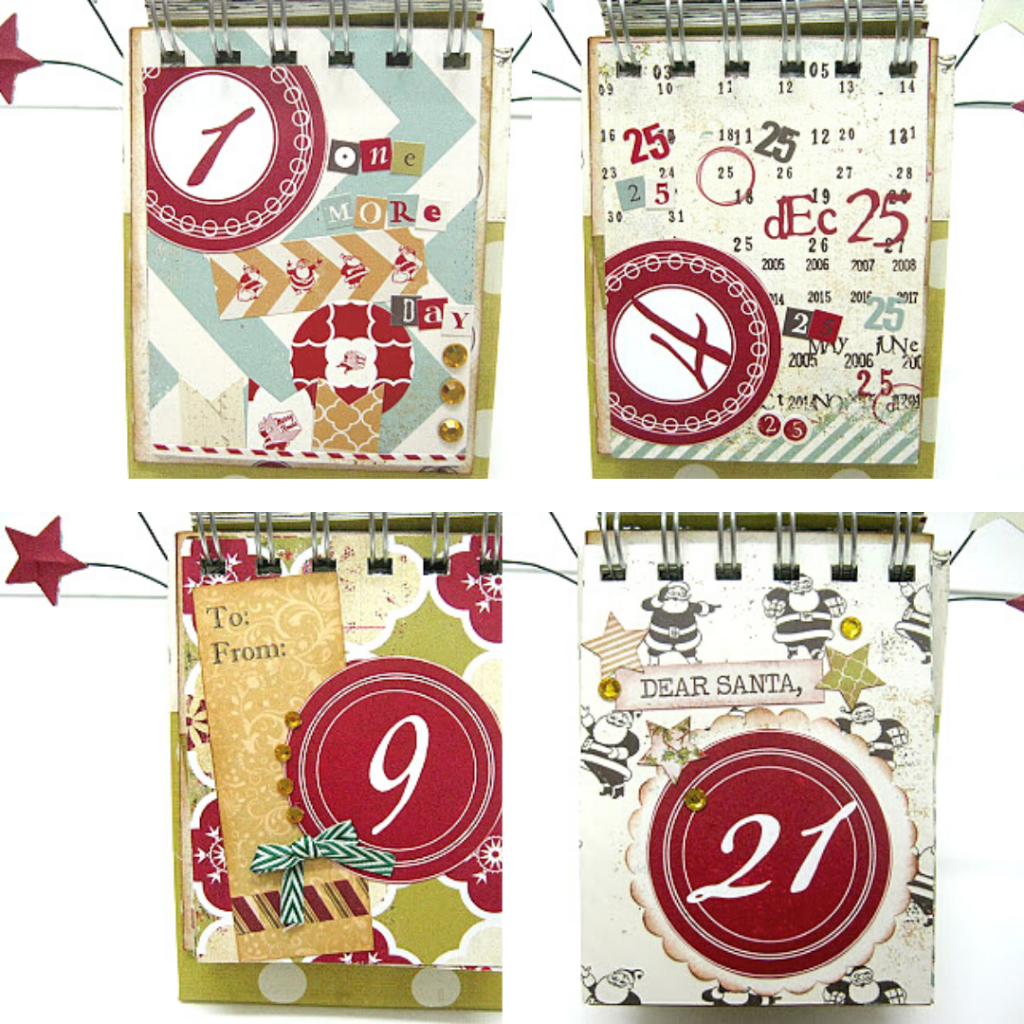 DIY CHRISTMAS COUNTING CALENDAR
The intrnet is full of DIY Christmas advent calendar ideas for adults and kids, advent calendars that you can put a little something inside a designated box or space for each day. You can find Christmas advent calendars fromalmost every material from paper and fabric to wood and recycled materials. Some people make a new advent calendar evey year!
Here are some ideas:
CHRISTMAS ADVENT CALENDAR IDEA
This Christmas countdown calendar is really simple to make and require a few pieces of chipboard and Christmas theme papers.
Start by creating the booklet of numbers counting from 1 and bind it with rings, ribbon or a wire. I used my Bind it All.
Then add the numbers to the pages and embellish them with as much holiday embellishments, colors and bling that you can, so it'll be bright and jolly! Create a special page for the final day when Christmas finally arrives!
Build the stand from pieces of chipboard and cover them with paper. Adhere the booklet to the stand and add more embellishments.
For thw wire embellishments - attach two stars back to back with a wire in between them. Attach the wire to he calendar.
Here's the complete step by step video tutorial to make this Christmas advent calendar
CUSTOMIZE YOUR CALENDAR
Check out these ideas how you can customize this project to the supplies you have at home:
If you don't have enough Christmas theme papers you can make your own:

stamp or stencil relevant images like starts on a white paper.
Draw green and white lines or plaid on paper.
Cut out images from magazines and attach to white or color paper.

Add the numbers with stickers, your handwriting or print them on the computer and then cut out or punch out.
Embellish the pages with stickers, cut out or punched shapes, cut stamped images and even cut out images from magazines or old Christmas cards.
Add ribbons, rhinestones and glitter to make the calendar festive.
Instead of chipboard for the calendar base use an empty cerial box and instead of wire use ribbon or twine to bind the calendar.
Sharing is caring - PIN IT!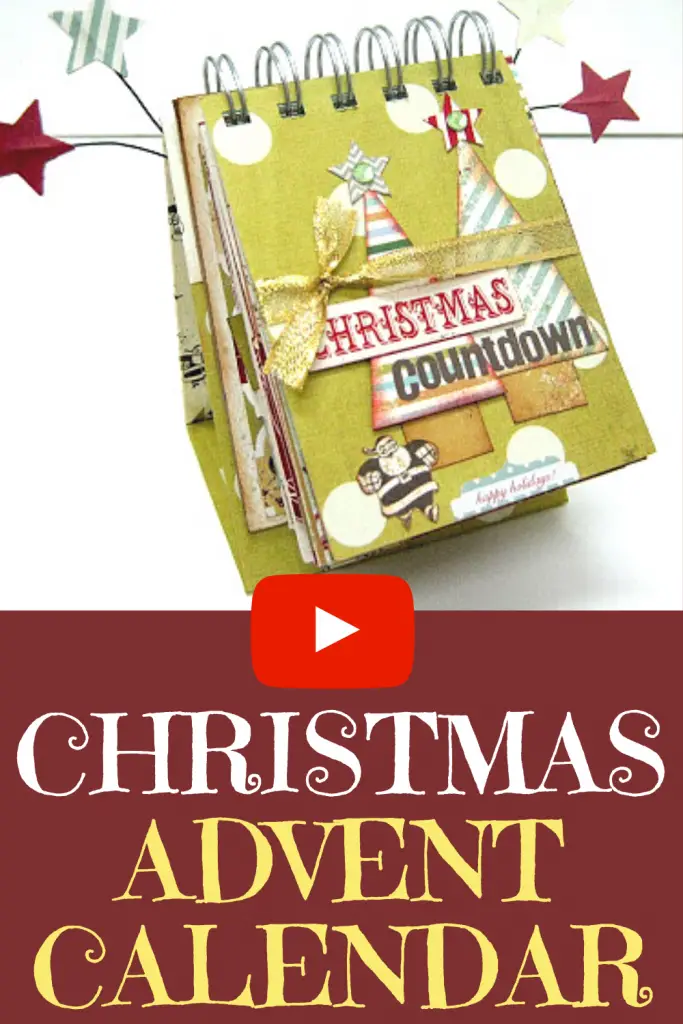 Have fun creating!