Inside: 3 easy steps to organize your craft room
Organizing our craft room is a daunting and usually unpleasant task. I don't know but I try to avoid it as much as possible 🙂 The problem is that over time our craft space looks like a disaster zone and we can't find anything. Today I want to share with you my 3 easy steps to organize your craft space and get rid of the clutter and mess once and for all!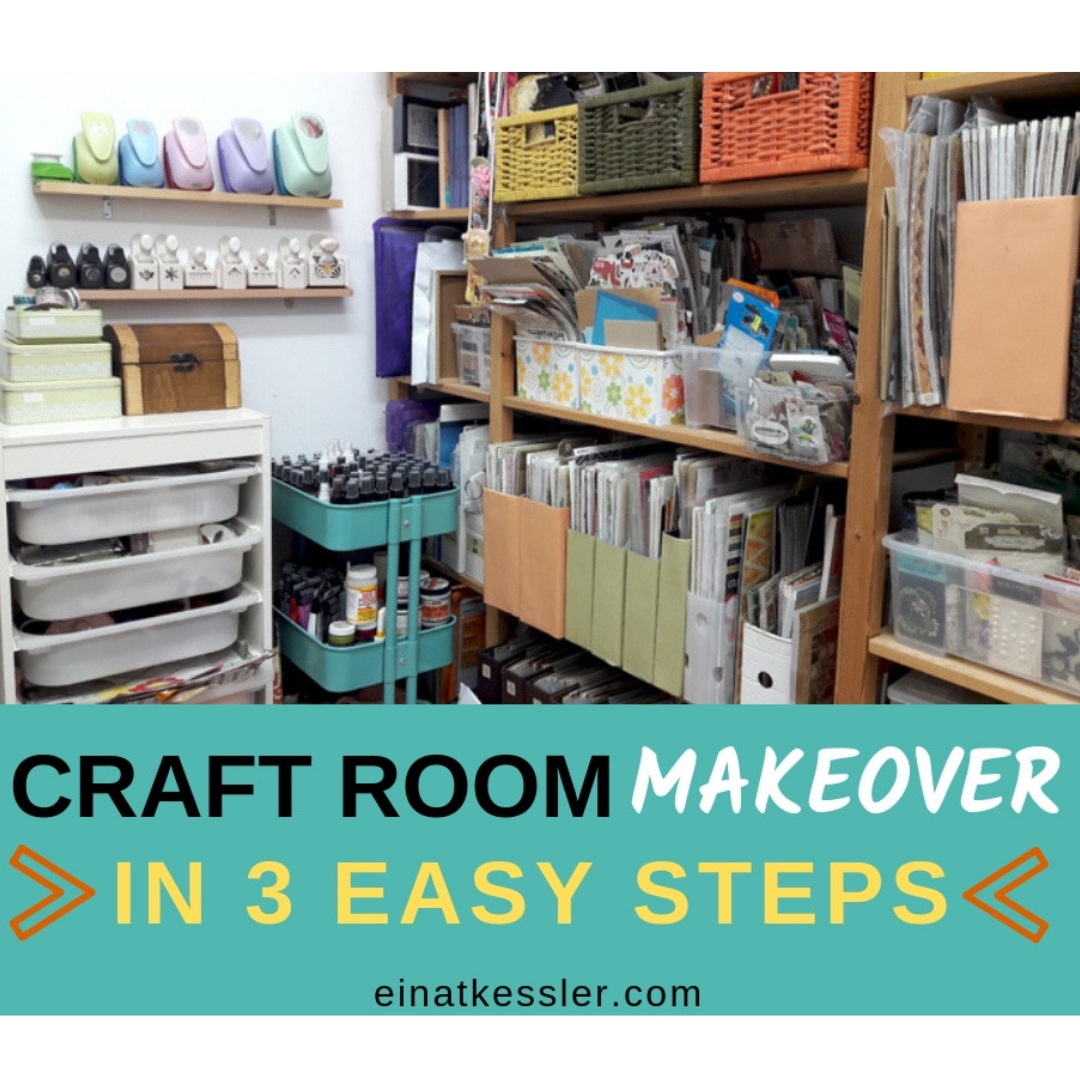 STEP 1: DE-CLUTTER CRAFT SUPPLIES
Say what?! Getting rid of stuff?
Yes... you read right... getting rid of some of your supplies is the first necessary and sometimes painful thing to do.
WHY GET RID OF SOME CRAFT SUPPLIES?
If you answer yes to one of these questions then you definitely get rid of some of your supplies:
Do you spend more time organizing supplies than crafting?
Are you having problems finding a specific supply for a project?
Do you feel guilty about spending money on supplies you don't use?
Is there no room for new supplies?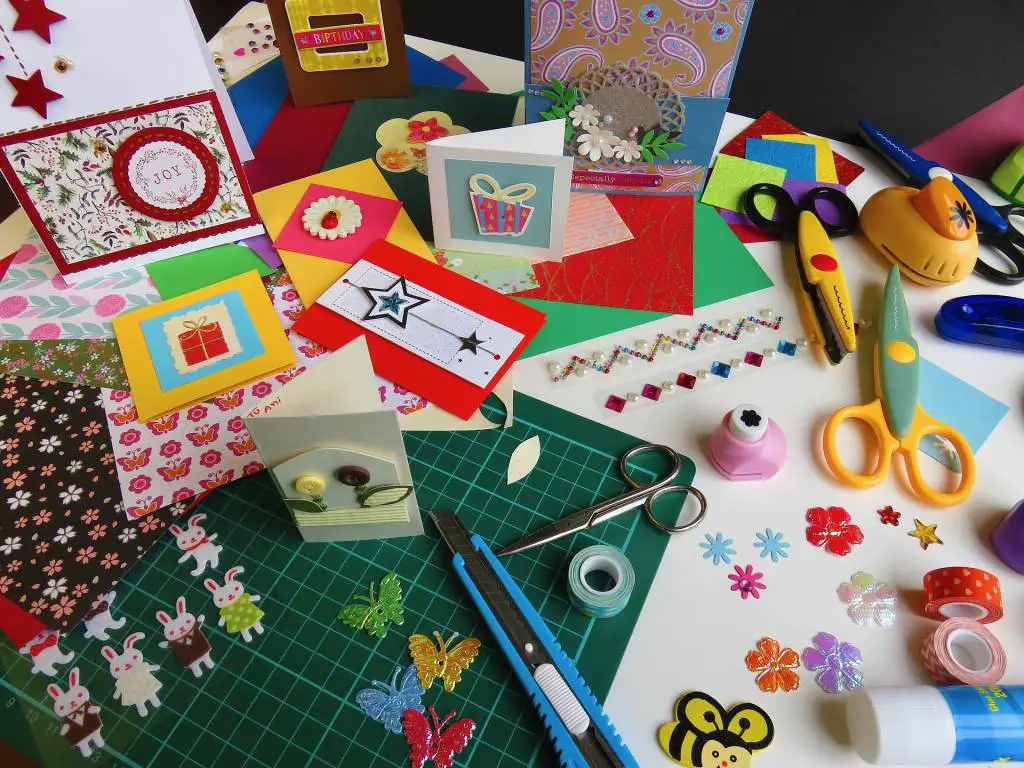 WHAT CRAFT SUPPLIES TO KEEP?
The process of deciding what craft supplies to keep and what not coincides with organizing your craft room.
Do this:
Start your sorting process by going through every type of supplies like papers, fabrics, brushes etc.
Divide your stash into three piles: keep,throw out and donate.
Decide what item goes to each pile.
This is going to take time so don't stress yourself and try to do it all in one day. Give yourself enough time to really think about what you want to keep and what not.
Feeling overwhelmed? I'm not surprised...it's not an easy task to complte. But I have a little FREE printable that can help you complete all three steps: The DE-Clutter list.
Get it now!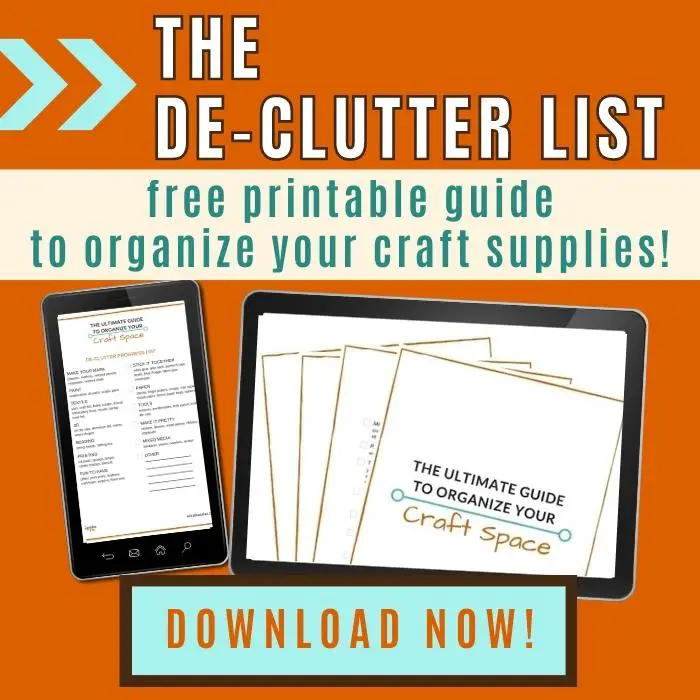 STEP 2: MAKE A PLAN FOR THE CRAFT ROOM
CRAFT ROOM PLAN
After you finish sorting through your stash it's time to start thinking about how you want your craft space to look. The next step is to make a plan where everything will go and how you are going to store it or organize it.
When you make your plan start with the largest items like the furniture and work your way to the smaller items like boxes. The idea is that you first need to figure out where to put the items that take up the most space and then fill them and the space that is left with the smaller items.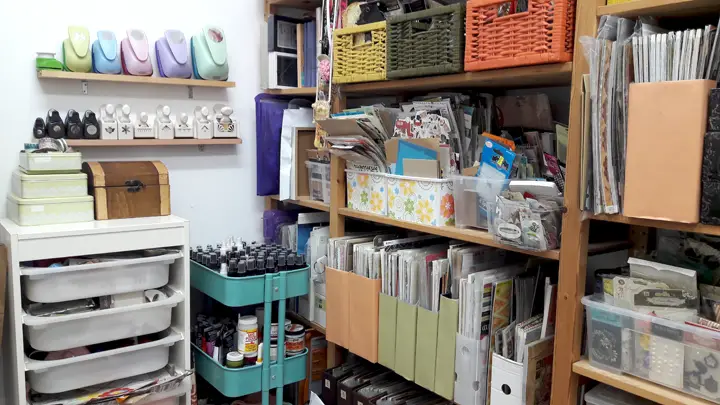 USE EMPTY SPACES IN YOUR CRAFT ROOM
Every craft space has empty spaces that might escape you:
WALLS: use the walls all the way up and down by adding shelves.
UNDER THE TABLE: store less used craft supplies in boxes under the desk. Another way to utilize the space under the desk is to place a small cabinet or drawer chest that can fit the space under it.
SHELVES & CABINETS: shelves can sometimes be deep so you can store items that you don't need so often behind the items you use more.
STEP 3: ORGANIZE CRAFT ROOM
HOW TO STORE CRAFT SUPPLIES
If you want your supplies to be organized, easy to reach and visible and you're less concerned with the overall look of your room then you need to make it functional. Find boxes, baskets and containers to store your supplies.
Have some fun and show off those colorful craft supplies! You can organize your craft supplies by color, or get a little crazy and mix and match.
Think texture! Craft supplies have such a myriad of different textures, so play up those features when you're organizing your supplies.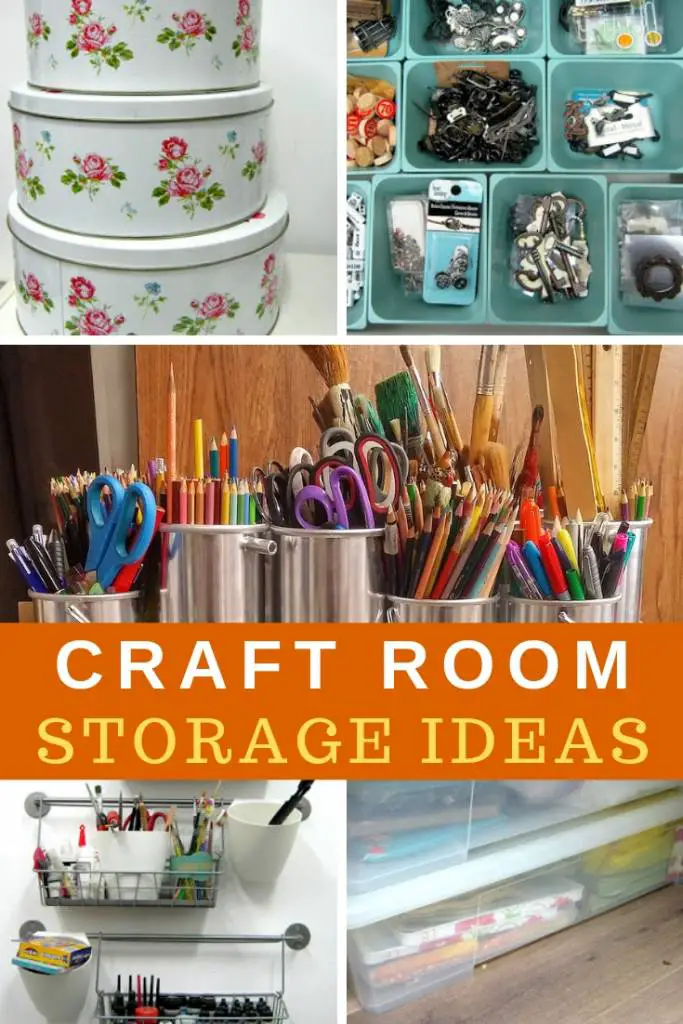 TIPS FOR ORGANIZING CRAFT SUPPLIES
PAPER: arrange paper vertically by size, color, pattern and/or theme.
PAINT: the way to make your paint supplies look great is to organize the bottles by color and size.
TOOLS: the tools you use the most should be closer to you than the tools you use less.
PUNCHES: arrange on a shelf or in a drawer according to size and shape.
STICKERS: fill boxes or drawers according to theme and separate letters from images.
BEADS: store the beads, brads and small charms in ice cube treys or small boxes and even match boxes.
BRUSHES: use jars, tins or other containers to store brushes on your desk.
DIY CRAFT ROOM STORAGE
PAPER BOXES
Create your own boxes to store papers.
Here's how:
cover pizza boxes with pretty paper.
Store papers inside.
Label boxes with paper color, theme or pattern.
Stack the boxes one on top of the other. Label
Take large shoe box and glue the lid to box.
Cut long side of box.
Cover box with pretty paper.
TOOLS ORGANIZER
Recycle items like tp rolls to create your own DIY storage solutions that you can custom make to fit your craft room design.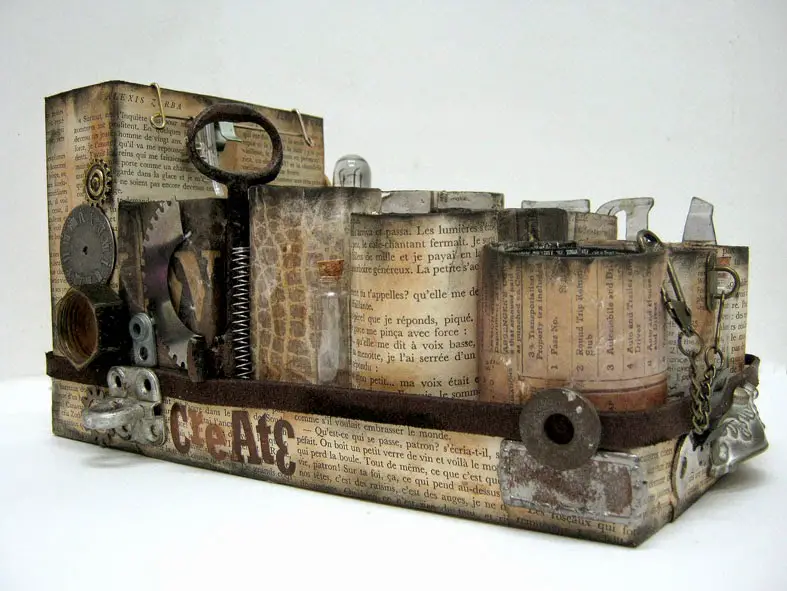 Do this:
Cover tp rolls with paper or paint.
Attach tp rolls to each other to create grid.
Attach grid to trey or cut cardboard box.
BEADS ORGANIZER
Make a drawer chest out of match boxes to store beads and brads.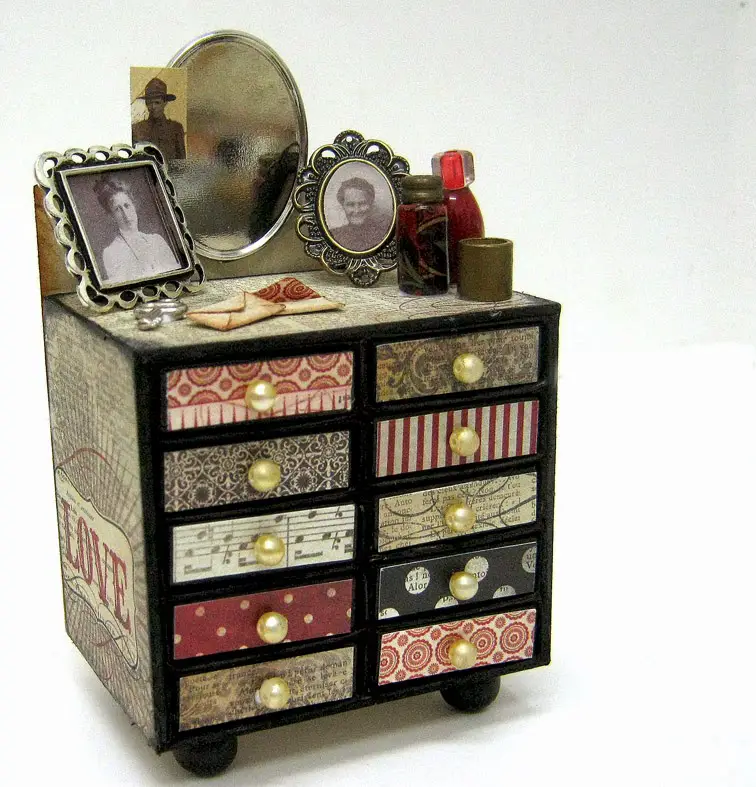 Here's how:
Attach empty matchboxes to each other.
Cover with pattern paper.
Add legs on the bottom and embellishments on top.
DIES BINDER
Make an envelope binder to store your dies inside:
Bind different size envelopes or page protectors with rings.
Attach cut shape to front of envelope.
Insert corresponding die into envelope.
CRAFT ROOM LABELS
After you finish arranging your craft room and all your supplies don't forget to label them so you'll be able to find them when you need them.
To make your organizing process easier and more manageable I created a printable DE-Clutter Progress LIST. The list specifies different craft supplies you need to organize in your craft room with a checkbox nest to each one. When you finish organizing a type of craft supply check the box next to it and move on to the next!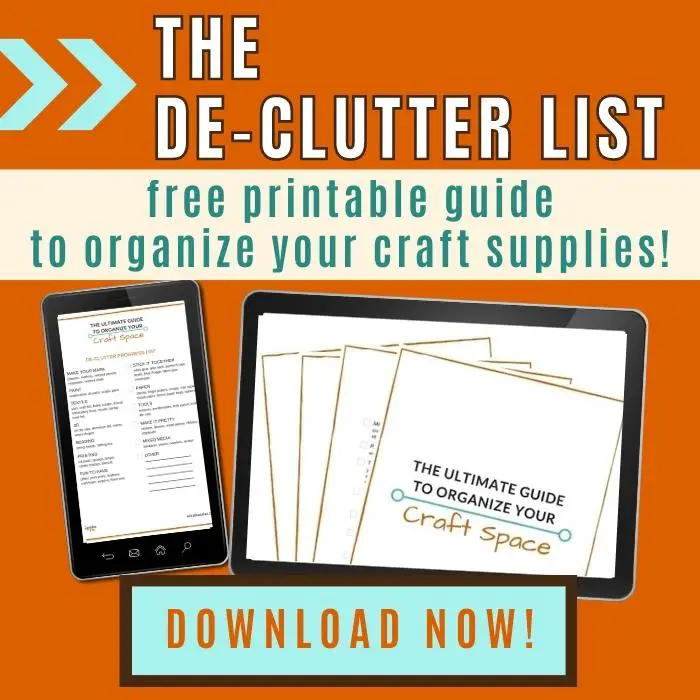 Need more ideas? Here are some 5 tips to maximize space in your craft room.
SAVE it for later - PIN IT!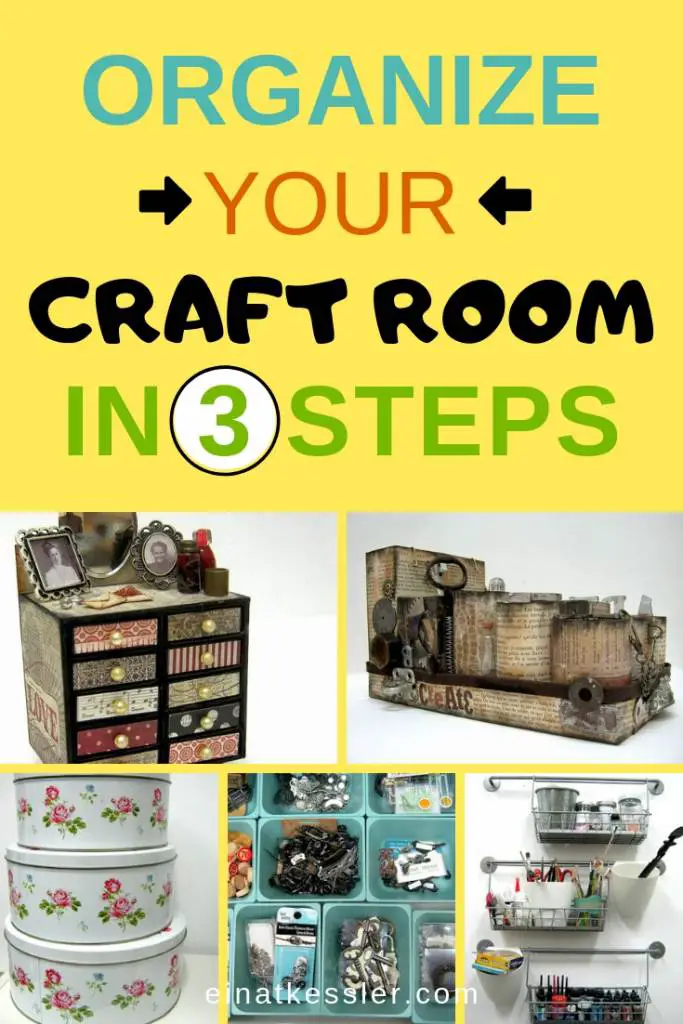 Have fun creating and organizing!