Inside: 13 amazing boxes to make yourself for easy storage 
Boxes are the number one paper project everyone is making! OK I made that up but if we have the papers and we need to keep our home organized why not create our own storage solutions? You know how much I love boxes and crafts so let's combine the two! We will not only be organized but we'll also use some of the paper mountains we have in our stash 😉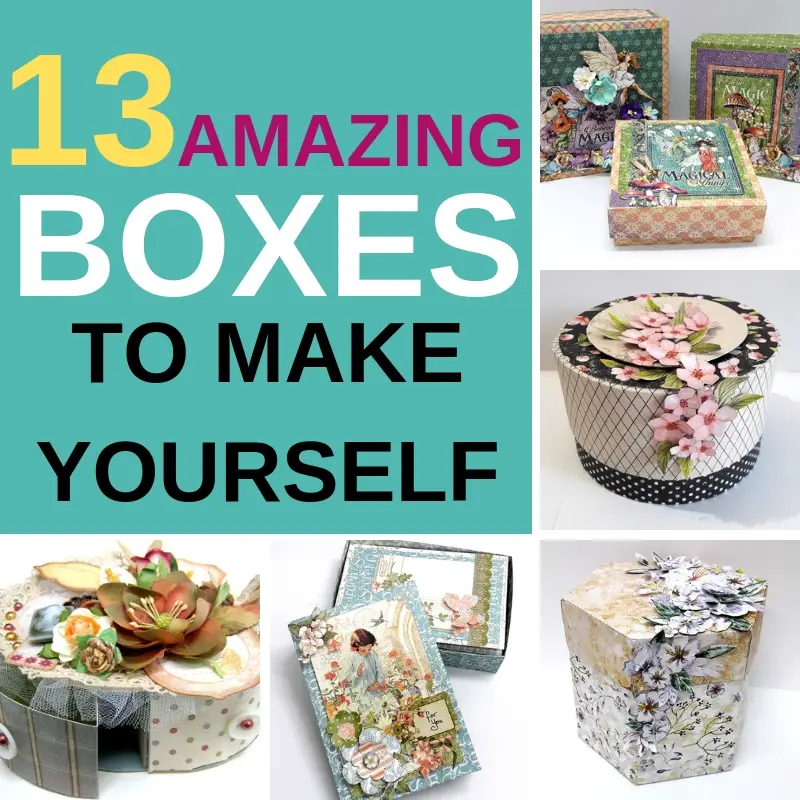 WHAT DO YOU NEED TO MAKE A BOX
Paper boxes will never be as strong as plastic or metal but they can be strong enough to store various items. If you build them correctly and make them sturdy enough then you can fill them with small items like beads or heavier items like markers. It's all a matter of size and the material you use. The material to build a box needs to be in the right weight so you'll be able to cut it, score it and fold it.
Here are the best:
Heavy cardstock preferably double sided. It will save you the work of cutting pieces to cover the sides of the box.
Light weight cardboard.
Chipboard. When you make boxes from chipboard you need to apply different technique but they are the most sturdy and strong.
The other tools you need are a pencil, ruler, cutting knife and glue.
WHAT CAN YOU STORE IN PAPER BOXES
You can store anything you want! However you need to consider a few things:
SIZE: the size of the item needs to fit the box. Always make a large box to fit as many items you have now with a little room to spare for the future.
DRY/WET: filling a paper box with wet items is not recommended unless you protect the box by first putting the items in a plastic bag.
MOBILITY: if you need to move the box while it's filled then it's best to make a sturdy box. The last thing you want is for the box to break because it's too heavy. However if you leave it on a shelf or cabinet then you can fill it with anything without worrying about the weight.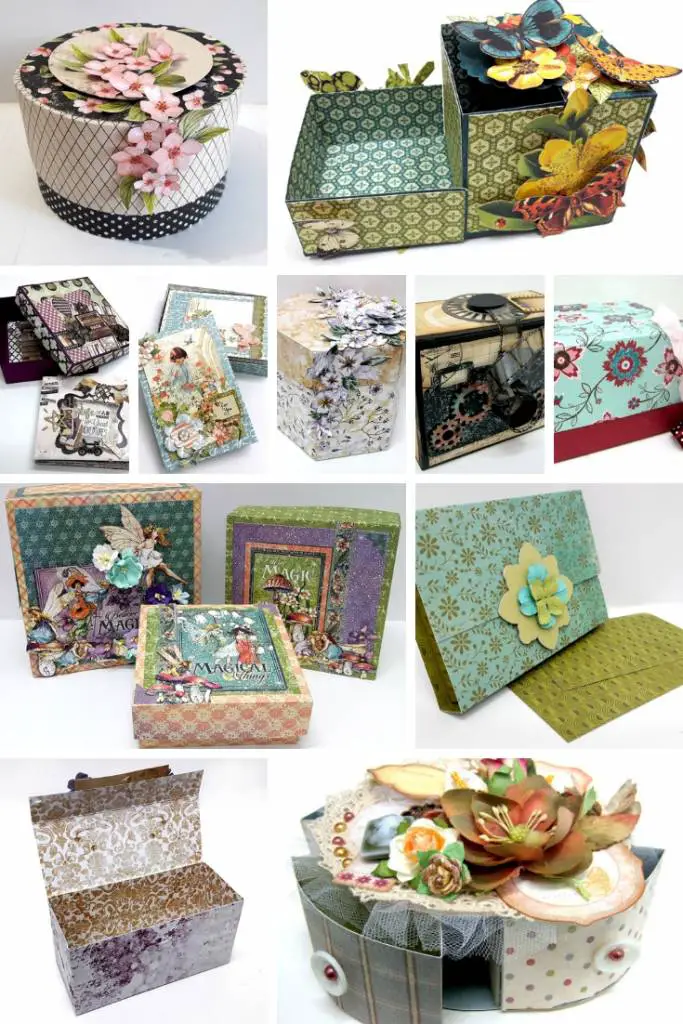 IDEAS TO FILL A BOX
Here are a few ideas for items you can fill your boxes with:
CRAFT ROOM: beads, brads, stickers, paints, glue, found items, washi tape, chipboard pieces.
KITCHEN: small food packages, cookies,bubble gums, rubber bands, cookie cutters, piping bag tips.
KIDS ROOM: small toys, cars, crayons, Lego bricks, hair pins, ribbons
GENERAL ITEMS: batteries, Cd's, medicines and pills, candles
TEENAGER ROOM: pens and pencils, jewelry, charging cables
BEDROOM: jewelry, women's hygiene items
BATHROOM: cotton wool, Q tips, razors, spare glasses, makeup, nail polish
GIFT BOX: chocolates, jewelry, money, gift card
The list goes on and on. Basically you can fit anything into a box!
WHAT YOU NEED TO KNOW ABOUT BOX MAKING
Making boxes is a matter of precision. Unlike other craft areas where free expression is key when you make a box you have to be very accurate if you want all the pieces to fit. Since accuracy is the name of the game measuring is unavoidable when building a box. Always use a pencil and a ruler to measure the different parts of the box and cut with a craft knife so you'll cuts will be straight.
The glue you use is related to the material you use to build the box. The heavier the material the stronger the glue. If you build your box from chipboard you'll need to use white liquid glue. This glue dries clear and makes the box stronger. However if you make your box from cardstock then score tape will be enough.
My personal recommendation is ALWAYS use liquid glue but it's not a must if your box is light weight.
NOW, Let's get down to business!
SINGLE PAGE BOX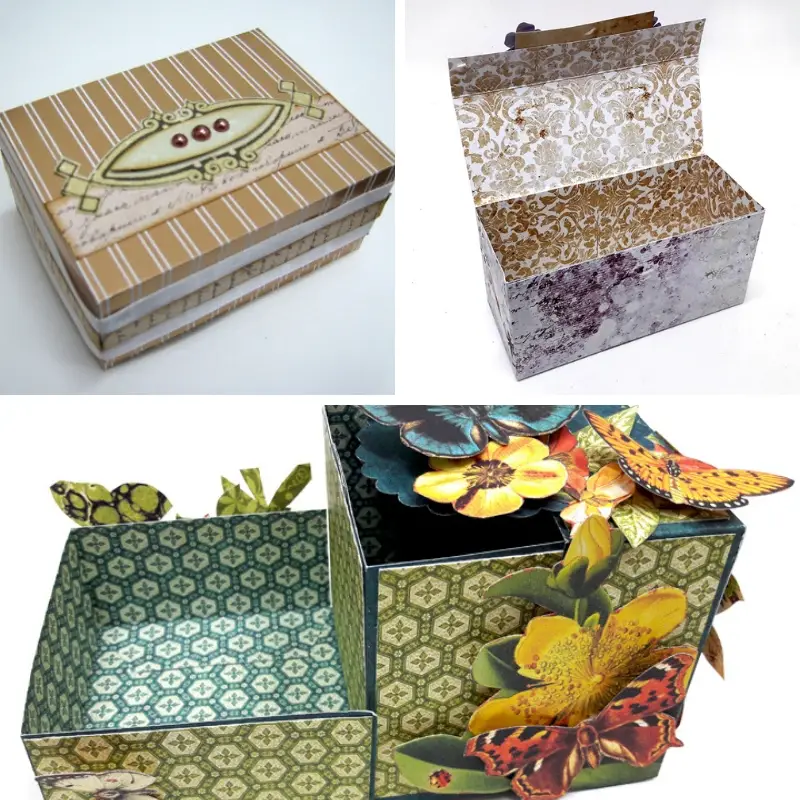 ALTERED BOX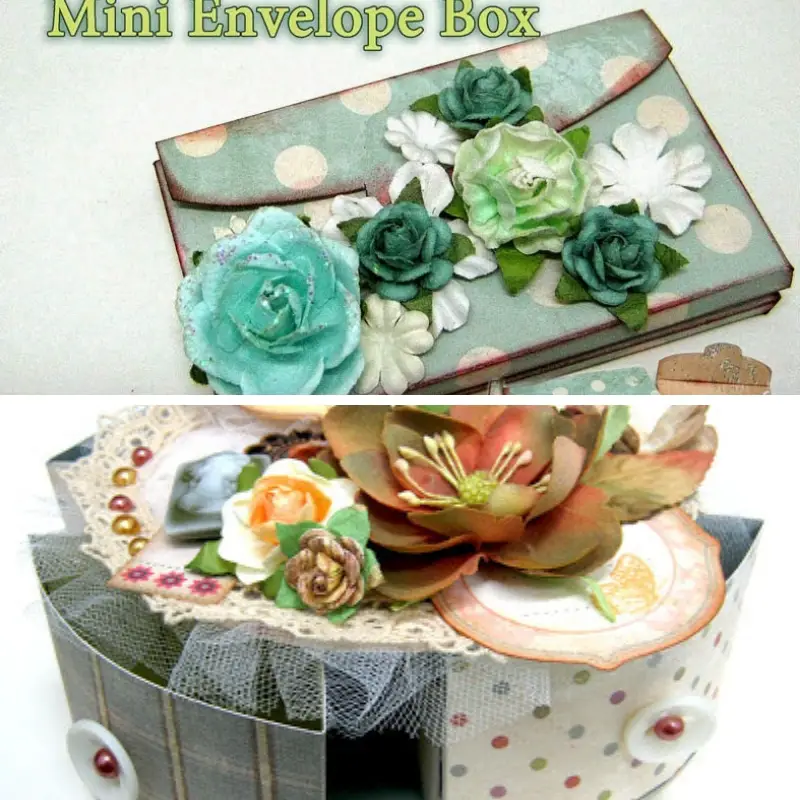 CHIPBOARD BOX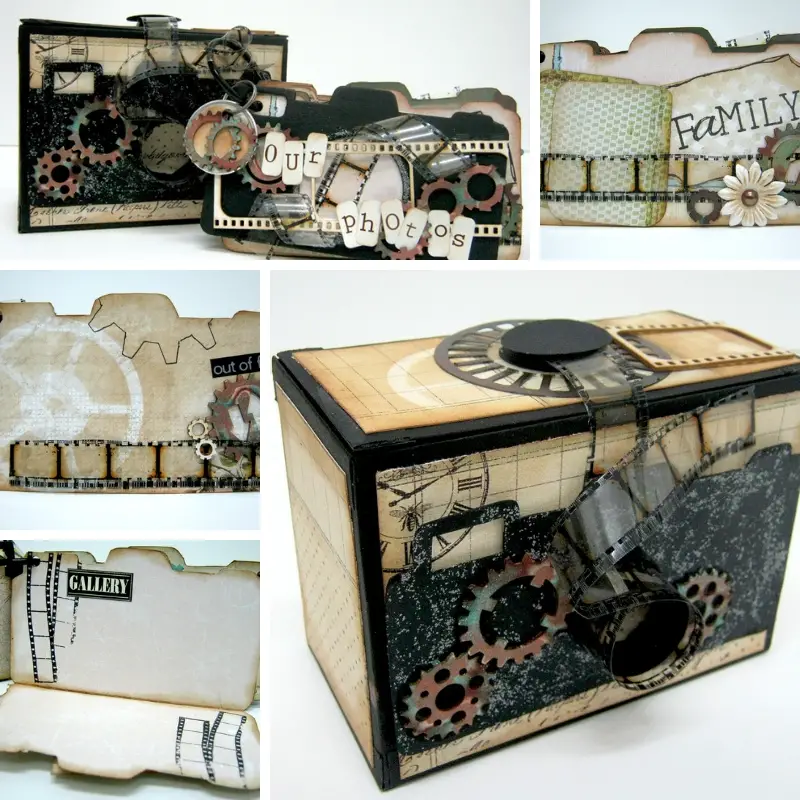 CARDSTOCK BOX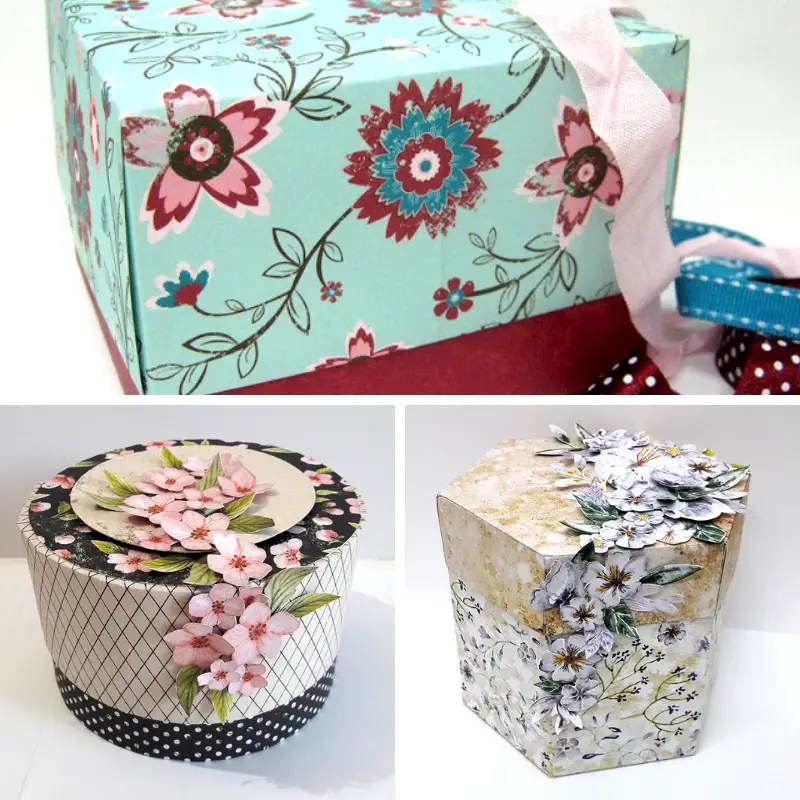 BOX SETS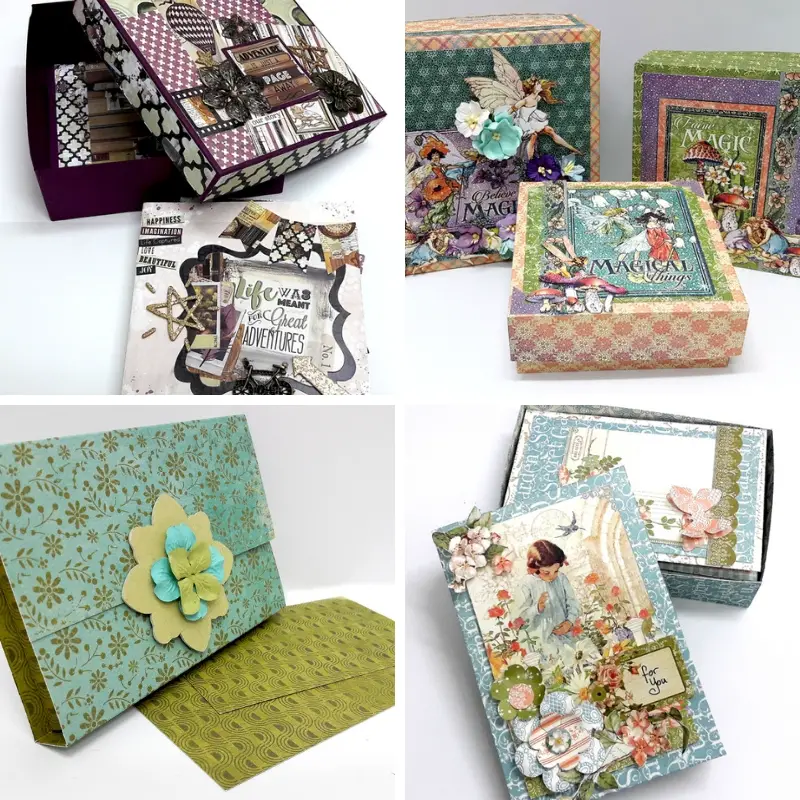 Want to master box making?
How about making gift boxes for every occasion?
Check out the Best Diy Paper Box Ideas eBook
There is a special offer on it now that you won't want to miss!
I hope you liked these tutorials and that you'll make some beautiful boxes!
Leave me a comment telling me what you will put in your DIY boxes.
If you like this post please share it on Pinterest and facebook and definitely SAVE it for later!
Sharing is caring - PIN IT!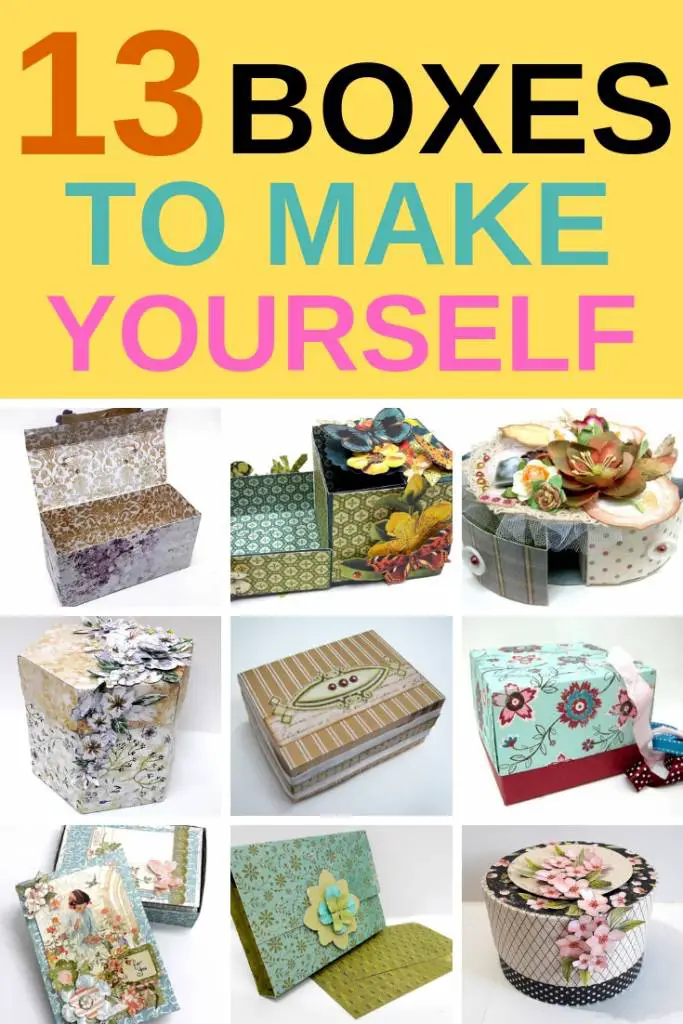 Have fun creating!