Everybody is so busy getting ready for Halloween, deciding what costumes to wear, what candies to buy and what decorations to have. The the big spooky day will be here and you'll take lots of photos why not display them in a spooktacular way too? You can make this BOOtiful frame ahead of time and display photos from previous Halloweens!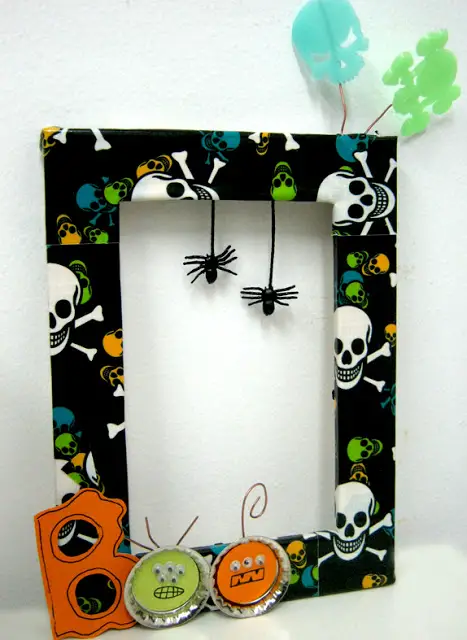 This frame is so easy to make you'll not believe it:
1. Attach metal wire to the back of plastic skulls with tape.
2. Attach wire to the back of frame with tape.
3. Cover frame with skulls duct tape.
4. Attach black cord to spiders. Let dry.
5. Attach cord to the back side of the top of the frame with tape so the spiders will hang from frame.
6. Cut the letter "B" from orange cardstock. Glue to bottom left corner of the frame. Add two bottle caps as O's. The instructions for creating the spooky bottle caps are here.
You can find the full supply list and a step by step video tutorial here.
Don't miss out! Keep up with all the crafty goodness by subscribing to the Einat Kessler creative newsletter
Have fun creating!