Inside: how to make a DIY Halloween picture frame
Everybody is so busy getting ready for Halloween, deciding what costumes to wear, what candies to buy and what decorations to have. The big spooky day will be here and you'll take lots of photos why not display them in a spooktacular way too? You can make this BOOtiful frame ahead of time and display photos from previous Halloweens!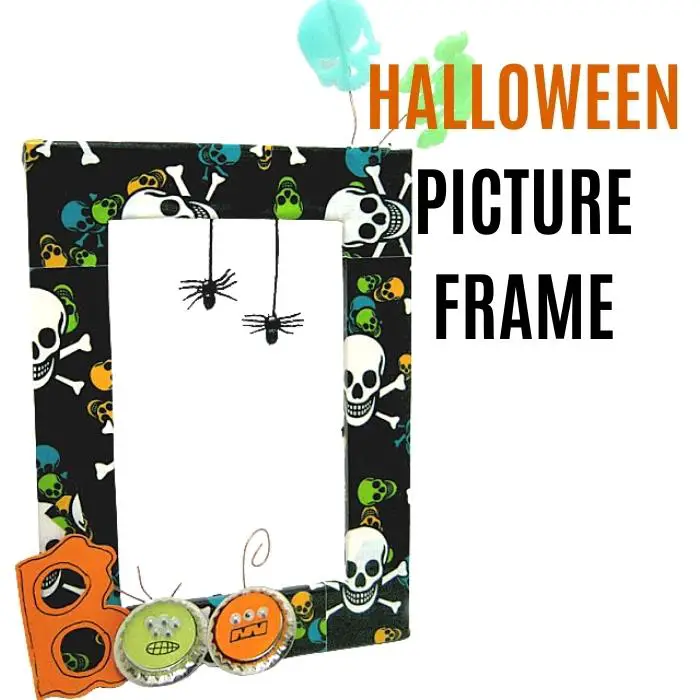 Making your own holiday embellishments will save you money and allow you to be creative. If you use different size frames you can create a complete wall of Halloween picture frames with old and new photos and display your memories for everyone to enjoy.
MAKING A HALLOWEEN PICTURE FRAME
1. Attach metal wire to the back of plastic skulls with tape.
2. Attach wire to the back of frame with tape.
3. Cover frame with skulls duct tape.
4. Attach black cord to spiders. Let dry.
5. Attach cord to the back side of the top of the frame with tape so the spiders will hang from frame.
6. Cut the letter "B" from orange cardstock. Glue to bottom left corner of the frame. Add two bottle caps as O's. The instructions for creating the spooky bottle caps are here.
SUPPLIES YOU'LL NEED
Plastic Halloween embellishments
DIY HALLOWEEN PROJECTS
Making Halloween projects is a lot of fun. Other than a picture frame there are a lot of DIY projects you can make.
My favorites are mini albums for all the fun photos you take of the kids, the decorations and the day itself.
Sharing is caring - PIN IT!