Inside: The basic elements you need to make any Halloween project
It's almost time for the spookiest time of the year... while I won't be celebrating it I can still enjoy its spirit with a bunch of projects I plan to make. If you ask yourself why, well as an artist and a designer I work with lots of companies all around the world and I have an obligation to them and to you to keep inspiring you even though I'm not part of the celebrations!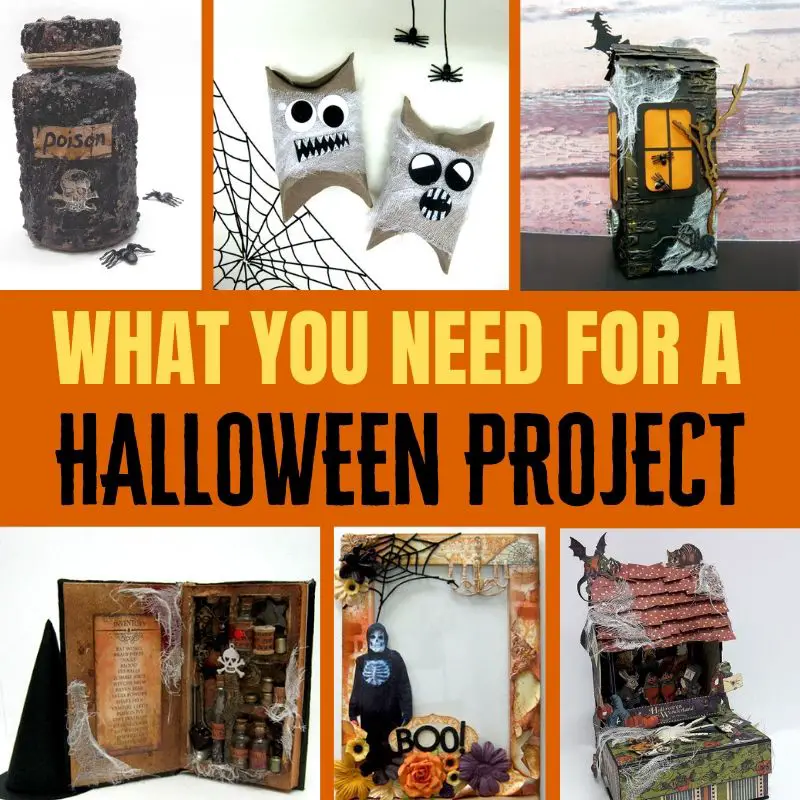 HALLOWEEN PROJECT BASICS
Halloween projects are the best to make (at least for me) especially if you love all the spooky spirit and magical vibe. Over the years I found that some people create a Halloween project only if they have a theme paper for the holiday. Actually you can make a lot of Halloween craft projects just by adding a few basic element and you don't necessarily need that expensive paper.
WHAT YOU NEED FOR A HALLOWEEN PROJECT
While most Halloween papers include these basic elements, you can find most if not all of them as separate stickers, embellishments or toys and include them in your project to turn it into a spooktacular Halloween extravaganza
SKELETONS
Any craft project with a skeleton will immediately turn into a Halloween project. It can be a mini album, party invitation or decoration, table topper and even a costume.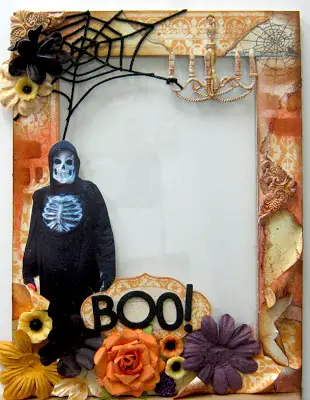 Here are some ideas on how to include skeletons in your projects:
Cascade Mini Album: find an image of a skeleton online and print it out on paper. Use the paper for any Halloween project like invitation, mini album, cards and more.
Make a frame with a photo of your kid's skeleton costume.
SKULLS
A similar item that is necessary for any Halloween project is a skull. A part of the skeleton, it's not only adds that spooky element but it's the sign for poison so it fits all projects that include a motif of potions, witches etc.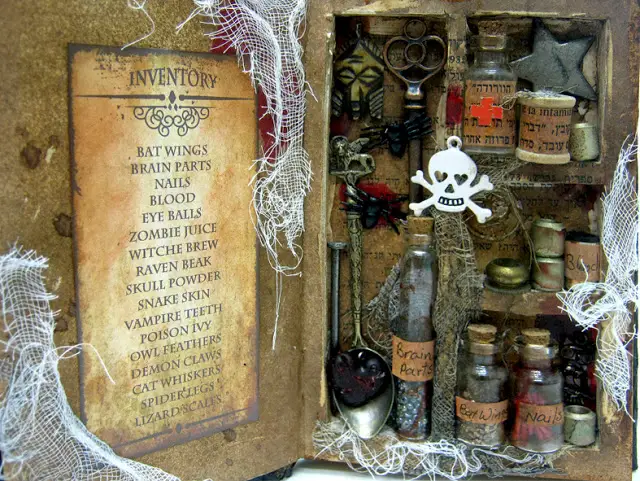 Check out these project ideas:
Altered Spell Book: an altered book that has been turned into a witches spell book filled with potion bottles and spells. Click the link for the two part video tutorial and to get the inventory tag for your book.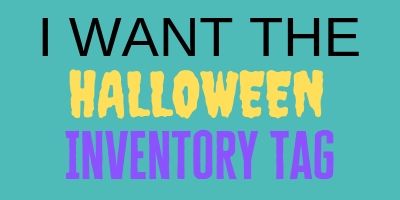 Notebook cover: add a Halloween look to any notebook or book cover by adding a little texture and a skull.
MONSTERS
Another must have element in a Halloween project is some type of monster. It doesn't have to be in your costume... monsters can be an addition to any project that will immediately get the scary dose needed.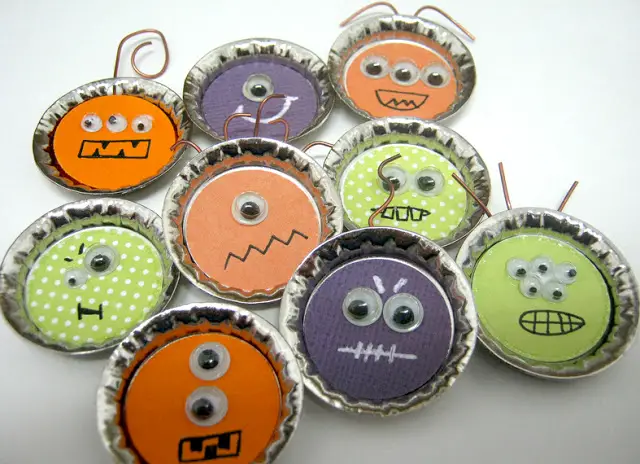 Try these monsters project ideas:
Boo DIY photo frame:' an easy and quick craft project to present your Halloween photos.
One of the easiest and quick projects you can make this Halloween, even with you kids. These bottle caps can be a party favor or a decoration for a card, frame or scrapbook page. Punch a circle from cardstock and then add googly eyes, mouth and other facial feature to create monster bottle caps.
BANDAGE
No...it's not to bandage any body parts but it is a great addition to any Halloween project because it reminds us of a mummy's bandages...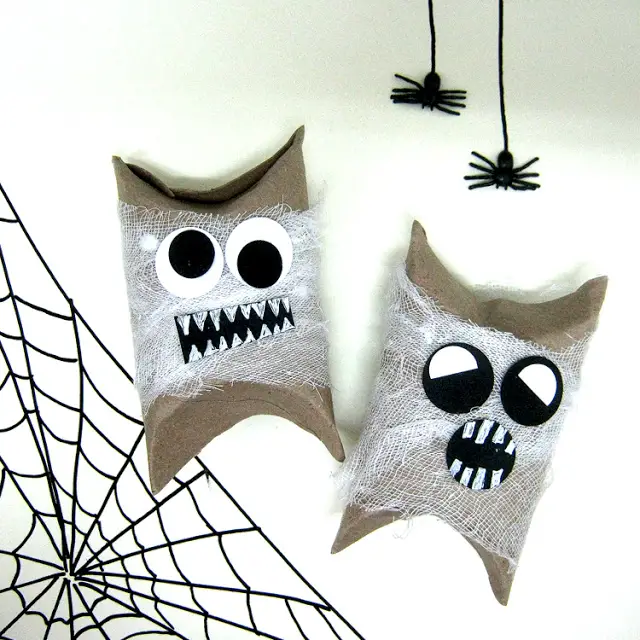 here's how to add it to a Halloween project:
Haunted House: make a spooky house from an altered milk or juice carton.
Mummy Candy Boxes: a fun mummy's project made from tp rolls and takes just 5 minutes
HOW TO MAKE A DIY HALLOWEEN PROJECT
Making Halloween projects is as versatile as can be. Some people only invest in costumes, others take time to decorate their home and some like making mini albums for all the photos they'll take. No matter what kind of project you'll make you have to make sure you include at least one of the elements mentioned here.
Other Halloween project elements to include:
Blood
Witches
Vampires
Ghosts
Bats
Spiders
Ravens
Moon
Graveyard
Tombstone
I hope you'll have a spooktacular Halloween!
Save it for later - PIN IT!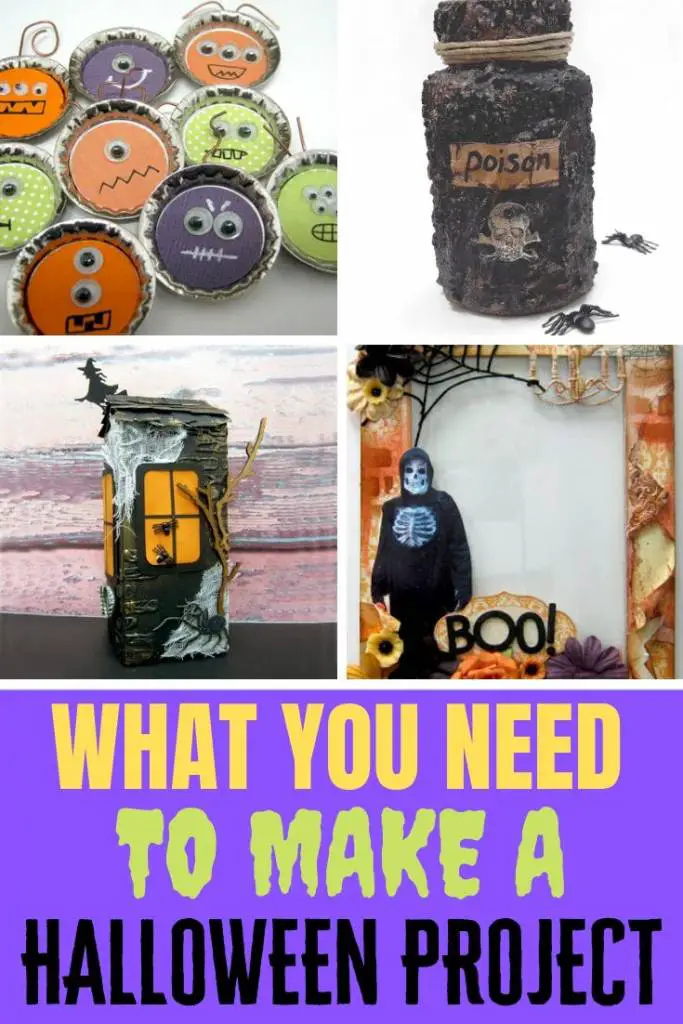 Have fun creating!