Inside: how to use buttons in craft projects in a fun and easy way!
I was lucky to have a grandmother until I was in my thirties. She was an amazing sewer and I remember her making me and my sister fabric toys and dolls. When she passed away I only asked my dad for one thing: I wanted to have her button collection. As a sewer she had a LOT - color organized in empty pill containers and small boxes. What a treasure! Until this day I use her collection in my craft projects and I just know she's looking down on me and she's really happy.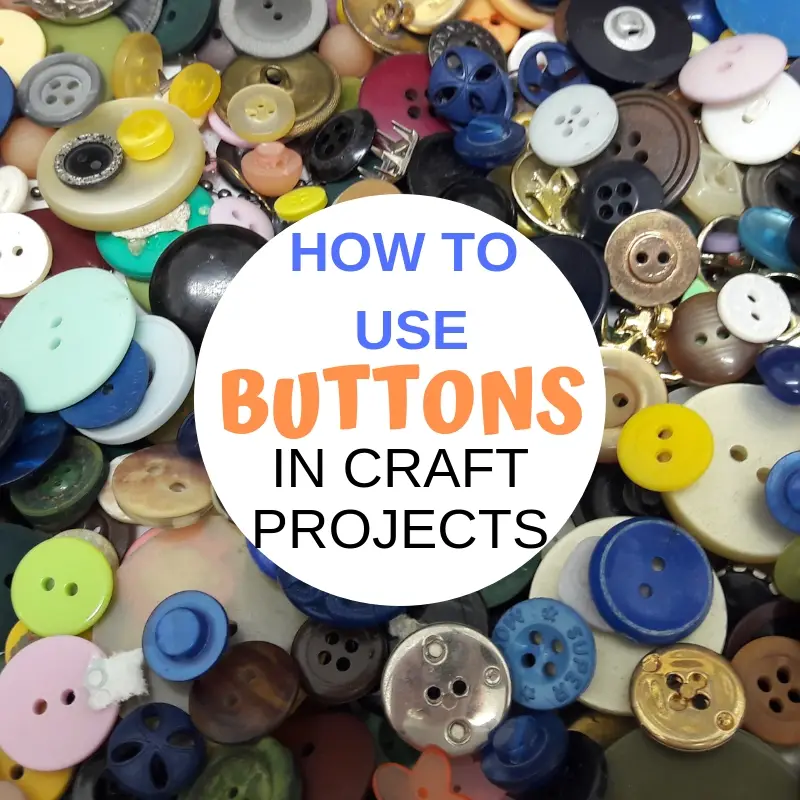 Buttons go back to prehistoric times and are around since men have started clothing themselves. Over the years they changed from animal bones to gold and ivory and from a necessity to a status symbol. By the 20th century they could be mass produced and buttons began to find a wider range of uses, becoming an important feature in upholstery, shoes and bags. With the introduction of plastic, they were produced in a wide variety of shapes, sizes and textures and became cheaper and far more widely available.
BUTTONS IN CRAFTS
It was only a matter of time until buttons found their way from sewing to other crafts and today they are used in almost any type of arts and crafts starting from scrapbooking and card making to mixed media and jewelry.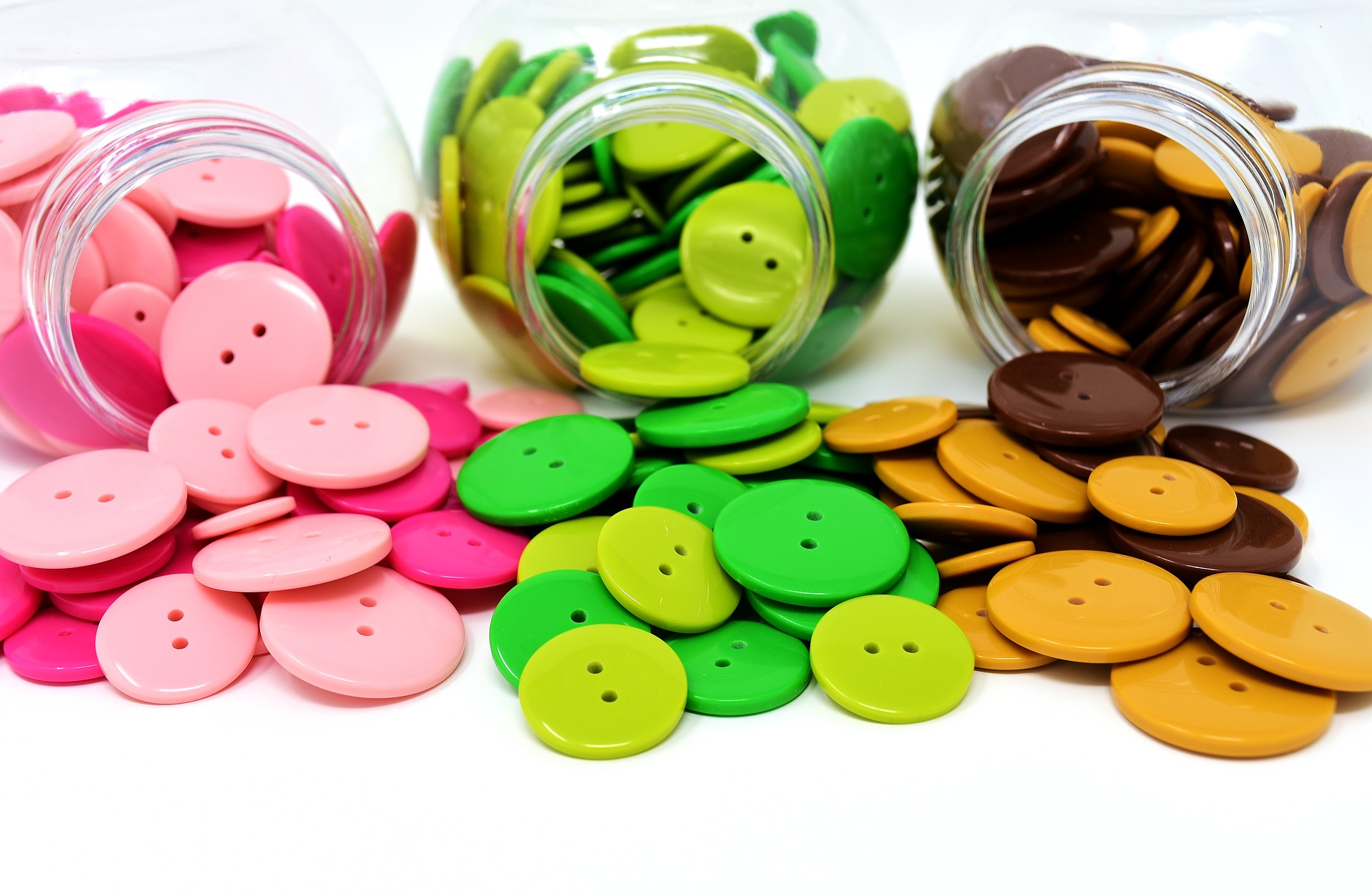 PROJECT IDEAS
TREE EMBELLISHMENT
Take an assortment of buttons and attach them onto a cut out paper tree. They will add texture and function as leafs of the tree as well.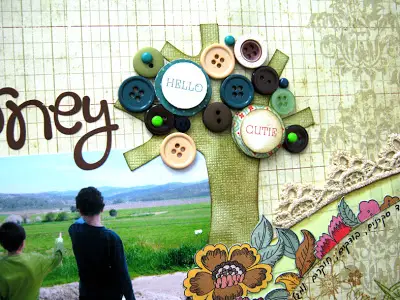 Here's how:
Cut the shape of the tree from a cardstock or print a shape from your computer
Ink the edges or add color with paint or sprays
Add different size and color buttons as leaves
FLOWERS
Layer different shape , size and color buttons to create flowers for cards, scrapbook pages or embellishments to add on any project.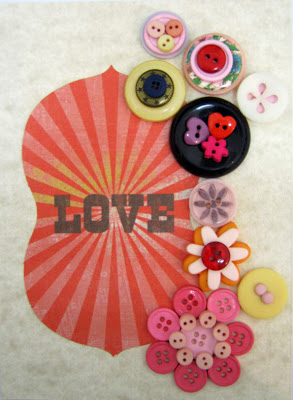 All you need to make all these flowers are different shapes, sizes and colors of flowers:
1. Use two flowered shaped buttons on top of each other with a round button in the center to create a dimensional button flower.
2. Use different sizes and colors of round buttons to create a layered flower.
3. Stamp a transparent button and adhere it on top of a color button for a transparency effect. Find out how to stamp a button here.
4. Combine different materials. Create layers using plastic and metal buttons.
5. Adhere very small buttons in the center of a very large button to create the look of stamens.
6. Create a flower from multiple flowers arranged in a pattern.
All these beautiful flowers will give a unique, special and interesting look to any layout or card.

FLOWER STAMENS
Upgrade your paper flowers with a different type of stamen than you think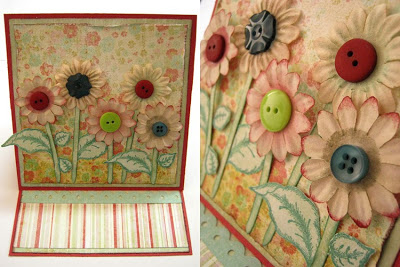 Do this:
Cover the card with pattern papers and strips or cut outs
Attach paper flowers to card in different heights on the card
Add different shape, size and color buttons to the center of each flower.
Add stems and leafs to the flowers
RAINBOW EMBELLISHMENT
Use buttons in two ways on a wooden frame to create a cute baby picture frame for the nursery wall or mom's office.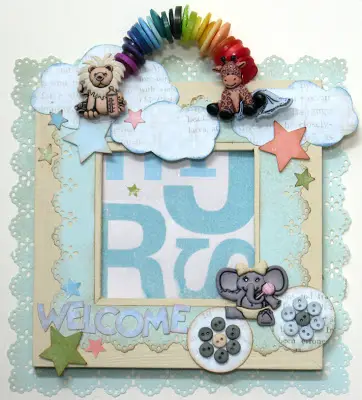 Here's how:
Cover frame with paint or paper
String buttons into a thin metal wire to create a rainbow and attach to frame
Add animal shaped buttons and punched shapes as embellishments
EASY BRACELET
Make a bracelet or necklace by attaching buttons together. It might be surprising to use them as a material for jewelry but it works!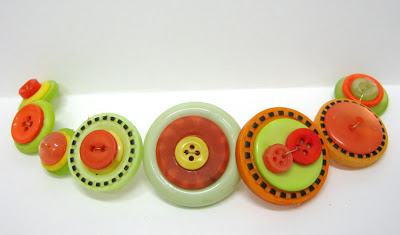 Here's how:
Layer buttons on top of each other and attach with wire.
Attach all wires to a long wire to form the bracelet
Measure the length you need, cut the wire and add a jewelry closer on both ends of wire
MAKE YOUR OWN - DORSET BUTTONS
If you're not as lucky as me and you don't have a pile of buttons you can make them yourself! Dorset buttons are essentially covered rings that can  be from wood, metal, or plastic, and they're covered with thread (pearl cotton works great, but other floss, string, or yard will do) using a button hole stitch. From there, they are further adorned, usually starting with a criss-cross foundation of spokes around the button, which is whipped together with a ribbed spider web stitch.
Photo courtesy of Inspirations Studios
Here are a few tutorials on how to create your own buttons:
BUTTON STORAGE IDEA
Recycle an old baking sheet into a frugal and pretty storage solution. This way all your buttons will be accessible, easy to reach and organized according to color and shape instead of hiding in a drawer or scattered in a box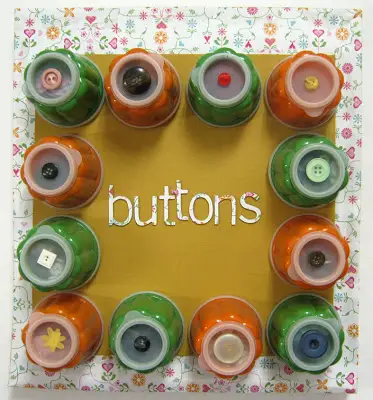 These are my craft ideas but you can find so many more ideas online!
SAVE it for later - PIN IT!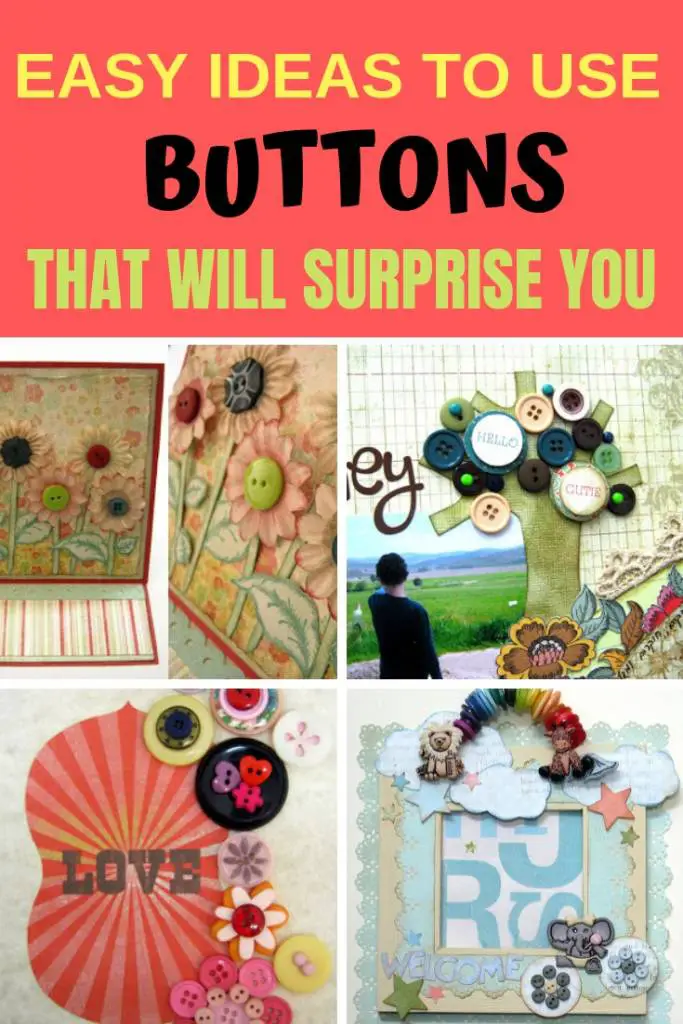 Have fun creating!