Inside: how to make a Halloween mini album with hidden pockets, surprising flaps and other interactive spooky elements.
I think that interactive mini albums are great but they are especially great for Halloween. Making an interactive mini album filled with pockets, hidden flaps and inserts is exactly like making a witch's spell book that every page is a new surprise. This mini album is full of spooky moving additions and you can make it too just follow the video tutorial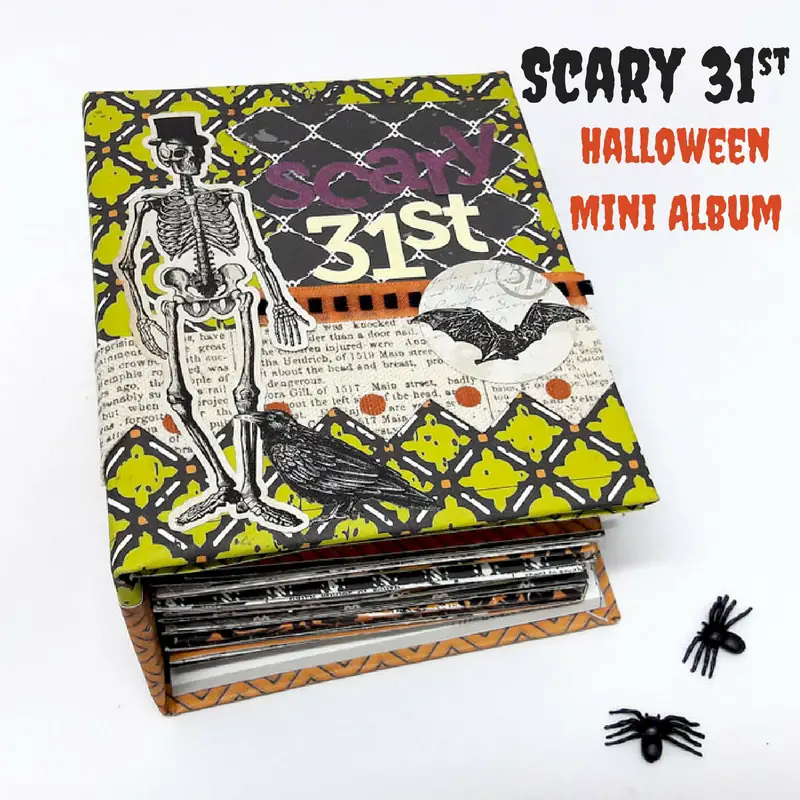 HALLOWEEN MINI ALBUM
Making holiday mini albums is a long and grand scrapbook tradition. When there is so much designed and specialty papers and embellishments available it is almost impossible to resist making a mini album for evey holiday. It is even more fitting when it comes to Halloween so here's why I think making a Halloween mini album is a must:
There are many great looking photos of kids in costumes that are just perfect for a mini album.
Instead of making a scrapbook page or two and limit yourself to only a few photos you can make an entire mini album dedicated to all Halloween photos.
Making a special interactive mini album that looks like a spell book is not only creative it's also a lot of fun!
There are such amazing papers available that I at least, can't resist making a mini album... and I don't even celebrate Halloween 🙂
It make my creative juices flow and challenge me to come up with new interactive mechanisms to add to the album.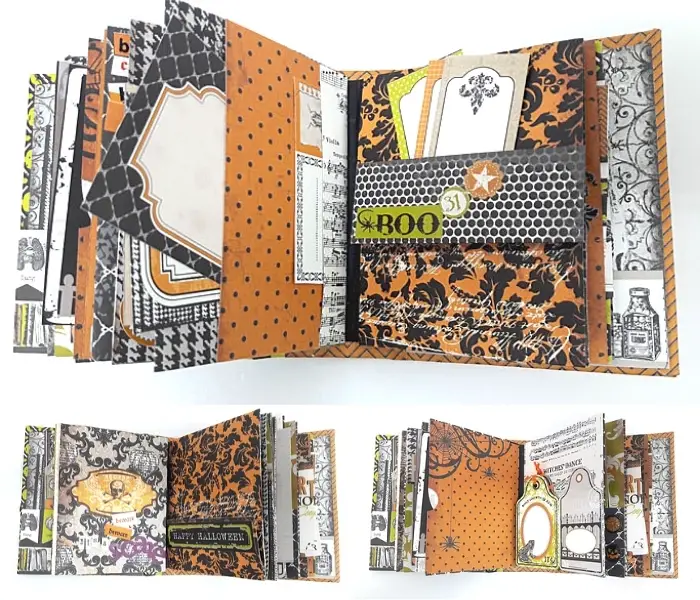 CREATIVE IDEAS
There are many Halloween mini album ideas but they do have some elements in common:
Each page has at least one interactive mechanism like a flap, pocket or insert.
Most pages are loaded with lots of embellishments and the design is busy.
There is a lot of fussy cutting involved to add images of skulls, bats, cats and more.
These mini albums have a lot of room for journaling and photos especially on tags and inserts.
Here are some Halloween mini album tutorials you can make!
HOW TO MAKE THIS HALLOWEEN MINI ALBUM
Start with making the hidden hinge binding mechanism from black cardstock.
Make the cover from three chipboard pieces. Then wrap them with pattern cardstock.
Attach the binding mechanism to the cover.
Cut the pages of the mini album and attach them back to back to the binding mecahnism.
Add interactive mechanism to each page and embellish the pages.
Embellish the front cover.
Follow the step by step tutorial to make your Halloween mini album.
TIPS AND TRICKS
Use whatever Halloween papers you have combined with solid color papers in purple, orange, black and green.
If you don't have any Halloween papers make you own with solid color papers - stamp or stencil on them or add stickers.
To add even more Halloween embellishments you can use die cuts.
You can also add elements like bandages, googly eyes, resin or metal skulls.
Make your own embellishments:

Print witch, bat, cat, spider silhouettes on paper and cut them out.
Punch out cicrles, add googly eyes and draw teeth to make monsters.
Cut out coffin shapes as tags or flaps.
Cut out images from Halloween theme paper scraps.
Here are some affiliate links to Halloween embellishments:
Check out these ideas for more Halloween projects you can make!
Sharing is caring - PIN IT!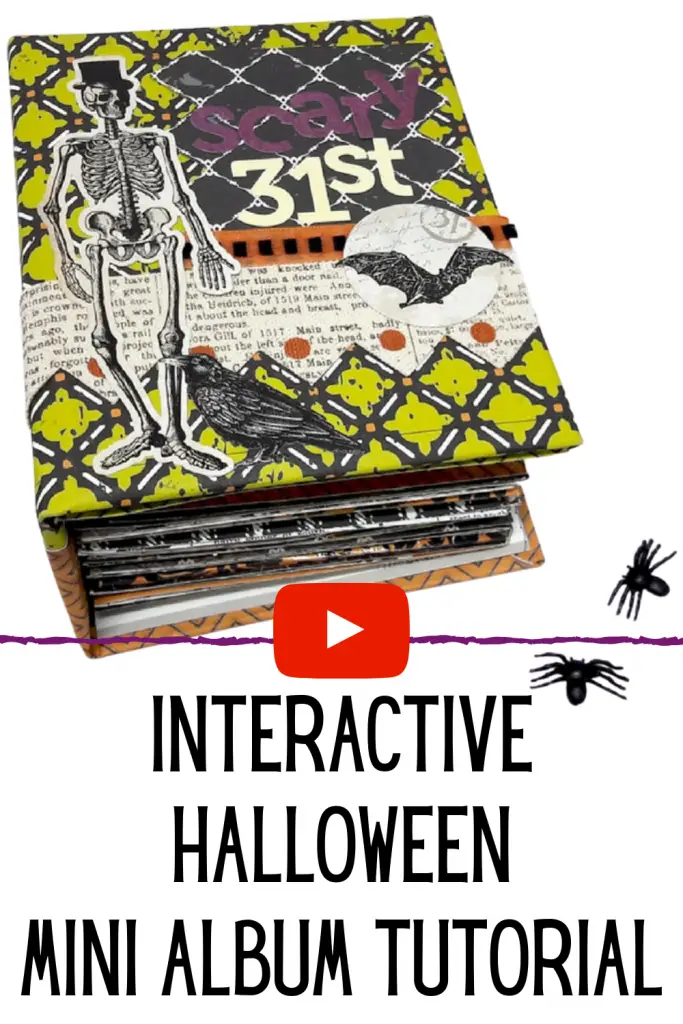 Have fun creating!