Inside: how to make your own washi tape
Have you ever been in the middle of making a craft project and you needed a specific supply and didn't have it? It is the most frustrating situations because it can put the entire project on hold and if you're like me you have zero patience when it comes to finishing a project.
What's the answer? Make your own! This is what happened when I needed some washi tape for a project I was working on and didn't have the right color and pattern. So I made my own!!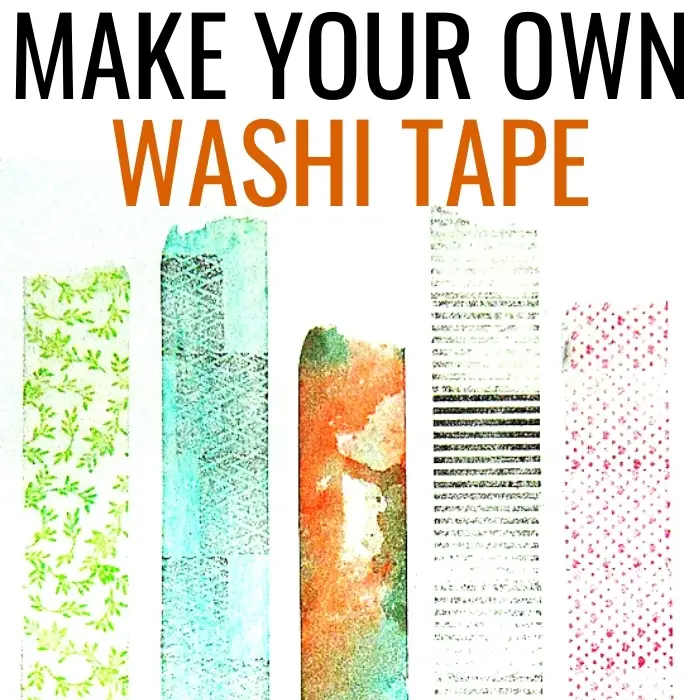 WHAT IS WASHI TAPE
Washi tape is a decorative adhesive tape made from traditional Japanese paper that's great for craft or journaling. The name washi can be translated to "Japanese paper" simply meaning wa (Japanese) and shi (paper). Unlike western paper which is made from tree pulp, it's made from Japanese shrubs so its benefits are many:
No need for scissors, washi tape is easy to tear by hand which makes it a great for kids
It's easy to write on and won't smear
It's durable
Waterproof and won't be affected by other liquids
Heatproof so you can dry it with a heat tool
It will peel off without damage so it can be used again
It gives great value for money and a tick in the waste-reduction box
WHAT IS WASHI TAPE USED FOR
It can be used for many craft projects like:
Great for scrapbooking either as an embellishment itself or just a more vibrant way to stick down other pieces.
Tape your wrapping paper when you wrap gifts it will make them much preetier.
Jazz up your journal with bright colours and vibrant patterns.
Create unique wall art using washi tape! This is a great project if you live in a rented apartment and can't paint or drill holes in the wall to hang art. Create minimalistic geometric designs in solid colors, or try different patterns to create a mural theme.
Make instant poster frams - simply tape a picture or a poster to your wall, then use washi tape to create a visually appealing border around the picture.
Personalize cheap photo frames.
Embellish bookmarks with colors and patterns.
Cove pencils to make them preety!
Decorate envelopes to make your mail look special.
Make DIY bunting - simply choose a color palette or pattern for your banner, and adhere the washi tape to colorful twine.
Make your own stickers by cutting or punching shapes out of a washi tape.
Add it to art journal pages as texture or artistic element - see how here
HOW TO MAKE WASHI TAPE
One of the ways to make your own washi tape is to attach double sided tape to wax paper on one side and attach to tissue paper on the other side. The problem with this method is that ou must rely on ready made tissue papers and use whatever patterns you find.
I came up with a method that is reusable like the original washi tape AND you can create it in ant color and pattern you want!
SUPPLIES YOU'LL NEED
Medical tape which is low tack and semi transparent and you can find it in the drug store
Stamps
Ink
Here are the techniques you can make your own washi tape:
SIMPLE PATTERN
Choose a pattern stamp and a color of ink and stamp repeatedly across the tape.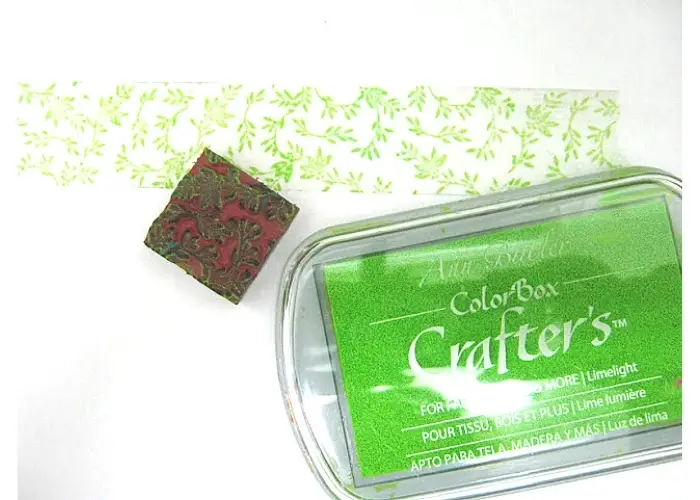 PATTERN AND COLOR
Color the tape with ink diluted with water to create a wash effect and a muted background color. Apply some ink on a craft sheet spritz with water and dip the tape (adhesive side up) in the ink. After it's dry stamp with a pattern.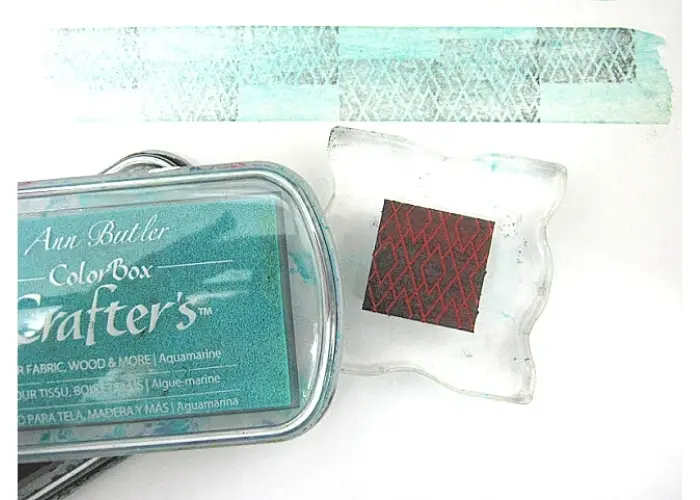 DOUBLE DRIPPAGE
Repeat the ink technique on item 2 but with two different colors of ink. Dip the tape in both colors creating drippage by moving the ink around. But wait until it's dry before using it on a project.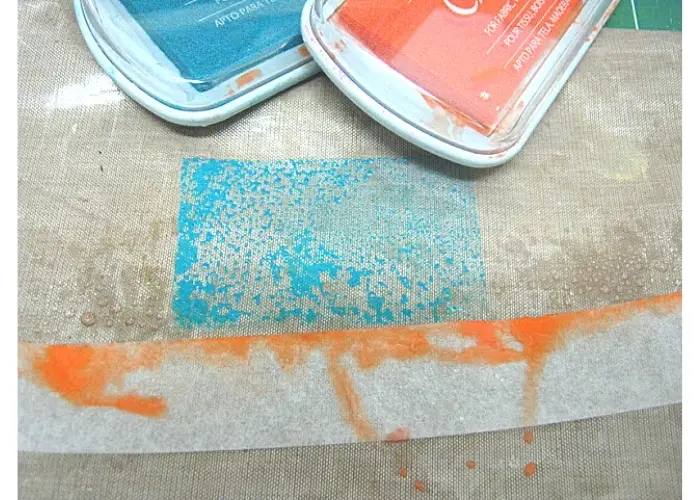 OMBRE PATTERN
Stamp the tape with a pattern stamp but change the pressure you apply on the stamp so the image will be softer or stronger on the tape.
REPEATED PATTERN
Repeat a a small pattern on the tape to cover a larger area and create a continuous design.
SHOULD I USE MASKING TAPE
I don't recommend using masking tape to make DIY washi tape for a few reasons:
Masking tape has a very strong adhesive so your washi tape will not be reusable and might damage your paper or project if you try to remove it.
There is a layer of wax on top of masking tape that makes it resistant to some inks or paints so your design options will be limited.
You must use scissors to cut most masking tapes.
Some masking tape has a type of texture on them and they are not smooth which can interfere with stamping.
If you don't have medical tape you could use masking tape to create your own washi tape but you'll need to:
Weaken the adhesive first by attaching it to your pants or to a towel a few times.
Take into account the limitations in materials and techniques.
Sharing is caring - PIN IT!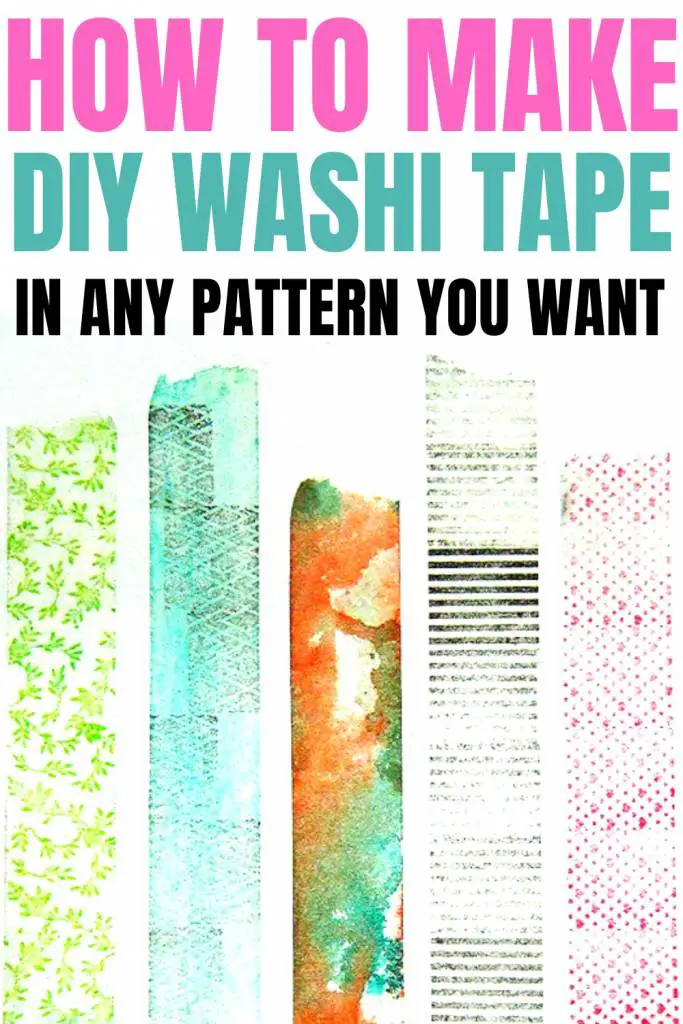 Have fun creating!