Inside: how to use paper scraps to make embellishments for scrapbook pages, cards, art journals and more.
I recently came to the realization that I have too many paper scraps. So instead of taking new papers for my projects I decided to try and use my paper scraps and reduce my pile. as it turned out it is not as difficult as I thought because once you challenge yourself to do something you come up with really creative ideas!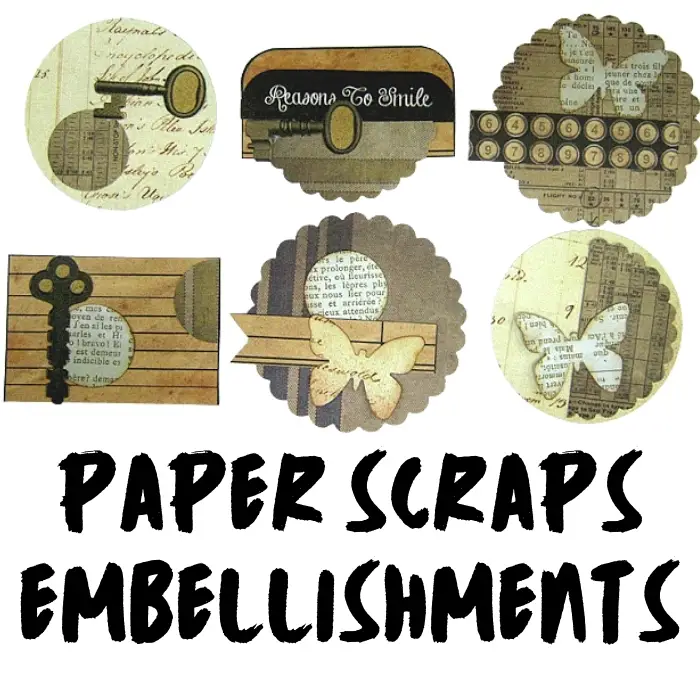 HOW TO ORGANIZE PAPER LEFTOVERS
When you have piles or drawers full of pieces of paper you first need to organize them so you'll be able to efficiently use these pieces for the right project.
The best way to organize these pieces is by size because that is the main factor you'll need to consider when using them. The larger pieces can be tags, cards or even mini album pages and the smaller pieces can be for punching shapes, paper piecing or other projects.
Take out all your scrap papers and start going through them
Sort them into piles according to their size. Divide the sizes into large, medium and small.
Once your 3 piles are sorted you can organize each pile according to color if you want.
Store each pile in a box or drawer.
If you need to organize all your craft paper check out how I organized my craft papers in 3 steps!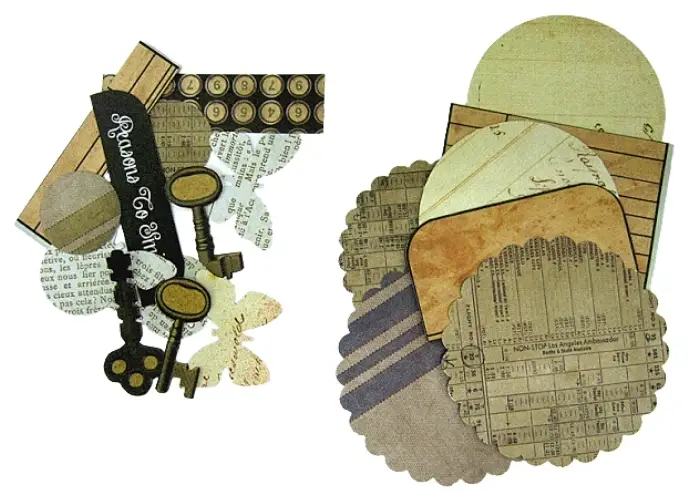 WHAT CAN I DO WITH PAPER SCRAPS
Once you have your pieces of paper organized you know what you have and what you can use. The larger the pieces the more you can do with them and the smaller the pieces you will probably be limited to punching small shapes or cutting out images.
Here are some ideas to use your leftover papers:
Make paper beads
Cut strips and make paper quilling art
Cut out shapes from pattern papers
Use larger paper for card bases
Make gift tags or sitting cards
Punch out shapes to make embellishments
Cut out letters with a die cut machine
Cut pieces to make patterns and backgrounds on cards and scrapbook pages
HOW TO MAKE EMBELLISHMENTS FROM PAPER SCRAPS
Pick out papers that are in the same style and/or colors. I wanted a steampunk look so I've used brown, dark colors with script and numbers patterns.

Cut or punch shapes like circles, squares, stars, hearts or any other shape you want as a base. I limited myself to 2" to 3" size but you can cut larger shapes.

Then cut or punch smaller shapes from the papers and even cut out patterns to use to decorate the bases. I cut out a few keys from a pattern paper piece that I had in my stash.

Create combinations with all your shapes. Start with the larger shapes as the base and then layer the smaller shapes on them and create clusters.

Finally add words or letters.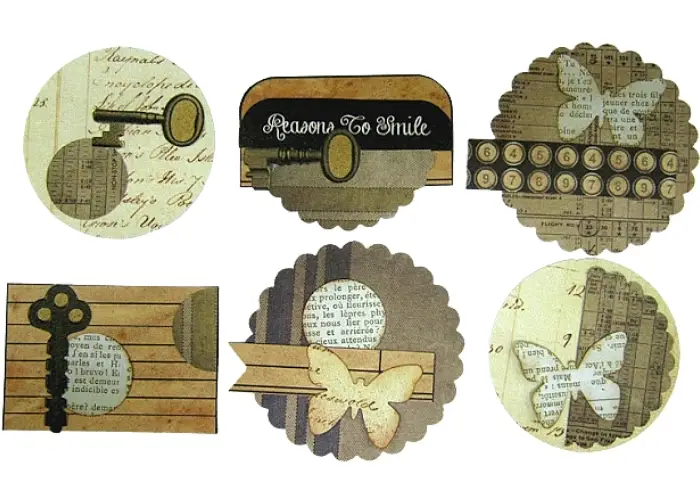 You can use these embellishments on your cards, scrapbook pages, mini albums and more.
Another idea is to make Inchies and Twinchies - here's how.
Or you can make an art journal page collage - follow the tutorial.
Looking for more ideas to use your paper scraps and craft supplies leftovers? Check out then 20 Clever Ways to Use Scraps!
Sharing is caring - PIN IT!