Inside: make an art journal page using stamps and stamping techniques
When I started crafting I didn't really used stamps. They were mostly suitable for scrapbook pages and especially card making and it wasn't really my style. However stamps seemed really cool to me and I really wanted to use them so I tried to think if and how I can use them on my art journal pages. Over time the stamp world caught up with me and started producing stamps that are perfect for art journaling and today there are so many options.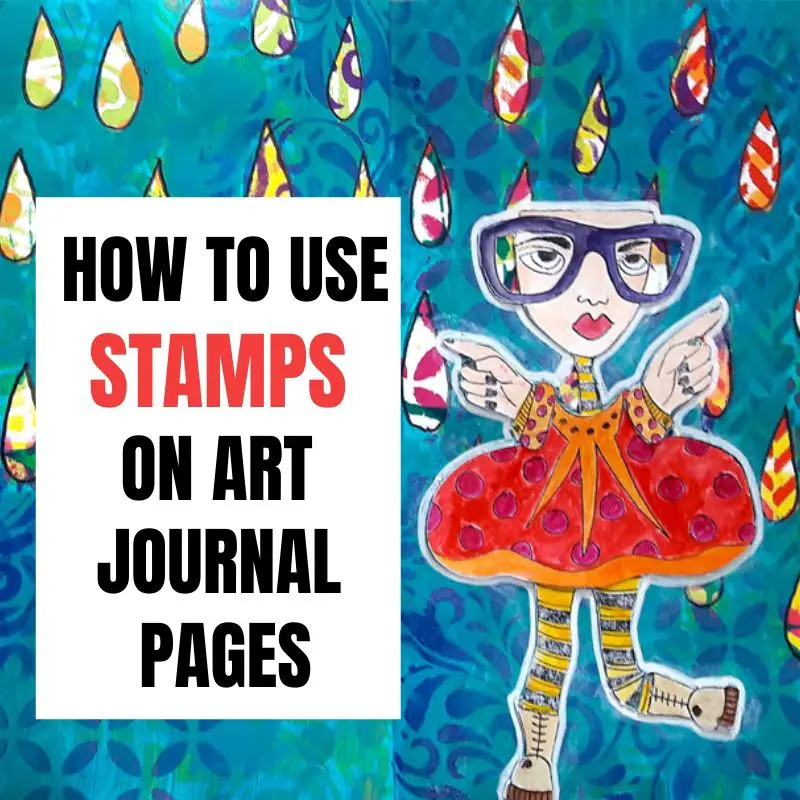 HOW TO ART JOURNAL WITH STAMPS
Stamps are a versatile tool that can be used in all stages of making an art journal page. I wanted to show you how you can do that so I created an art journal page with stamps from the first step of making the background, the accents to the focal point.
BACKGROUND
The first step of any art journal page is the background. I wanted the background to be colorful enough for the next step so I used different types of stamps with different colors of inks to create a very busy and colorful background.
Here's how to make it:
Use background stamps with different patterns.
Choose strong and vibrant ink colors. For this kind of technique (that most of the background is covered later with paint) don't use distress inks. It's best to use permanent inks.
Stamp the page and layer the different patterns.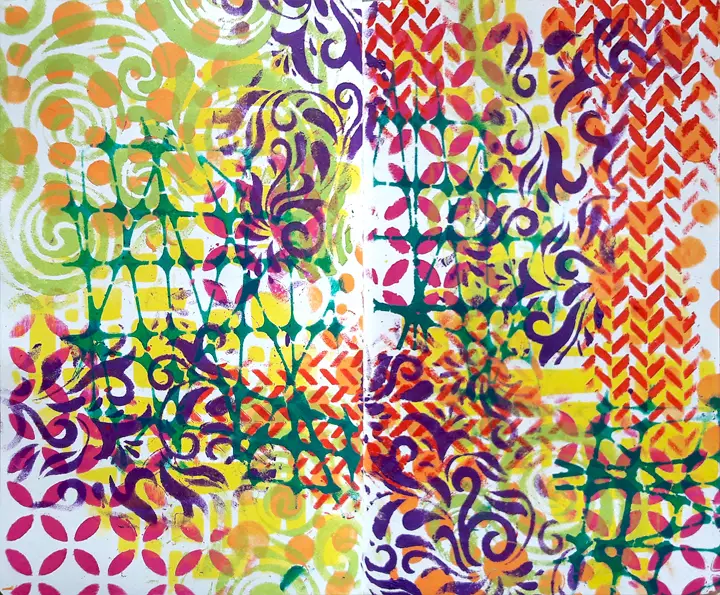 ACCENTS AND/OR THEME
The next step in an art journal page is to start adding elements that coordinated with the theme of the page. You can add them with paper, doodling, stencils and in this case stamps.
Continue like this:
Stamp the background with drop outline stamps (you can do this by hand if you don't have these stamps). Use a very soft color of ink that will hardly show on the page.
Paint around the drops with acrylic paints. Paint only one layer so the background will still show through.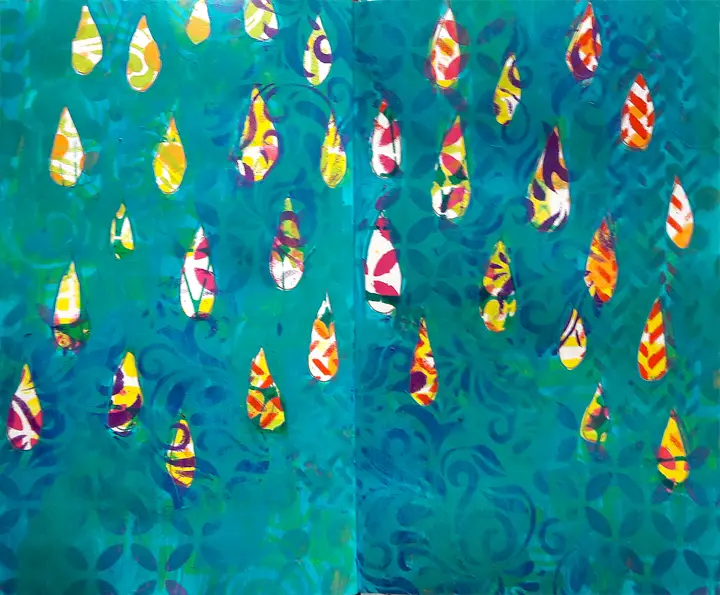 FOCAL POINT
The most important thing on an art journal page is the focal point. The focal point can be text, image or any element that draws your eyes to it and is the main element on the page.
The focal point on this page is a stamped and colored image. There are two ways to add a stamped focal point to an art journal page:
A cut image
Stamp directly on the page.
On this page add a cut out stamped image. Do this:
Stamp an image on a white cardstock. Use permanent ink that will not smudge when you color it.
Cut it out.
Color the image with your choice of paints.
Attach the image to the art journal page.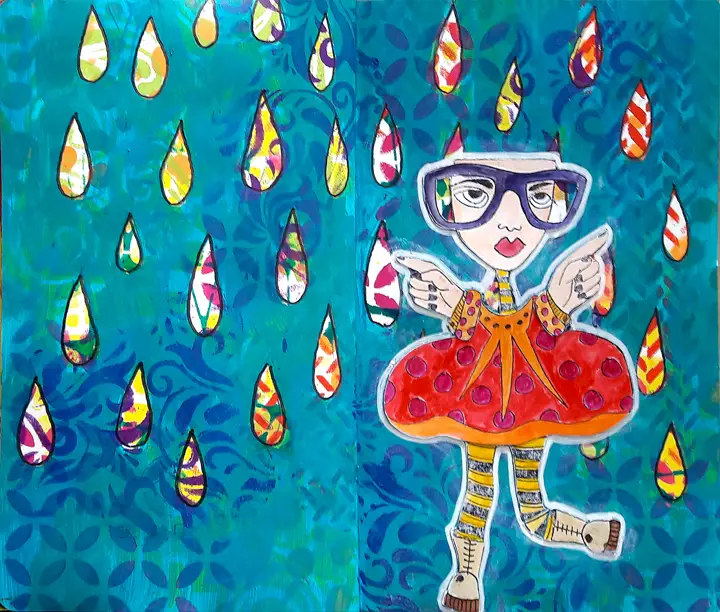 TEXT
Adding text to an art journal page is a key element. There are many ways to add text to your page from handwriting and stickers to cut out letters and stencils.
Finish the page:
Pick an ink color that would stand out on the background paint.
Use letter stamps to add the text to the page.
Stamp the letters in an interesting shape like a wave,a circle or in vertical instead of a regular line. This will make your page more interesting and fun.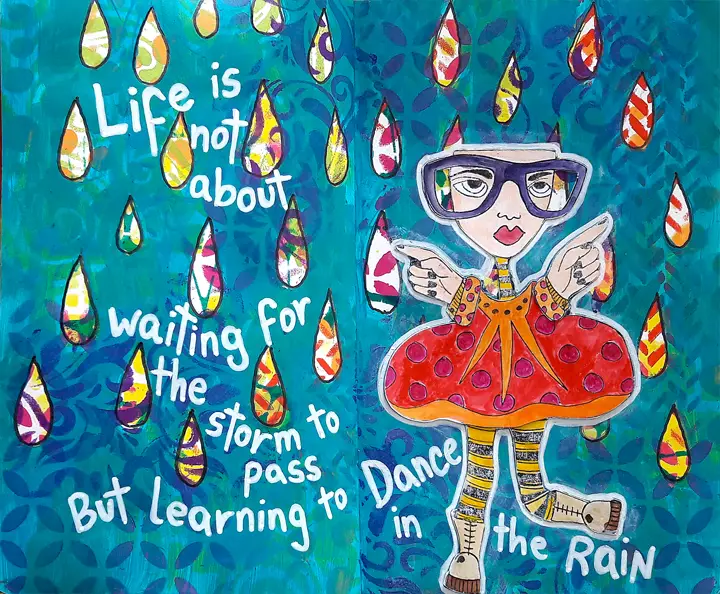 Here are some more ideas for art journal pages with stamping techniques:
Whimsical girls standing on the hill with images stamped on a painted background.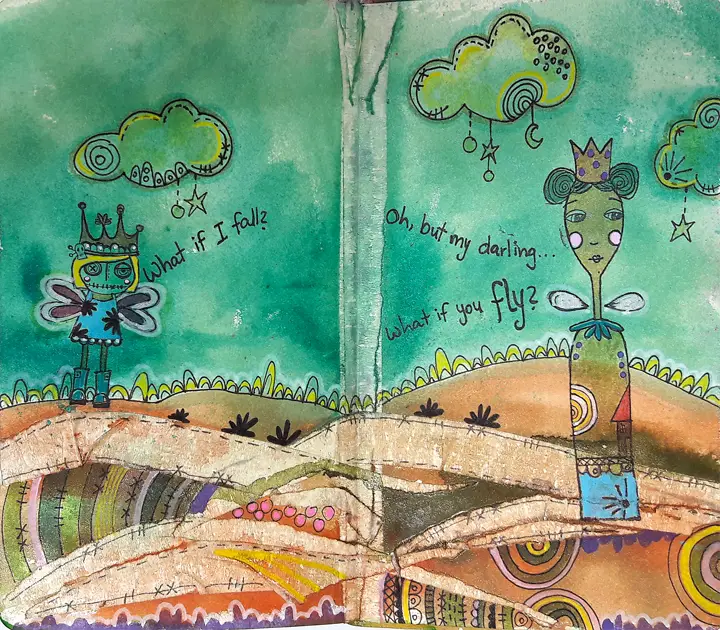 A page with feather stamps stamped on paper and then cut out and attached to a page.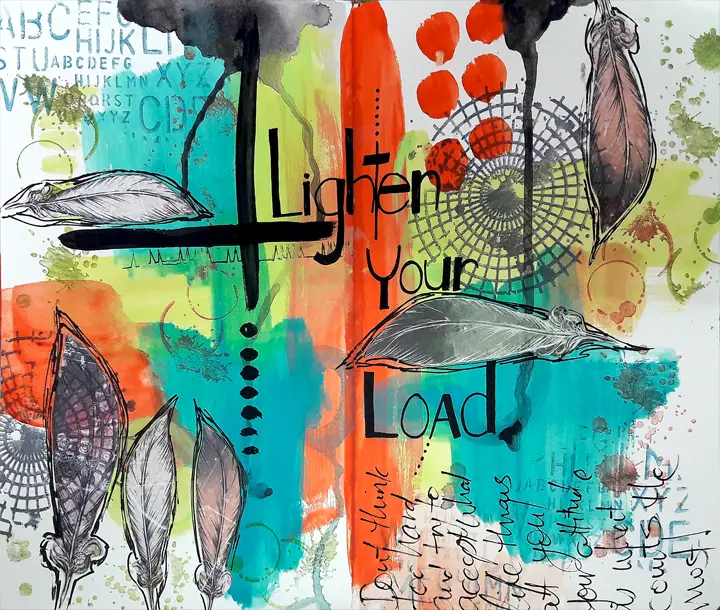 Number stamps as background element
For more inspiration check out the 30 Art Journal Tutorials eBook where you'll learn how to make amazing art journal pages complete with step by step instructions, detailed photos and lots of tips and tricks.
If you want to use the same or similar supplies as I did here are some affiliate links you can use:
Sharing is caring - PIN IT!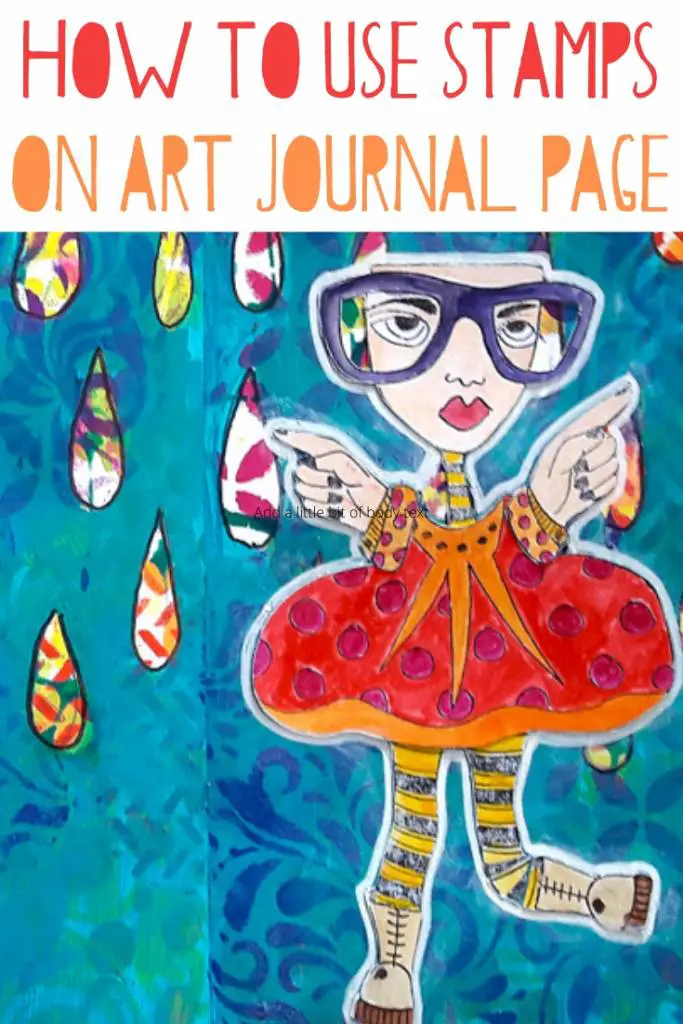 Have fun creating!