Inside: how to make frugal DIY paper embellishments for the most amazing craft projects
How many times you were making a scrapbook page or a card and needed an embellishment but couldn't find anything that fits? Instead of buying every embellishment in the craft store make your own!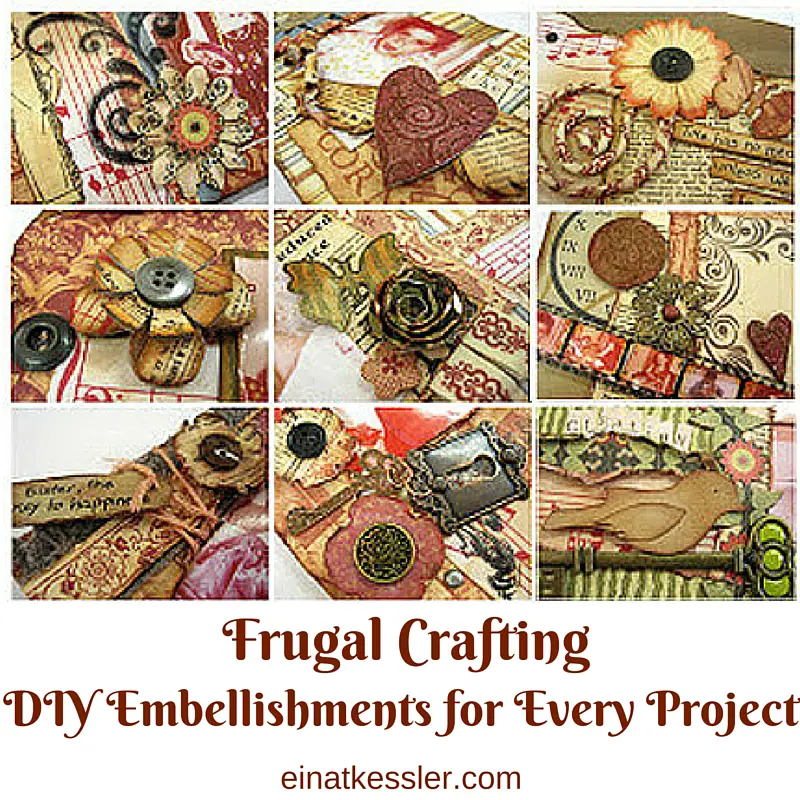 WHAT IS FRUGAL CRAFTING
Frugal crafting is a way of crafting that emphasize using the craft supplies you have to make all your project and instead of buying supplies - making them from what you have!
Here are a few tips how you can use the supplies you already have in your craft projects:
Use household items as the base for your project. For example, use milk or juice cartons to make a project like a photo display, recipe box and more. Check out some ideas here.
Add items from other parts of life as embellishments to your project. For example: use metal washers, screws and cogwheels as embellishments on steampunk designs.
Maximize supplies: use leftover supplies and scraps to make small embellishments to cards and scrapbook pages.
Use empty boxes as storage solutions or as base for mixed media projects.
WHY MAKE YOUR OWN EMBELLISHMENTS
It's saves money! Instead of buying embellishments you can make them yourself in different techniques.
You get creative. By making your own embellishments you challenge yourself to be creative and come up with ways to use all your paper scraps and leftover craft supplies.
Customize your embellishment to your project and make projects that always look great with matching elements.
Control the size, color, shape and theme of all your embellishments.
Maximize the supplies you have instead of buying un-nessecary supplies that fill your craft spave.
DIY PAPER EMBELLISHMENTS
Some of these ideas may be old and familiar but even though they are so well known we tend to forget them. It's definitely easier to save time and reach out for something we bought at the store but if we want to save money and use our stash let's embrace the practice of frugal crafting and make our own DIY paper embellishments!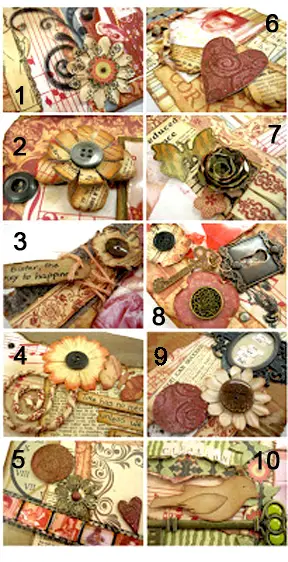 Stamped Paper flowers: plain paper flowers can be boring. Not only that but everybody's using them so if you want to make your flowers a little more special stamp on them. Use permanent ink and a simple pattern stamp like little circles or flowers.
Punched Flowers: instead of using one punched flower, punch two or three different shapes of flowers and layer them with foam tape. It's a great way to use your paper scraps and create different combinations of flowers.
Journaling Tags: cut rectangles from plain papers and distress them with brown distress ink. Then tie them to the page with twine. On the journaling tag you can write a quote, a name or a date. It will add extra detail to every project.
Covered Wire: cover a wire with a strip of scrap paper. then sculpt it to any shape you want. A swirl, a flower or in this case a spiral.
Film Strip: use Tim Holtz film strip and add very small photos to create a photo film. If you don't have that strip you can still create a row of small photos as a border or an embellishment. Instead of photos you can add letters and create a title.
Embossed Shape: Use grunge board or heavy cardstock and emboss with any folder you want. Then cut out different shapes like circles or hearts to use an embellishments. To add a little more interest you can add a little distress ink to highlight the embossed pattern.
Handmade Flowers: Create your own flowers with matching papers. Control the flower's color, size and quantity. You can find a step by step tutorial on how to create this spiral flower here.
Jazzed Up flowers: jazz up your flowers with an interesting center. Use a button, brad or metal embellishment to beautify your flower. The more impressive the center the more impressive the flower will be.
Embellished Buttons: Add glitter to the back side of a transparent button to make it more elegant and shiny. You can embellish buttons in different ways and make them much more unique. You can find some button embellishment ideas here.
Cutout Images: Create images of animals, flowers or other shapes by cutting them from paper scraps. You can draw the shape with a pencil or trace a shape from a stencil. I drew the bird and the wing separately and then cut them and attached them together.
HOW TO CUSTOMIZE DIY PAPER EMBELLISHMENTS
The great part of making your own embellishments is that you can customize them to any theme, color or occasion you need:
Change the color of the paper scraps you're using according to the project. For example: use pink for making baby girl card embellishments and blue for a boy card.
Match the cutout shapes to the theme of the project. If you're making a scrapbook about your day in the beach cut out boat, sun or ice cream images. If you're making a layout of a family Christmas dinner then add cut out images of snow, stars, winter etc.
Use different materials to create your embellishments. For example make felt flowers for a baby's scrapbook page and metal washers to create flowers on a card for Father's day.
Play with the shape and size of elements.
MORE IDEAS TO MAKE WITH LEFTOVER CRAFT SUPPLIES AND PAPER SCRAPS
I never throw away any leftover craft supplies or paper scraps because I found many creative ways to use them! If you want to discover all these creative ways to use your scraps check out the 20 Clever Ideas to Use Scraps where you'll find step by step tutorials to use leftover craft supplies and paper scraps in a clever and creative ways.
Sharing is caring - PIN IT!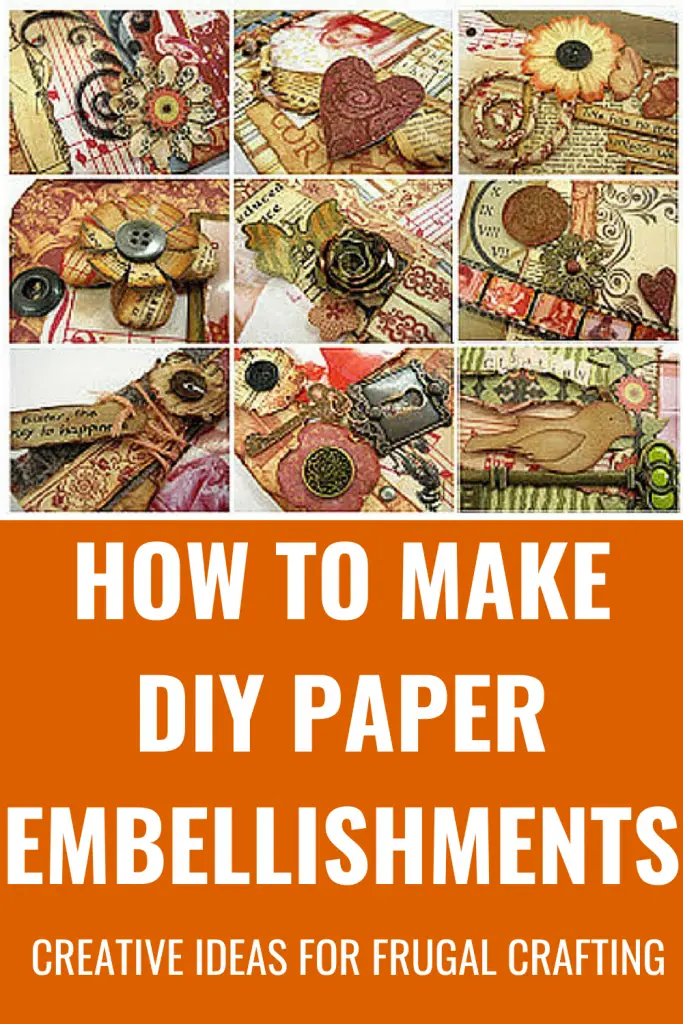 Have fun creating!