inside: 7 techniques to create frugal and pretty flower embellishments.
You need a specific flower embellishment for a project you're working on but you don't have it! Instead of finding time to go to the craft store and buy an expensive pack of flowers try one of these ideas to create your own flower embellishments that will be frugal and always match your project.
For all these flower embellishments making ideas you'll be able to find the necessary supplies in your stash, so other than always have the perfect flower to match your project you'll also be using your craft supplies and save money!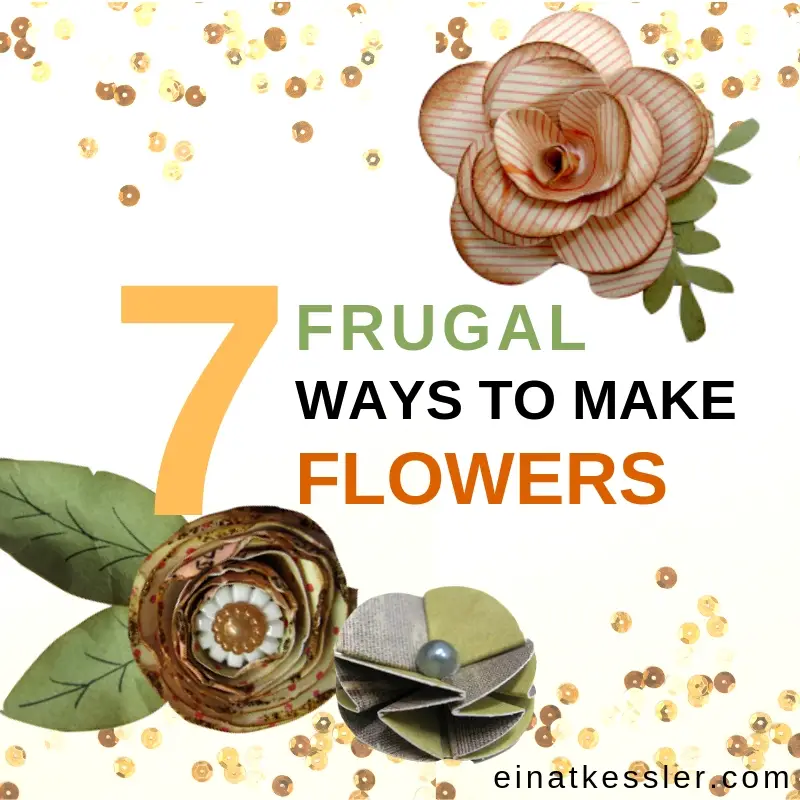 Handmade flowers will embellish all kinds of craft projects:
scrapbook pages
cards
gift wrapping and bags
tags
wall hangings and home decor
notebook covers
boxes
banners
CREATIVE WAYS TO MAKE FLOWERS
1. SPIRAL PAPER FLOWER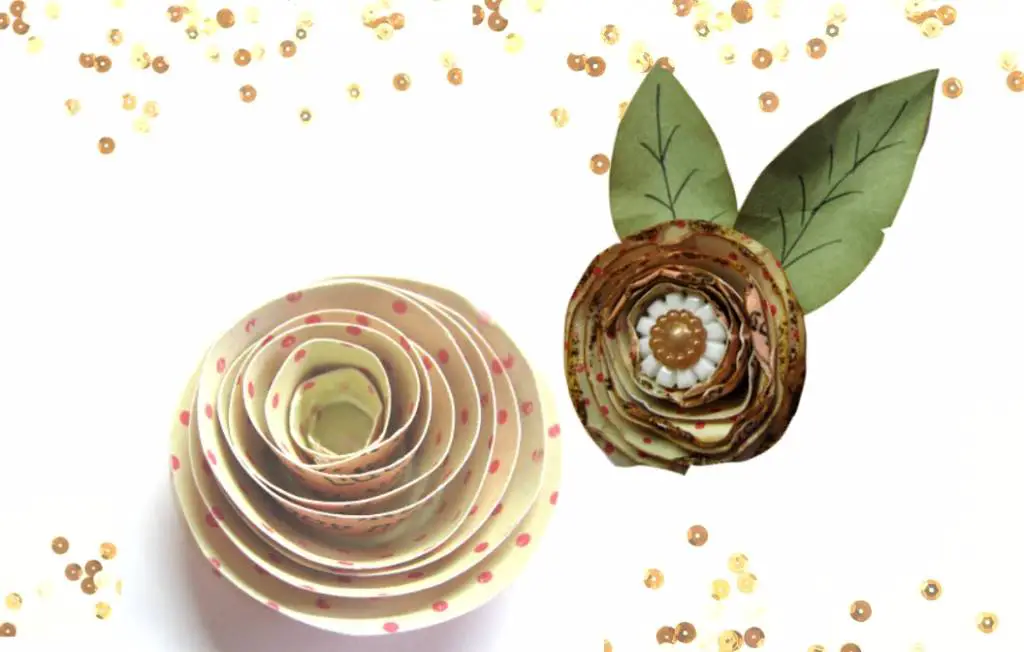 To create this flower you'll need double sided cardstock, scissors and glue. This technique is great for any size of flower you need for your project because all you need to do is change the size of the paper circle you start with.
Here's how to create this flower:
Cut a circle from double sided cardstock. It doesn't have to be accurate or symmetrical.
Use scissors to cut the circle into a spiral starting from the edge toward the inside.
Roll the spiral from the outside.
Once the spiral is rolled secure to the center with glue.
2. DIY ROSE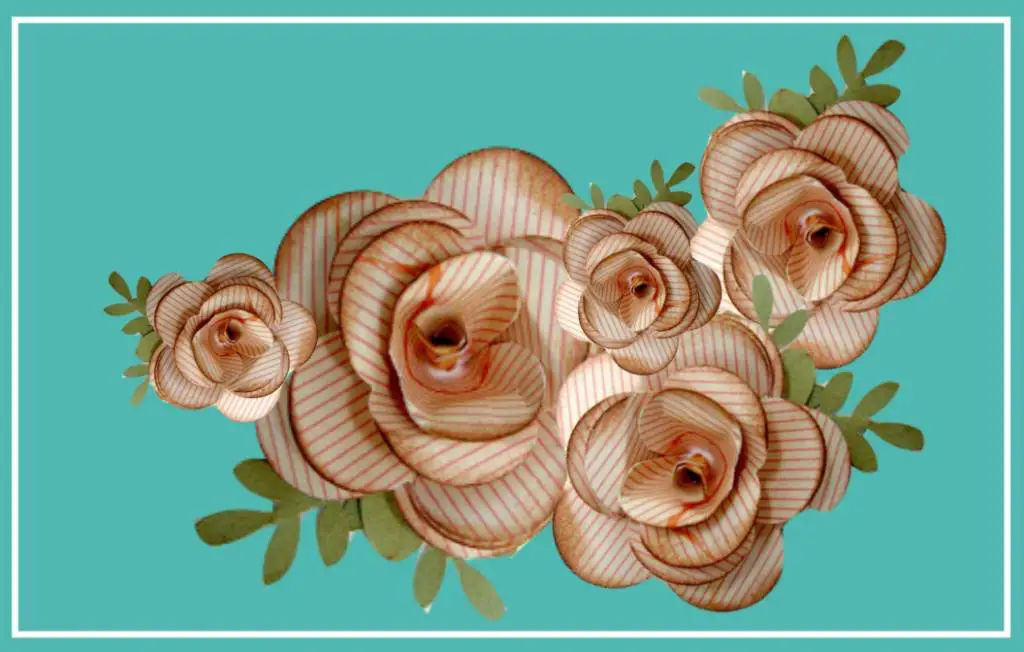 This flower is more dimensional then other flowers so it wouldn't be ideal to use on scrapbook pages. You could use it on cards,but you'll probably need a large envelope to fit the card inside. This flower would be best for home decor pieces, canvases or boxes.
You'll need:
Double sided cardstock
Six petal punch. If you don't have a punch you can cut the pattern with scissors.
Glue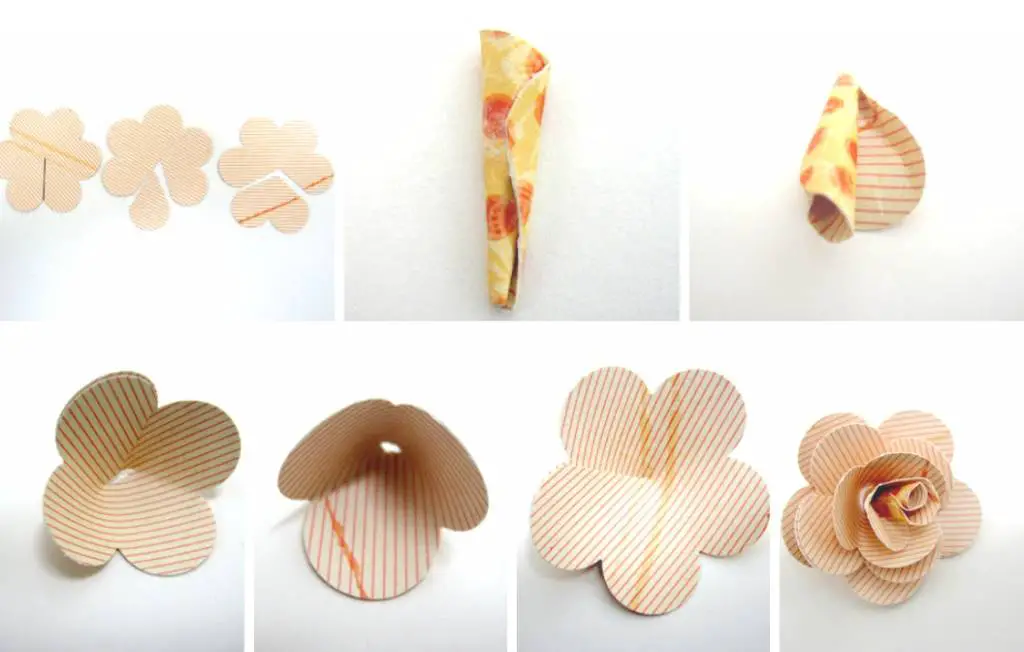 Do this:
Punch three flowers.
Cut out the parts according to photo.
Assemble layers of rose: small petal: roll it tightly and adhere to secure. Heart shape cut out: roll loosely and secure. Close other layers by attaching petal to petal.
Cut bottom of all layers.
Assemble flower by attaching the layers together.
Combine the two flowers to create a wreath. Match the color of the papers you use to the holiday or occasion the wreath is for and hang it!.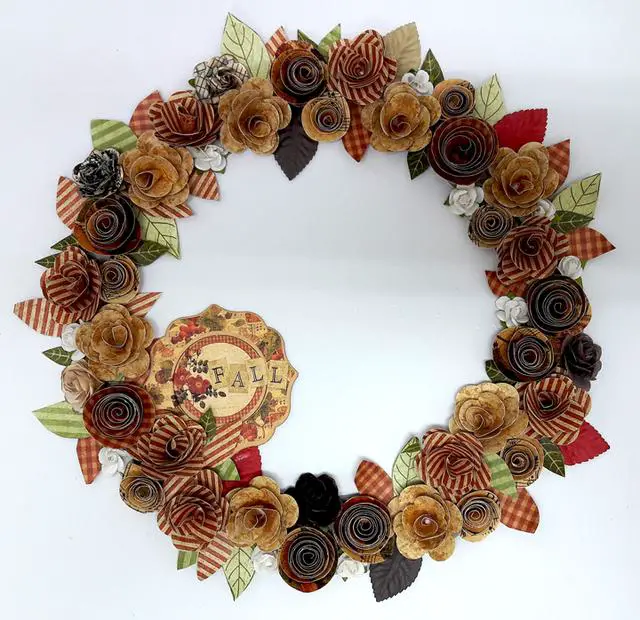 3. MAKE A FLOWER FROM BUTTONS
If you have lots of buttons a great way to use them is create flowers. You can combine different sizes and colors of buttons and layer them next to each other or on top of each other.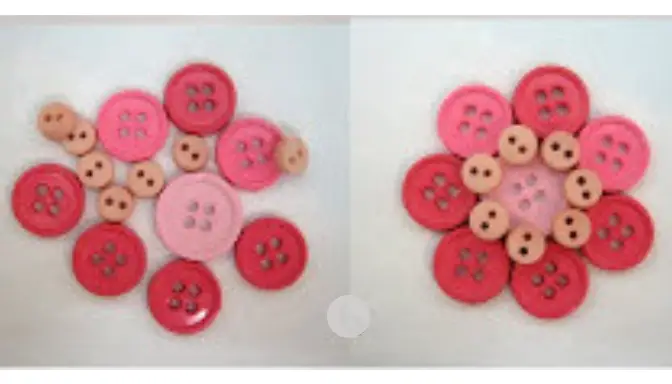 4. CIRCLES PAPER FLOWER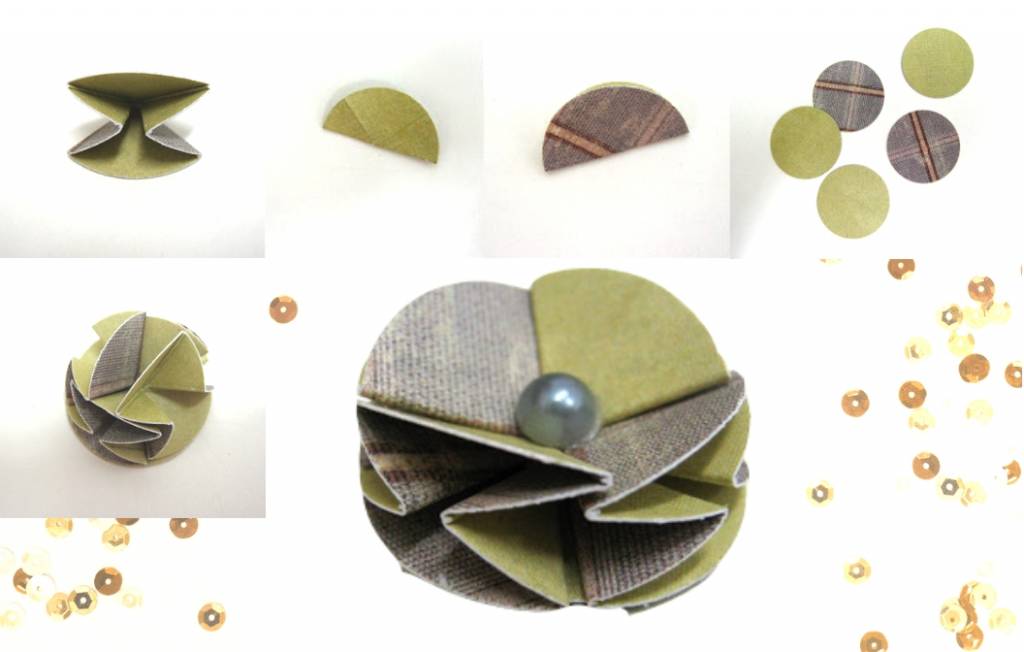 Circle punch is a common tool in the craft room and it can also be used to make flowers! All you need is a double sided cardstock or pieces from your stash and a circle punch..
Here's how:
Punch 5 circles from double sided cardstock. If you don't have a circle punch cut the circles with scissors.
Fold the first one in half. Open and fold in half the other way, creating a cross shape.
Fold in half again to create a diagonal line in the center of the cross.
Flip the circle over and fold the last diagonal fold the same way.
Repeat with another circle.
Do the same with the other two circles starting from the opposite side.
To create the petals of the flower, fold the middle line in and the other two lines out.
Adhere the four petals on the fifth circle. The flower will be puffed a little.
You can leave it puffed, or you can flatten the folds and add a pearl or bead in the center.
The fun thing is you can change the size of the flower by use a different size circle punch. You can even use scalloped circles, as long as all five circles will be the same size.
5. CLUSTER FLOWER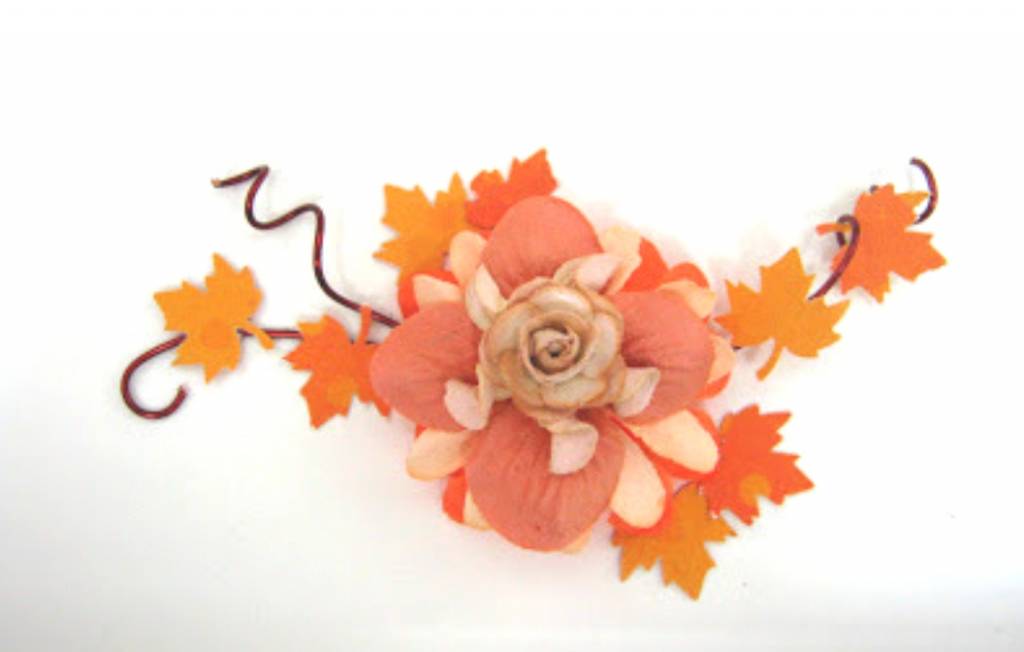 Collect some leftover single paper or fabric flowers and layer them to create a cluster with some wires and punched shapes.
You'll need:
Different size flowers
Small leaf punch
Wire
Here's how to create it:
Layer a few flowers one on top of the other.
Cut a few pieces of wire and swirl their edges.
Punch a few leafs and attach to wire.
Attach wire to the bottom of flower.
6. MAKE FLOWERS FROM PAPER HEARTS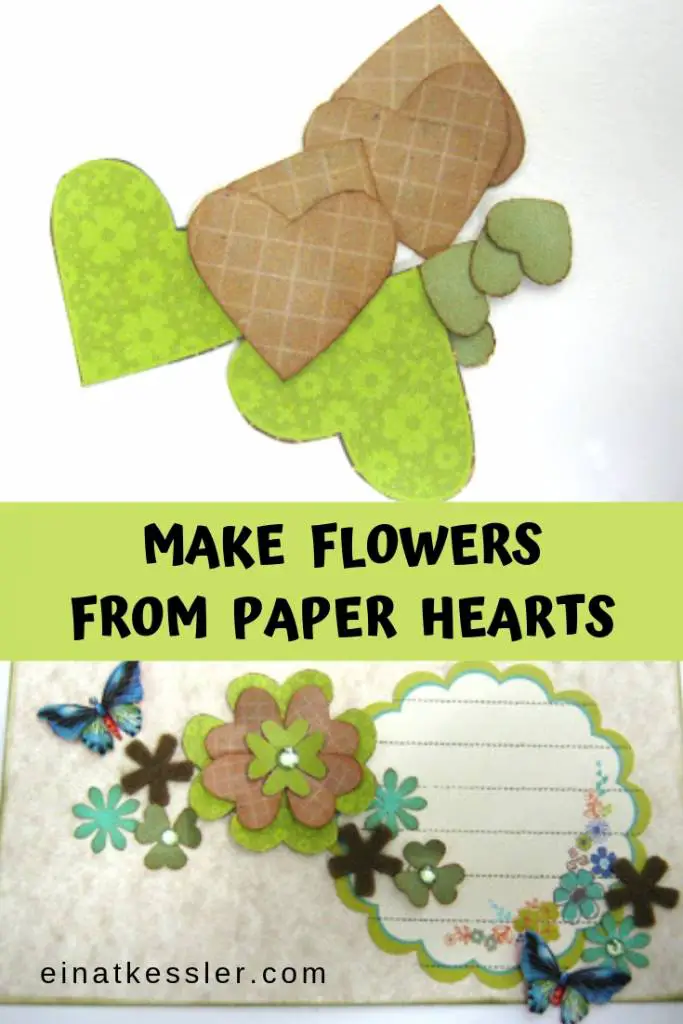 Heart shapes are not only for Valentine's day or other love notes. If you look at the humble heart shape a little differently you can see that they resemble a petal. So why not make a flower?
Do this:
Punch hearts from different papers. If you have different size punch - even better and more creative!
Arrange the hearts in a circle.
Add a brad or another embellishment in the center.
7. FOAMIRAN FLOWERS
Foamiran or soft foam is a stretchy material (foam) 0,8 mm or 0.6 mm thick which looks like paper. It reacts to heat and it is easy to shape when warm. This is a special kind of foam dedicated to flower making. It's not ordinary craft foam 2 mm thick Which you can buy in crafts stores with products for kids.
You might not have Foamiran in your stash but it's a material that is really easy and fun to play with, so here are a few options to get it:
DIDN'T FIND WHAT YOU'RE LOOKING FOR?
For even more creative ideas to make your own flower embellishments check out these posts:
WHAT IS YOUR FAVORITE TECHNIQUE? LEAVE ME A COMMENT!
SAVE it for later - PIN IT!
Have fun creating!