Inside: how to use stencils to make backgrounds and focal point on an art journal page
Stenciling is like magic! You can use them to make your own patterns and images while controlling the size, the shape and the color. This versatile tool is great for art journaling and today I want to show you how to use stencils to make both the background and the focal point!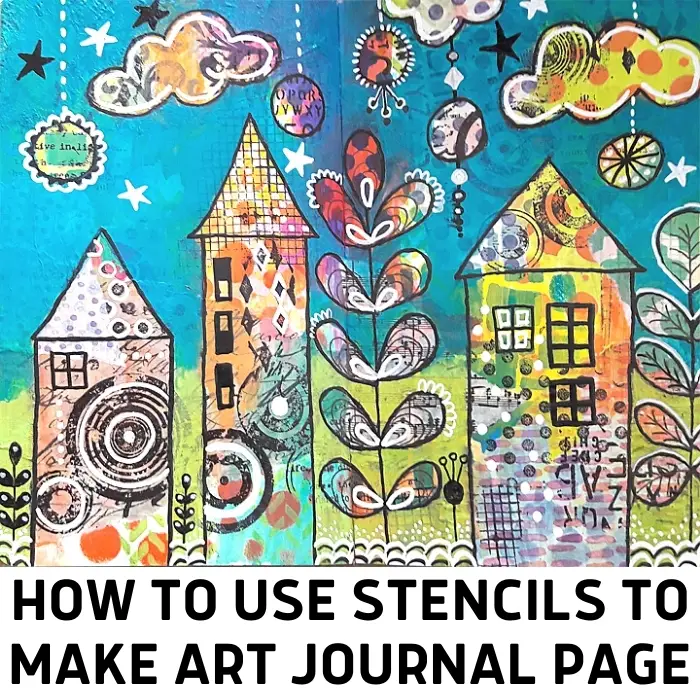 HOW TO USE STENCILS TO MAKE AN ART JOURNAL PAGE
MAKE THE BACKGROUND
The first step is to fill the page with patterns and colors. Use different stencils with different colors and make the background as colorful as possible. Layer the patterns slightly but give each pattern its own space so it will be visible.
COMPLETE THE BACKGROUND
To complete the background add some more colors and layers with acrylic paints and pieces of tissue papers.
Make sure to paint parts of the paper with light and contrasting acrylic paints so the pattern will still be visible.
Add tissue papers and not regular pattern papers so the stenciled patterns will show through.
Try not to leave white space and cover the entire page.
You can also add more images and patterns with stamping.
DRAW THE IMAGES
The next step is to draw some shapes and images with a black pen. The shapes should be large without too many details so the stenciled background could be seen inside them.
COVER THE BACKGROUND
The next step is to paint around the shapes. The idea is to hide some of the stenciled background around the shapes while the pattern is still visible insie the shapes you drew.
FINISH THE PAGE
To finish the page add details with black and white pens. These details will make the shapes pop out more as well as add more elements to the page. This is when you can also add a title or text to the page.
TIPS ON HOW TO USE STENCILS
Use stencils that have a repeating patterns like circles, stars, dots etc.
Make sure you are using different size of shapes on the stencils so some of the patterns will be small and some larger.
Stencil the patterns with contrasting and strong colors so the patterns will still show through the colored layer.
Use a sponge and acrylic paints to stencil to achieve crisp images without bleeding.
For more tips on how to use stencils check out these 10 clever tips for working with stencils
Here's an idea on how to use stencils to make art journal page
Sharing is caring - PIN IT!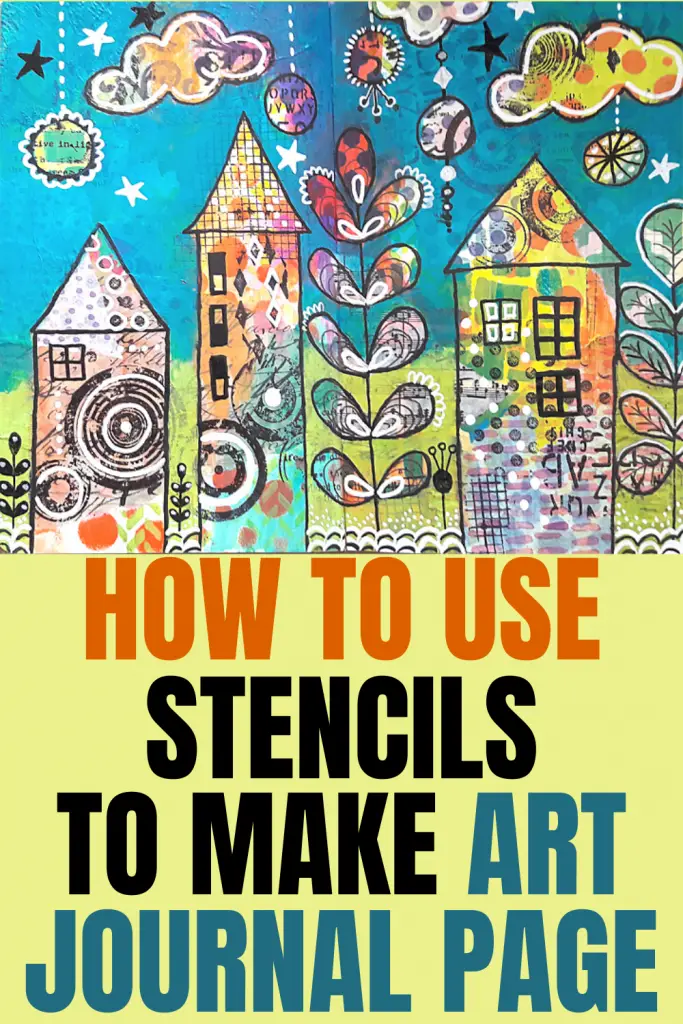 Have fun creating!