Inside: smart ways to use all your old cards from the holidays. Instead of throwing them away reuse and re-purpose them!
This time of year we all have many cards around the house. On one hand I always feel really bad throwing them away because people took the time to pick them, write something and then send them but on the other hand I don't really want to keep them because it's just a card with a few words like I get every year and if I keep them all I'll need another room... Lol
So I started thinking if keeping them or throwing them were my two only options... apparently not!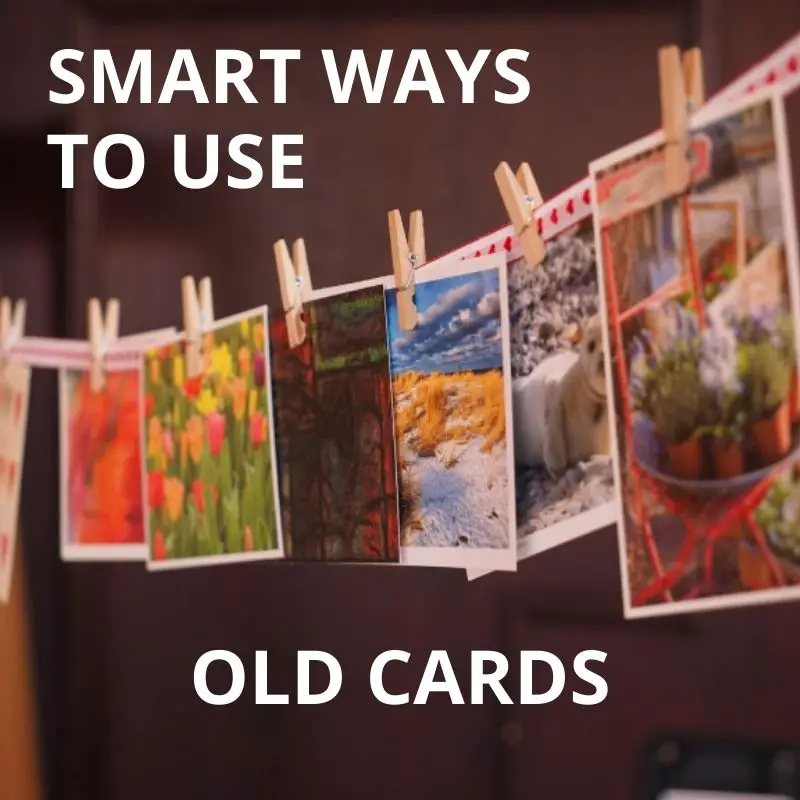 WAYS TO USE OLD CARDS
KEEP THEM
Keep cards from special events like a wedding or Bar-Mitzva as a piece of family history to show your children or grandchildren. Don't keep all of them just the ones with special design, words or someone really dear to you.
If you don't want to keep the actual card - scan them and store them on your computer. They will take much less room on your computer...
Here are some decorative boxes to keep your cards:
USE OLD CARDS AS CRAFT SUPPLIES
Instead of buying paper or cardstock you already have it! - Use old cards as supplies to create new projects like cards, scrapbook pages, gift tags, part invitations and more:
Cut words
Cut individual letters
Use the images on the card as cutouts or embellishments
Bind the cards into a mini album and use them as the pages
Cut pieces, images or words from the card tops and cover a frame or a box. Cover with gel medium for protection
Decorate gift wraps. Use brown paper to wrap gifts and embellish it with pretty images or patterns from old cards.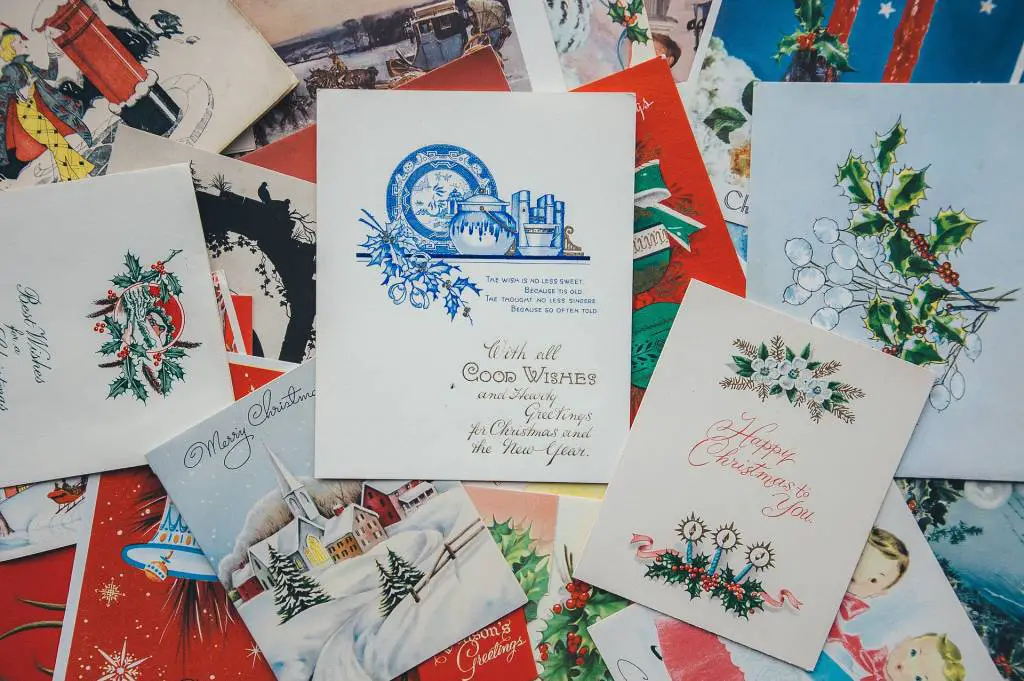 RE-PURPOSE OLD CARDS
Turn the card into something else that you can use. Here are some ideas:
DIY GIFT CARDS
Punch or cut parts of the card, the parts you like with a pretty image or background, and create gift tags for birthday or holiday gifts. Check out how to make gift card giving personal and unique with these tips
USE OLD CARDS AS POSTCARDS
Re-purpose card tops into postcards. It's true that nowadays almost nobody sends postcards anymore, but it would be fun to do it again...
MAKE MAGNETS
Use cute characters or images from the card to create magnets.
Here's how:
Cut out images or letters from the front of the card.
Punch a circle or a square from the same card. Make sure it's big enough to fit the image and/or letters.
Attach all parts to circle or square.
Add a magnet to back side of circle or square.
Cover the front with gel medium to protect it.
Here ar some supplies you can use:
USE OLD CARDS AS PUZZLES
Create mini puzzles for your kids or as gifts from colorful and elaborate cards tops.
You need to:
Glue both sides of card together for extra strength and width.
Cut or punch the card to pieces to create a puzzle. If you want a pretty box for it check out the 13 DIY BOX IDEAS  and pick a box idea to make.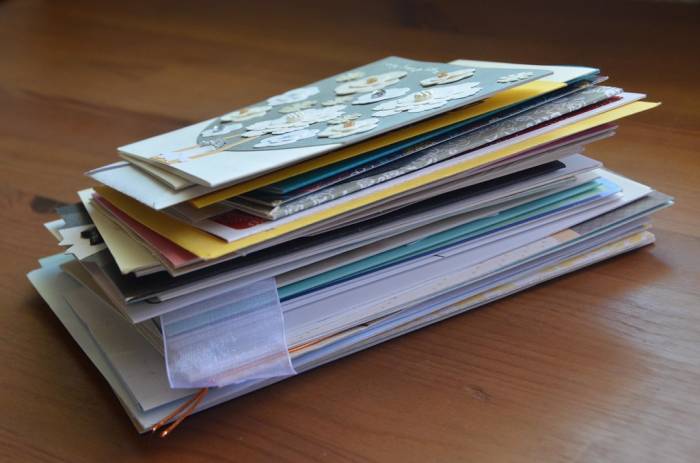 MAKE DIY PUPPETS
Cut out characters from a card and attach a popsicle stick on the back. You can create an entire puppet theater for the kids or grand kids.
OLD CARDS AS MASON JAR TOPPERS
Who doesn't love to use mason jars as gifts or for gifts. Next time you gift someone with homemade jam or bath salts, use an old card to decorate the top of the jar.
Cut a circle from a card top that fits the Mason jar lid and attach it to the lid.
Make a tag from the card and attach to the jar with a twine.
Cut a label from the card top and attach to the side of the jar.
FRAME THEM
Many cards have beautiful art or motivational text on them. Enjoy them year round by framing them and hang on the wall or give them as gifts. You can get cheap frames at the Dollar store or IKEA and create a collage of frames on your wall.
PARTY DECORATIONS
Create banners or bunting decorations. The heavy cardstock of the cards is perfect for making sturdy party decorations for almost every occasion. You can use the old cards in their original size or cut them to smaller pieces. You can also change their shape by cutting them into triangles or cut out a triangle from the bottom.
OLD CARDS BOOKMARKS
If you're a book reader then you can make some bookmarks. Cut strips from the cards and add a twine to the edge. It's a great kids activity too.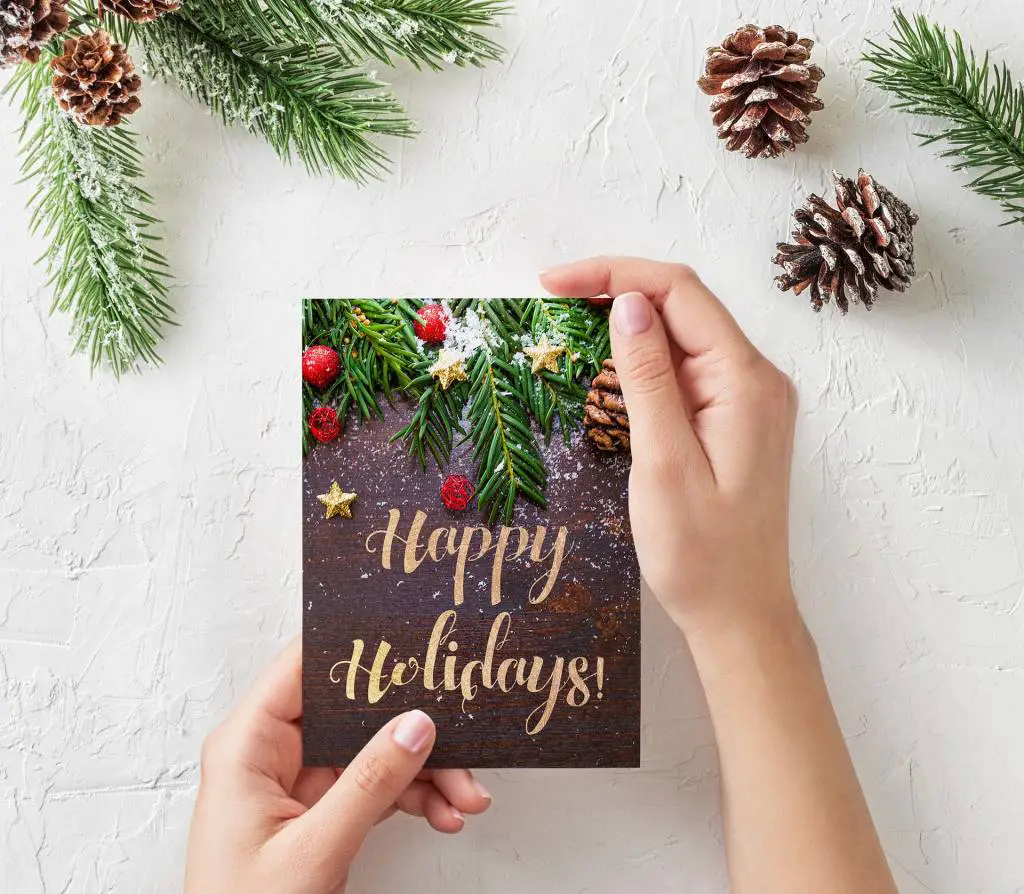 CREATE COASTERS
Turn your old cards into designed coasters.
Attach the two sides of the card together for extra strength.
Cut a circle with an image or pattern you like.
Cover with gel medium for protection.
You can also cover old CD's in the same process and make larger coasters.
USE OLD CARDS AS RECIPE CARDS
Re-use Christmas and Hanukkah cards for recipe cards to include with a holiday food gift or to keep and write your holiday recipes on them. You can also make a beautiful box to keep them. Check out the 13 Amazing Boxes to Make tutorial.
DONATE THEM
A lot of organizations, from Girl Scouts to YMCA and Kiwanis summer camp programs, can use your card tops for their craft projects all year long. Your local schools and kindergartens will love to use them too. So all you need to do is take all your card fronts and give them to those who will use them.
These 20 ways to use old cards are just the beginning. There are so many ideas you can do, as long as you think of the card as a piece of cardstock or patterned paper you can utilize for any craft project the options are endless.
Sharing is caring! - PIN IT!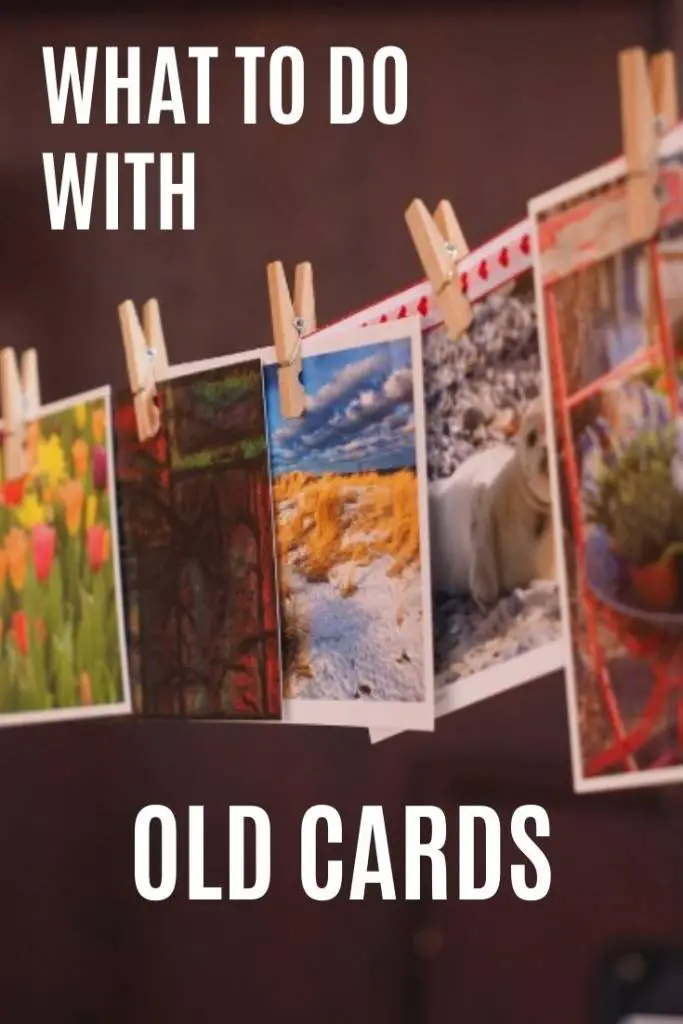 Have fun creating!