Inside: 20+ scrapbooking tips every crafter should know to make amazing scrapbooking pages
I started scrapbooking almost 20 years ago. WOW! time flies!! I started when my first son was born and I made him a first year scrapbook. When I started there were hardly any scrapbooking products where I lived so I had to improvise and invent ways to achieve the look I wanted. Things have changed dramatically since then and today you can pretty much get anything you want or need for your scrapbook page. However, for some reason I still hear my scrapbooking friends say they sometimes struggle with completing a page or get ideas for their layouts.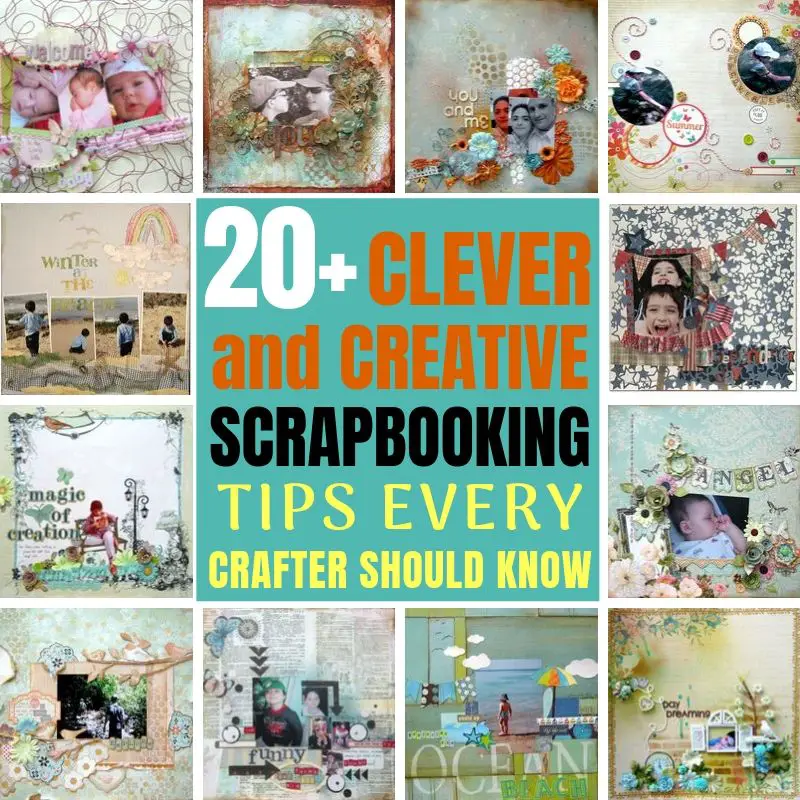 SCRAPBOOKING TIPS
Over the years I collected a few scrapbooking tips that can help with the creative scrapbooking process. Tips about techniques, page ideas, DIY embellishments and much more.
PHOTO FRAMING SCRAPBOOKING TIPS
Photos are the main element on a layout. That is what tells the story and sets the mood for the design. So the photo needs to pop out and be the most visible element on the page! One of the ways to make your photo pop is to frame it. The most easy and well known method is to create a mat around the photo but I have a few more ideas to frame your photos:
Arrange embellishments around the photo and create clusters that slightly overlap the edges of the photo. The embellishments will draw your eyes to the photo!
Use an embellishment like a window to frame the photo. This embellishment can be from wood, chipboard or resin as long as it has some height to it. The 3D effect will draw your eye to the photo.
Add another photo in the background to make the top photo pop out. use one black and white photo and add a colored photo under it to enhance the contrast between them. That will frame your photo and make it pop.
Add a large mat around the photo.Instead of matting the photo with a paper piece that is slightly larger than the photo mat it with a much larger piece of paper and add embellishments as well.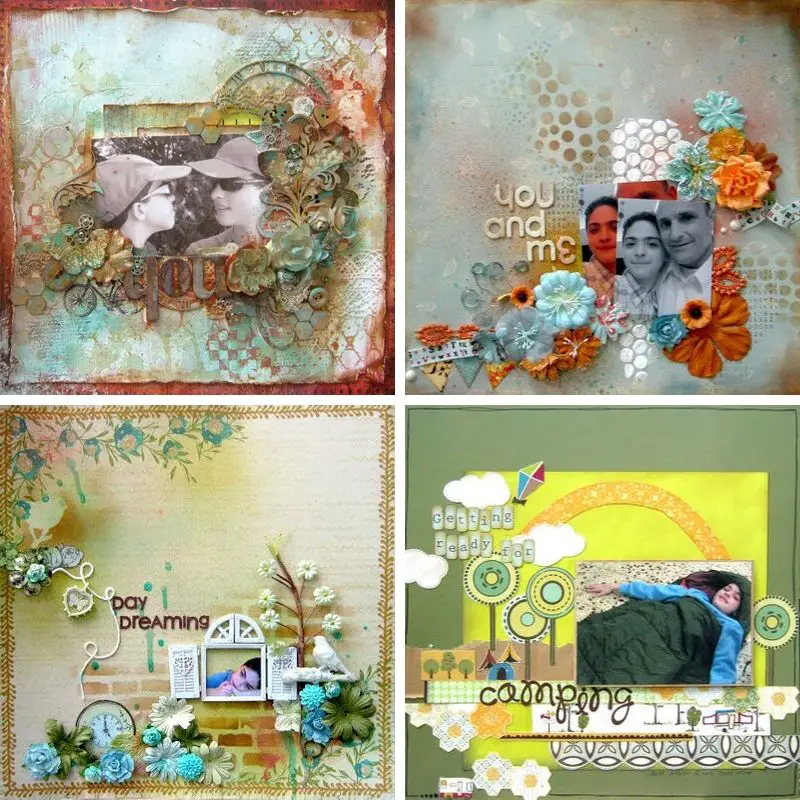 DIY FLOWER SCRAPBOOKING TIPS
There are a lot of amazingly beautiful flower embellishments out there but... first of all, you can't buy them all and second you often don't find exactly what you need in your stash. So here are a few ways to make your own flower embellishments!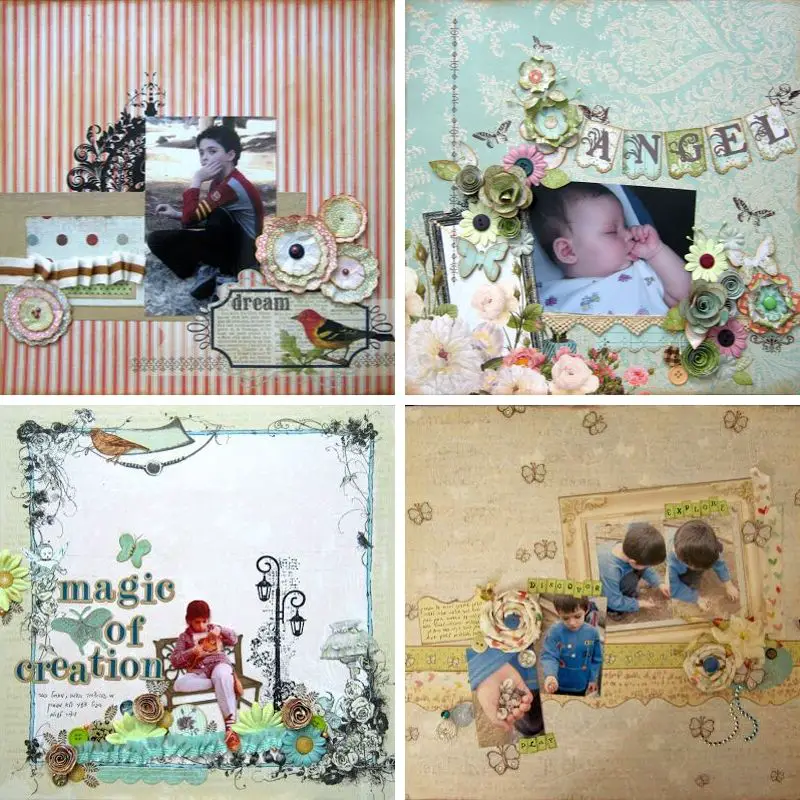 LAYERING
Layer paper, fabric, felt or tissue! Create different layers of mixed materials or mixed sizes from cut out shapes, punched shapes or even stickers. Attach them together with a little foam tape for extra dimension.
ROLLING
Cut out a circle from double sided paper and then cut it into a spiral. Roll the spiral and then attach to end. You can change the size of the flower by changing the size of the circle. Check out the tutorial how to create these rolled flowers.
PAPER PIECING
This fun technique works great with building roses from punched out shapes. By simply making small changes to each punched flower shape you can achieve this beautiful rose. Here's the tutorial
FABRIC FLOWERS
I love fabric flowers because of their special texture and movement. They behave differently from paper and you can create a totally different looking flower. On this page I took strips of paper and rolled them into a spiral. Easy and fast!
USE YOUR KIDS DRAWINGS
When my kids were smaller and went to kindergarten Every week they brought a pile of their drawings home. As a mother I felt really bad throwing them away even though that pile of drawings grew higher and higher. I kept some of them and some of them I did throw away but some found their way to my layouts!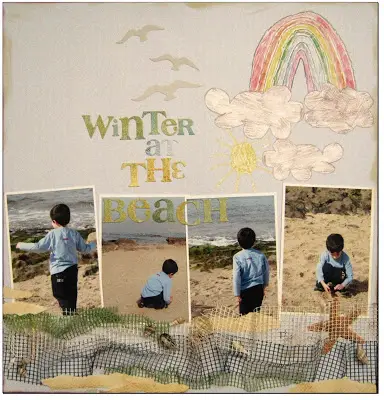 Here's how:
Find a drawing you like that has vibrant colors and a defines shapes.
Scan it to your computer. The next step is to cut out the drawing you need. For that you would need a graphic program like Photoshop or something similar. You can also physically cut out the drawing from the paper and scan it after it's cut.
Make you page: add the cut drawing as an embellishment to your layout or add it digitally to a background paper that you'll print and then create your layout.
UNUSUAL BACKGROUND SCRAPBOOKING TIPS
What is an unusual background? It's any background other than a piece of paper! Yes! you can create scrapbooking layouts on other materials which are not a 12x12 paper!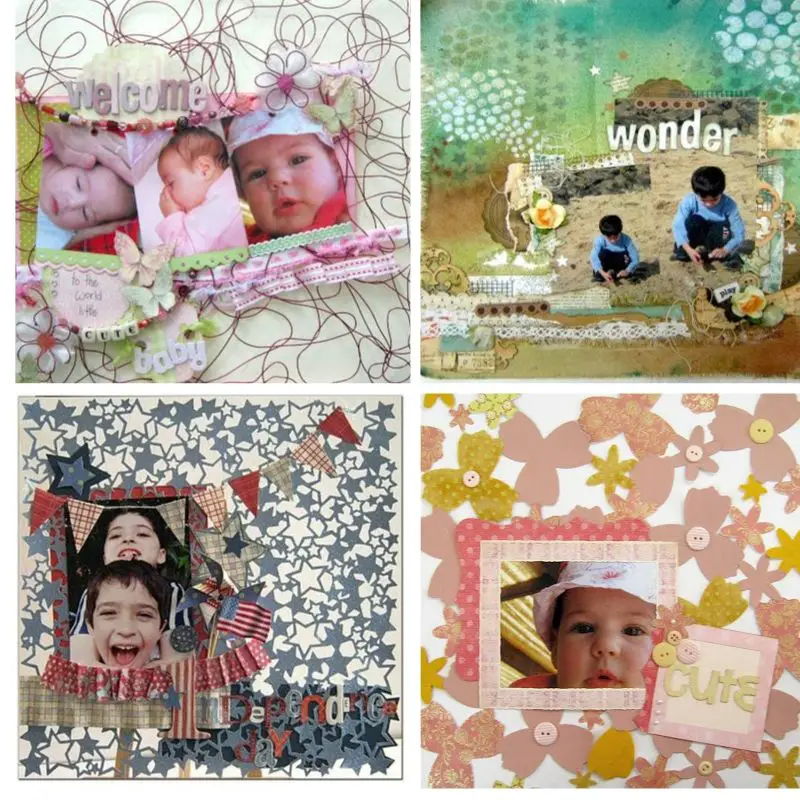 LACE PAPER
I love lace papers. They are challenging to work on because they are full of holes but they are great for tying things and layering!
DIY LACE PAPER
Create your own lace paper by attaching together cut out shapes. You'll be able to create any type of pattern that you need for any layout! Check out the tutorial!
METAL WIRE
It's basically another type of lace paper because it's not a flat continuous surface. However it's so much fun to create! Just take a wire and twist it on a surface equals a 12x12 paper and then create your layout!
FABRIC
Use a piece of canvas or fabric as your page. It has great texture and options for embroidery and sewing.
CIRCLE PHOTO SCRAPBOOKING TIPS
I think using square or rectangle photos all the time is a little boring. Jazz things up by changing the photo's shape!
To cut your photos into circles you can use a circle cutting system or if you don't have one draw a circle on a piece of cardstock and create a template. Then trace the circle on your photo with a pencil and cut with scissors.
Using circle photos can:
Add movement to the page because the circle has a flow to it that you can't get in a square.
Add interest by changing the normal shape you would expect to see to a new and surprising shape.
Add an artistic look to your page just by adding a new shape.
Add a whimsical and fun look and feeling to your page.

ADDING PEOPLE'S BACKS PHOTOS
Usually we take photos of people when we see their faces but I also like to take photos when people have their back turned. It's different, it's unusual and it brings an interesting dimension to the page. Taking photos of people's backs is not only fun but it can even be better. Why? because this way people are in their natural state and not posing for the camera. They don't even notice that you're taking their photo so their behavior is free and real. You get the best photos this way.

LAYERING SCRAPBOOKING TIPS
One of the most important elements of a beautiful layout, other than the photo, is the layers. Constructing a good layout is all about the embellishments and details. But that is not enough! They need to be placed on the layout in a way that they compliment and enhance the photo and not just sit around it "floating". The way to do that is by layering the embellishments and creating clusters around the photo.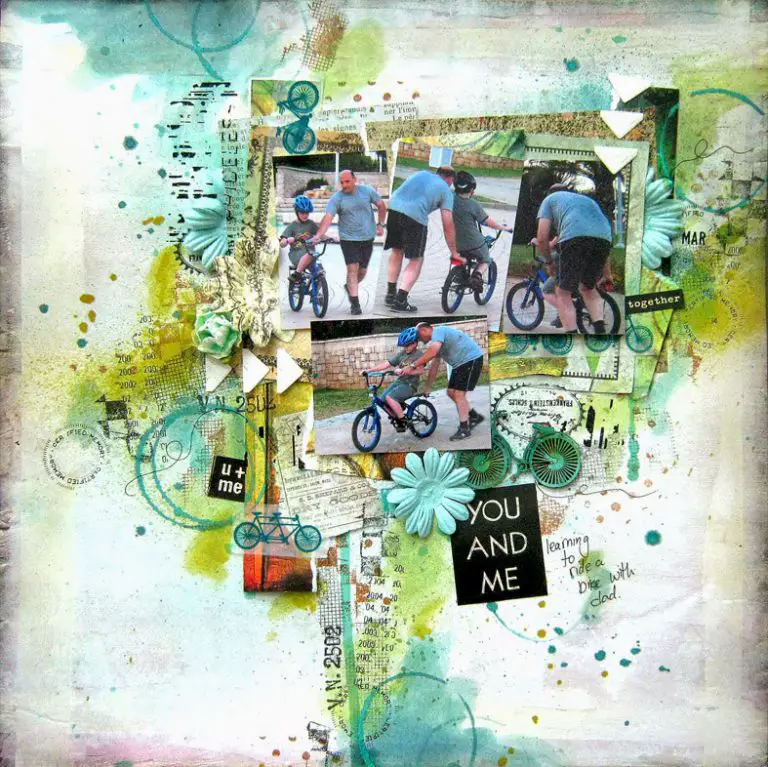 MULTIPLE PHOTO PAGE TIPS
When you want to tell an elaborate story you often need more than one photo. Here are a few tips on how to create multiple photo layouts:

RESIZE
The most important tip I can offer is to resize the photos. If you use regular size photos, like 4x6 then the photos will cover a lot of the page and that will be a little overwhelming. However if you down size the photos into a smaller size then you can fit more photos on the page with them being too over powering.
CHANGE PHOTO SHAPE
Change the shape of the photo. It creates a different flow of the page and it is not so constricting on the eyes like rectangles. Scrapping photos in different shapes, like circles, is much more fun and interesting. As long as you combine the shaped photos in the general design then the viewer will be busy with admiring the page and not with the fact that there are many photos on it.
COMBINATIONS
Combine different types of photos: cut image, shaped photos and different sizes of photos. This is an artistic way of including more than one photo on your page and creating an original and interesting design.
WATER THEME PAGE IDEAS
Great scrapbooking tips for summer "wet" pages, poolside or beach layouts you'll love to make!

SEA COLOR BACKGROUNDS
Create a page with ocean colors that blend together with the photo. That will immediately give your page the right atmosphere and mood. It can be a pattern with waves, a paper with blue and green colors or even a white cardstock that you can paint or spray yourself to match the colors of the photo.
WATER THEME EMBELLISHMENTS
Add "wet" motifs to your page like: sea shells, waves, lighthouse or palm trees. Anything that relates to the beach, the ocean or the swimming pool will complete the look of your page. You can use stickers, cut outs, die cut shapes or fussy cut images from your paper.
ENHANCE THE EFFECT WITH TEXTURE
Adding texture is another way of creating a layout with beach or pool photos. Add a wave pattern with modeling paste, a faux fishing net made from gauze or cheese cloth. Real sand or sea shells from the beach will also be a great addition.
Are you looking for some more scrapbook page ideas? Check out these 16 scrapbook layout ideas complete with step by step video tutorials! Just click the link below to have access to all the videos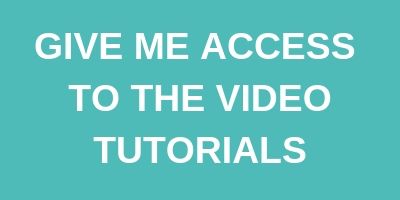 Sharing is caring! So SAVE it for later - PIN IT!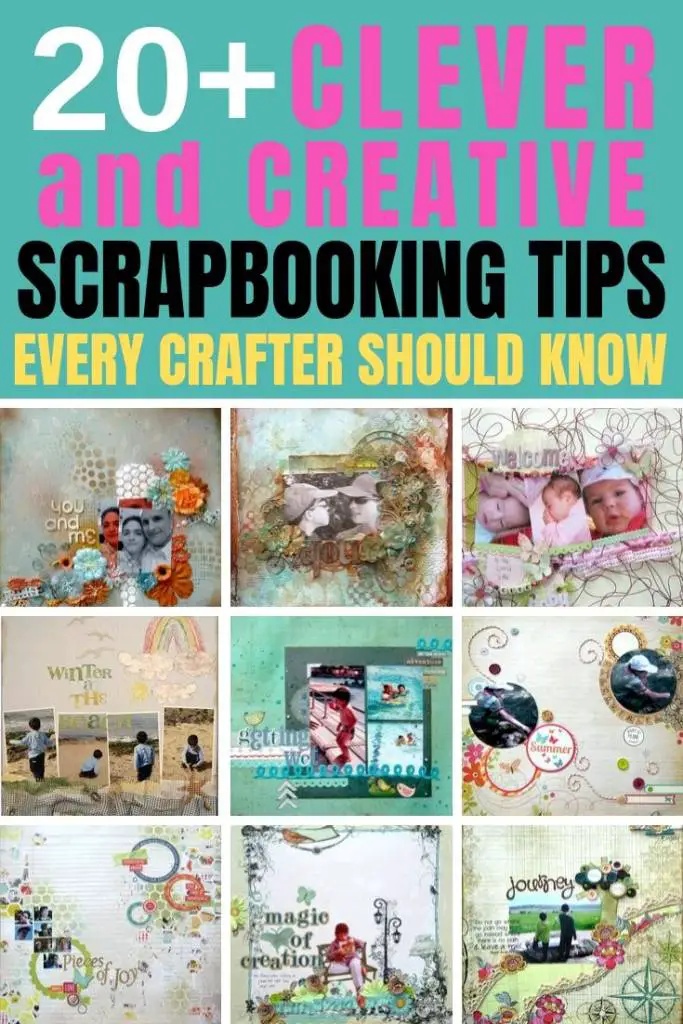 Have fun creating