Inside: how to make amazing boys scrapbook pages you'll be proud of and most importantly so will your boys!
If you have sons like me, or you want to create masculine layouts for the boys in your family you probably find fewer ideas and less inspiration then you would for girly layouts. Face it, most of us are girls! We like girly things and sometimes we prefer to create girly layouts. BUT I have boys and I wanted to make boys scrapbook pages so I started researching this and this is what I came up with...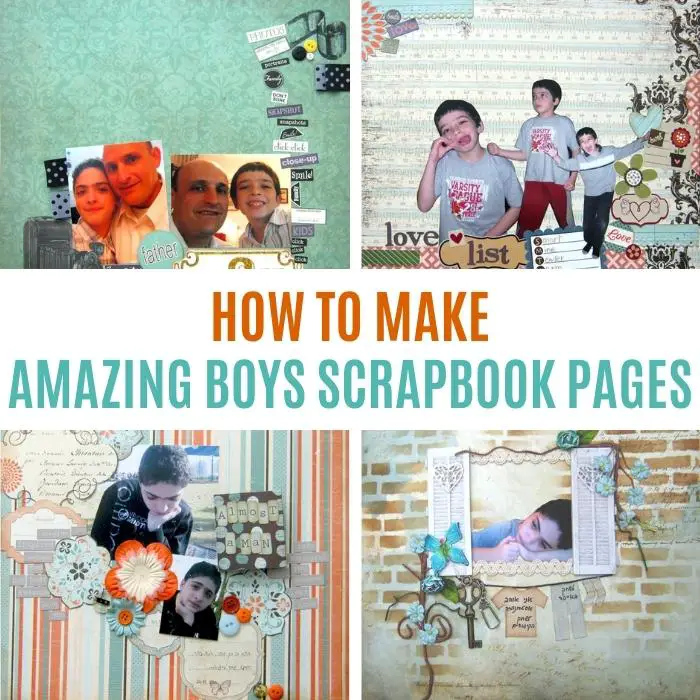 THE CHALLENGES OF MAKING BOYS SCRAPBOOK PAGES
When you make a scrapbook layout you want it to tell a story and also make it pretty. With girly pages it's much easier... you add some flowers and your job is half done. But with boys scrapbook pages you have a few challenges:
Boys traditional colors are more limited than girls. You hardly see boys layouts with pink, red or purple. Coming up with a color combination for your page can be challenging because you might be repeating yourself and the pages might look too similar to one another.
NOT ENOUGH BOYS SCRAPBOOK PAPERS
Boys are a little overlooked niche in the scrapbook industry and not many papers are made with patterns that fit masculine or boys scrapbook pages.
Like I previously said when you do a girly layout you only need a few flowers and some bling... in boys layouts the embellishments options are more limited and sometimes you need to be really creative to come up with accents and embellishments for your pages.
BOYS SCRAPBOOK PAGES ARE COMPLETELY CHANGED!
Before biting my head off, while what I said previously is true it's not the whole truth. There are challenges in making boys scrapbook pages but today it;s much easier!
Who said you can't use pink in a boy layout? Men today wear all colors and there are no masculine or feminine colors... anything goes!
The scrapbook industry heard our call and today there are so many papers to choose from. Not only more color options but also sports, camping, fishing, music and other paper designs that can fit any boys scrapbook page.
Today when I make a boys scrapbook page I have too many options to choose from. There are so many themes, materials and sizes and yes... also flowers. Who said you can't put flowers on a boys scrapbook page?!
HOW TO MAKE BOYS SCRAPBOOK PAGES
Pick your photos and decide if you want to make a single photo pages or a multiple photos page.
Decide on a theme according to the story that the photos tell.
Match papers and embellishments to the theme. Don't limit yourself to traditional boys colors, embellishments or patterns. Remember anything goes!
Assemble the page and move to the next one!
BOYS SCRAPBOOK PAGES IDEAS
MAKE FAMILY PAGES
Make scrapbook pages telling a story about their place in the family, the relationship with their brother or sister. I think the most fun layouts I made are of that magical brother-to-brother relationship with all their games, codes and shared experiences.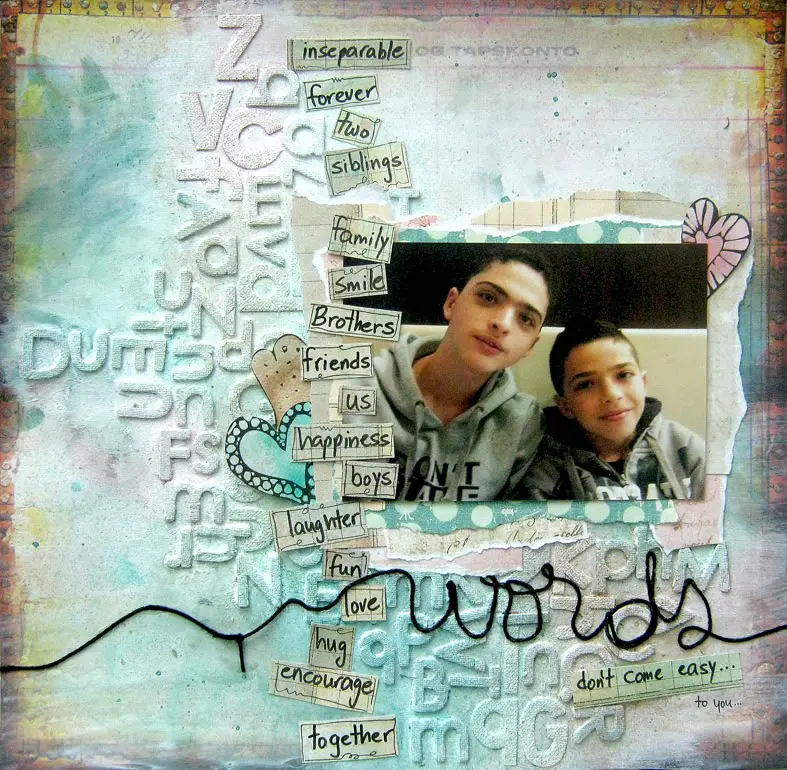 SCRAP HIS HOBBIES AND INTERESTS
Some boys' hobbies and activities are full of movement and speed, some are quieter and easy going, and there are some activities which utilize more brain power than muscle power. Whatever activity your boy is doing you can create a wonderful layout to showcase it.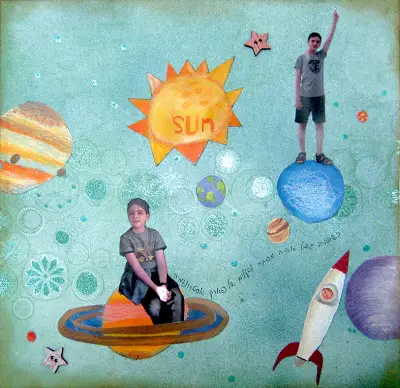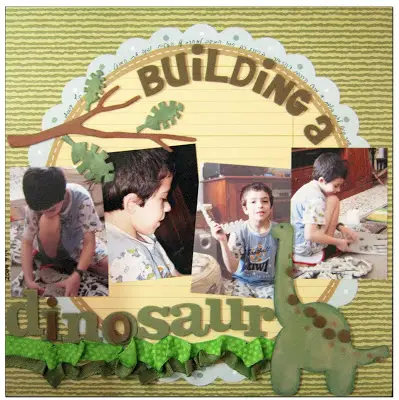 Document what games he likes to play. Does he like board games or is he a mini air hockey table fan. Tell the story of these moments where he is immersed in his game and having fun doing what he loves. He will probably won't even notice you taking his picture...
In the bottom page I took a photo of my son reading. Eventhough there are kids audio players these days he still likes to sit on the carpet in his room with an actual book in his lap...
LAYOUTS WITH SPECIAL MOMENTS
If your boy is a teenager you probably know that hugging or any kind of PDA (public display of affection) is a big no no. So if you have special moments with your son, don't miss it, capture them on camera and create a page.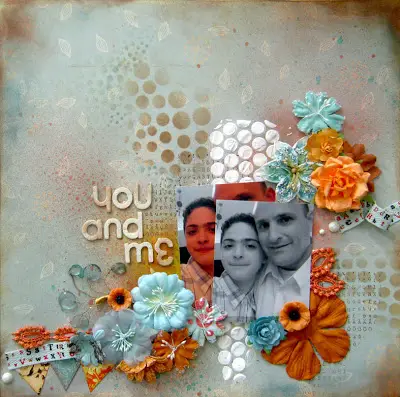 FLOWERS ARE NOT JUST FOR BOYS
I love using flowers on my sons' layouts and I don't think it's too girly. You're boys layouts can be just as flowery and just as cheerful. As long as you add the right amount in the right color flowers will be a great embellishment to any boy layout.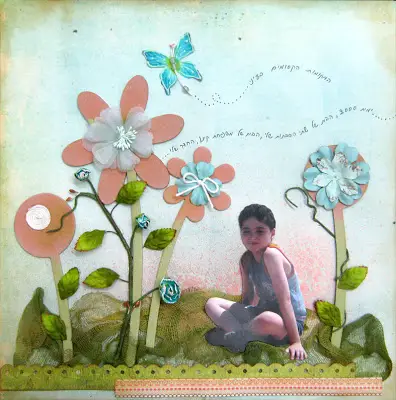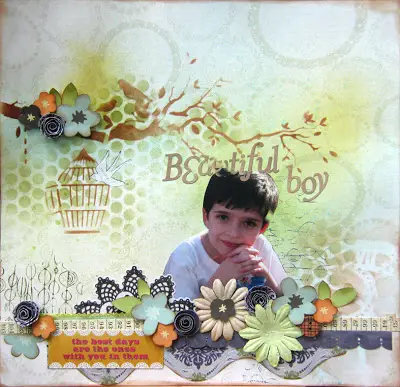 TELL A STORY ABOUT HIS MOOD
Being a teenager is not easy. Your mood is like a roller coaster, sometimes it's up and the next minute it's down. Capture those confusing moments, there are a part of your boy's growing up.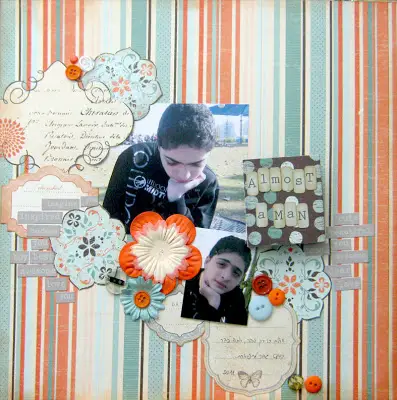 SILLY PAGES
Boys are really good at making funny faces, playing pranks and goofing around. these funny moments can become great pages of fun memories.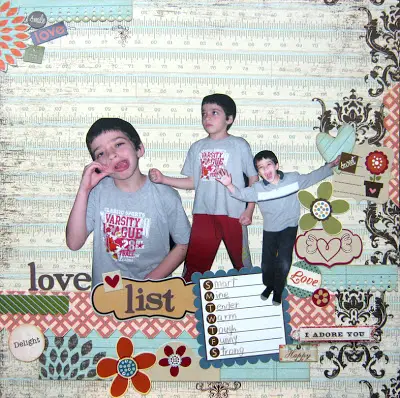 DOCUMENT HIS DREAMS
Create layouts that tell the story of his dreams or showing him daydream about the future. It will be so much fun looking back at these pages in a few years and reminisce about what dreams he once had.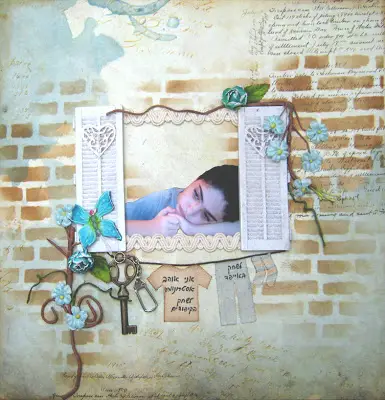 MAKE HIM THE CENTER OF THE STORY
Create a page with a scene, telling a story about him! Make him the center of the layout, the main character of the story. Like an action figure in a movie or a TV program. He will definitely enjoy these layouts and show them to his friends.
BOYS SCRAPBOOK PAGE PHOTOS
All these wonderful ideas depend on the photo you have. I'm sure if you have boys you have a variety of photos of them doing all sorts of things. But the first thing that determines a great page are the photos so check out HOW TO TAKE GREAT PHOTOS FOR SCRAPBOOK PAGES
If you need more ideas for Boys scrapbook pages you can find them here:
MAKE SCRAPBOOK PAGES WITH CUT OUT PHOTOS
Mixed media boys scrapbook page
Check out the 45 Scrapbook Page Ideas eBook where you'll get more than 40 step by step tutorials for amazing scrapbook pages complete with detailed instructions, color photos and lots of tips and tricks to make unique and awesome layouts!
Sharing is caring - SAVE it for later - PIN IT!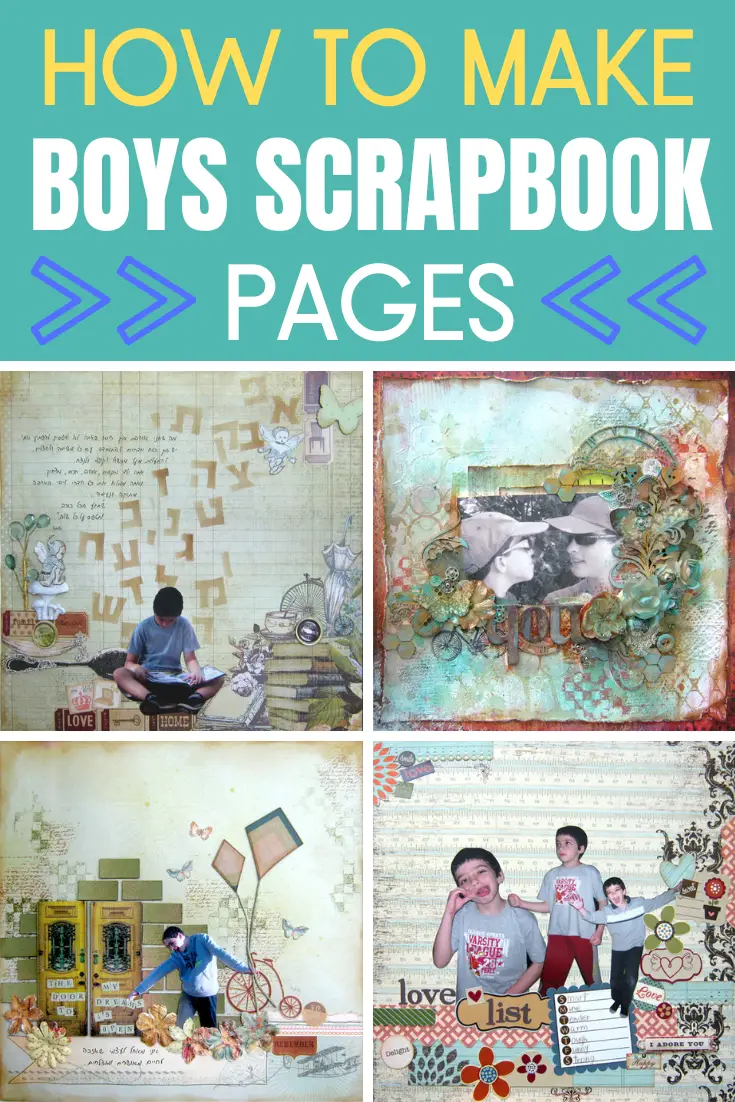 Have fun creating!