Inside: how to make amazing cards with special effects
Even in this era of sending cards via the internet on on your mobile phone I still prefer getting real handmade physical cards. I consider myself a modern girl, I have an account on almost every social media platform I know my way around a smart phone and a computer but there is something about opening your mail box and seeing an envelope of something other than a bill and then opening that envelope and finding a card that was made with love just for you. I love that feeling...don't you?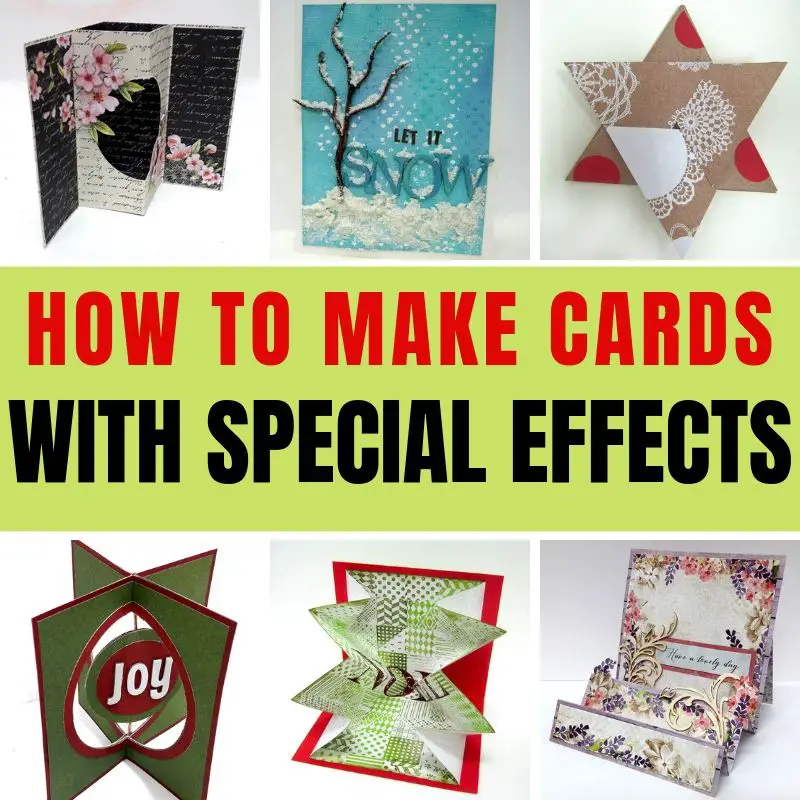 MAKING CARDS WITH SPECIAL EFFECTS
The next best feeling, or maybe even the best feeling is not receiving the card but making it! Christmas is almost here so if you haven't started making cards...you should hurry! I love making cards but at some point making ordinary cards seemed boring not just for me but also for those who were getting them. I wanted to make fun, exciting, surprising and interesting cards, the kind that people would want to keep and that would stand out in the pile of holiday cards. So I started making cards with special effects... cards that once you start making them... you won't make any other kind!
WHAT ARE CARDS WITH SPECIAL EFFECTS?
Cards that has a unique, unexpected or an unusual structure, element or movement can be considered as cards with special effects.
There are four types of special effects:
Shape: instead of a traditional rectangle shape cards can be in a circle, heart or star shape.
Structure: a traditional card structure is a rectangle folded in half. Cards with special effects have different structures, openings and symmetry.
Movement: the conventional card opens from left to right a different movement can be anew way to open the card or a moving element within the card.
Element: instead of adding traditional elements like flowers or stickers cards with special effects have pop-up elements, un-traditional materials or techniques.
DIFFERENT SHAPES FOR SPECIAL EFFECT CARDS
STAR FOLD CARD
Cards with special effects can be in all shapes as a base or as a folded card. This card will be perfect for Christmas and also for Hanukkah!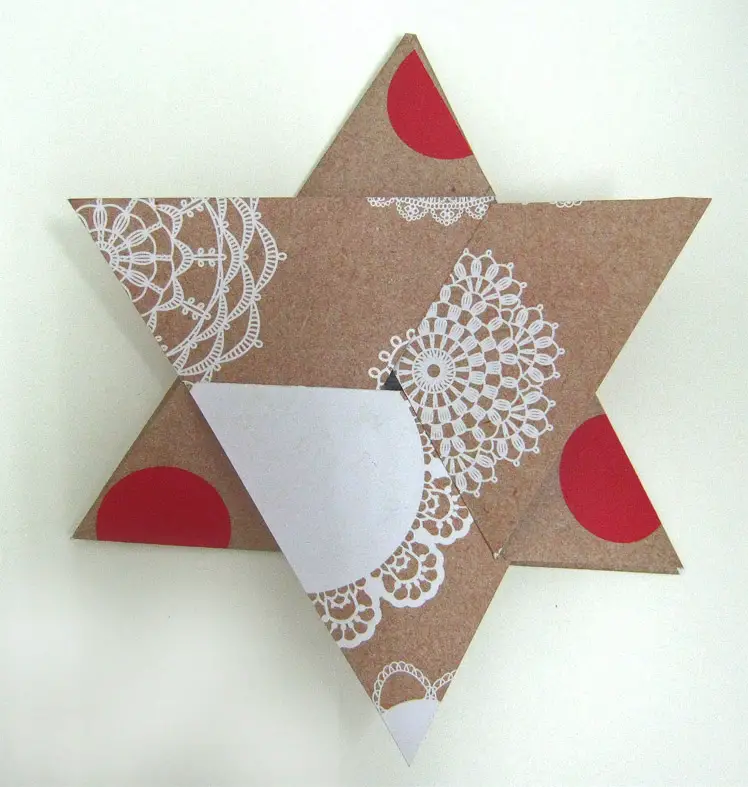 CARDS WITH NEW STRUCTURE
Creating a new structure for a card is so much fun because you end up with a card that doesn't look like an ordinary and conventional card. Here are a few tutorials on how to make new structures for cards.
EASEL AND STAIR STEP CARD
This card is super unique because it's not just one new card structure but two structures combined into one! Follow the tutorial to make it.
Change the papers, title and embellishments and you can make a card for Christmas or other occasion.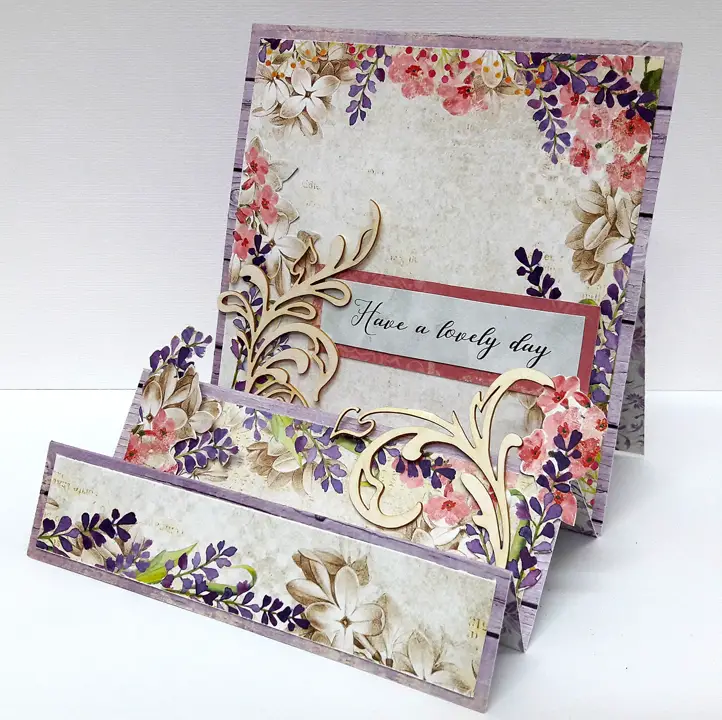 TUNNEL CARD
This is such a fun and easy card to make and simply by adding another piece of paper with a punched circle your card gets an amazing special effect. Here's how to make it.
Decorate the card with stars, trees or Santa and make a holiday tunnel card.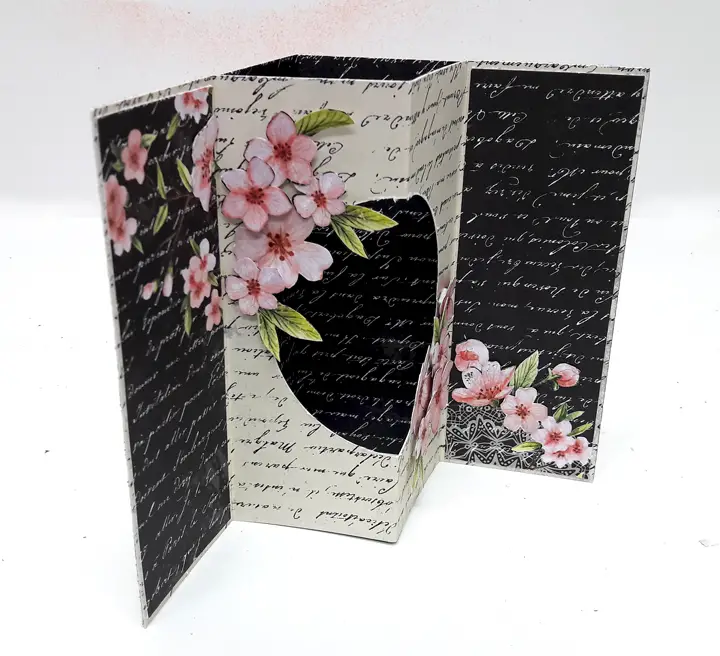 TRI SHUTTER CARD
Just by adding a few cuts and folding the paper in different directions you get an amazing card! Here's the easy tutorial.
There is a lot of space for embellishments and journaling...it's the best card to make for the holidays!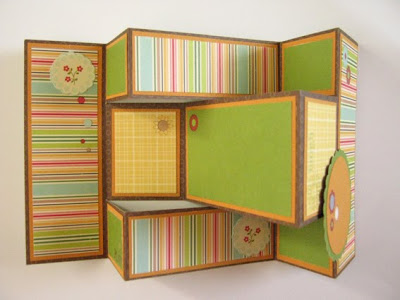 CARDS WITH MOVEMENT
INFINITY CARD
I just love this card! Even though I know how it's made I can open it over and over again and it amazes me every time! Here's the video tutorial to make the card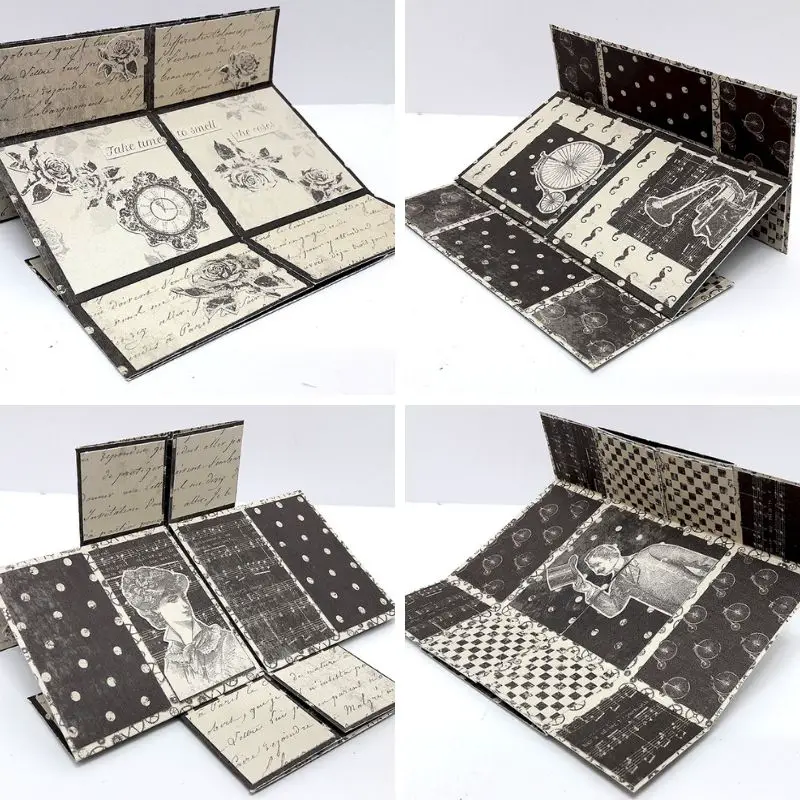 To make a Christmas card use a themed paper and embellishments.
FOUR FOLD CARD
A fun card with a moving element in the center. You can customize the center element and change the shape! Follow the video tutorial.
This card is also great for displaying because it can also stand on its own on a shelf or your mantle.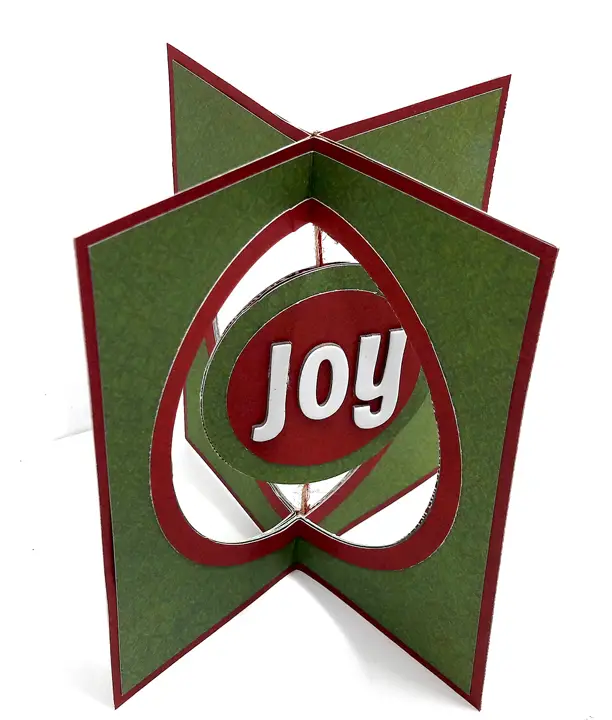 EXPLOSION CARD
Customize the exploding inner part with any pattern,color or text! Here's how to create this easy card!
Open and close as many times as you want...it never gets old!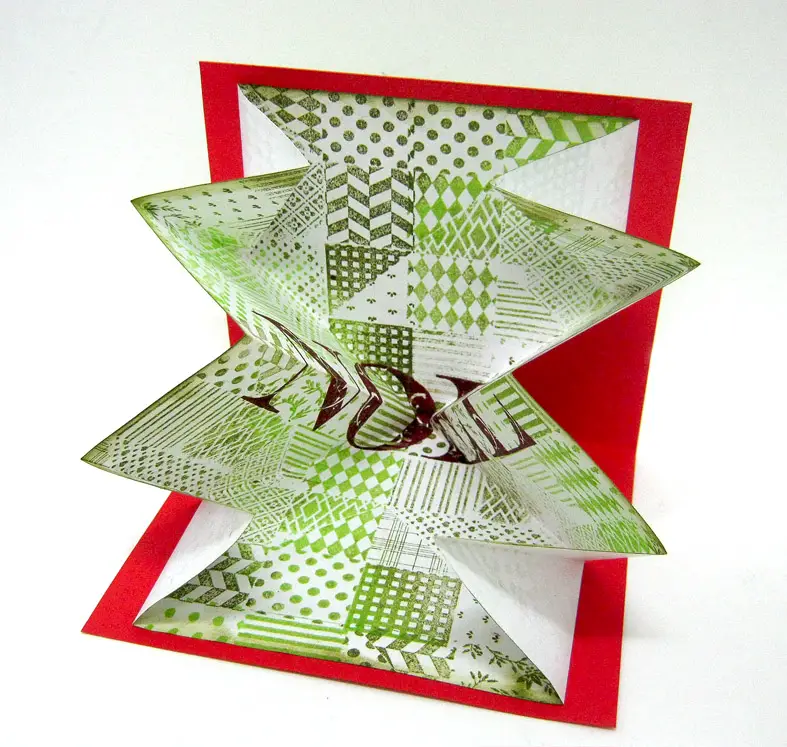 THE WOW FACTOR: ELEMENTS FOR CARDS WITH SPECIAL EFFECTS
TREE SHAKER CARD
Instead of adding a tree shape to the front of the card turn the tree into a shaker element! Here's the video tutorial to make it 
In the video I use a Sizzix die to cut the tree if you don't have that die you can draw a tree or print a tree shape on paper and trace it to cardstock.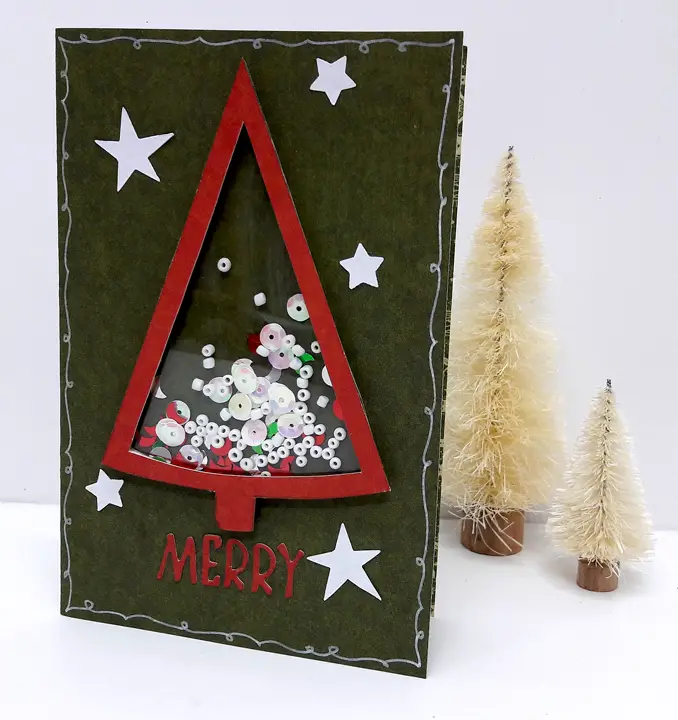 BIG SNOWFLAKE CARD
I just love creating snowflakes. It's easy if you keep in mind that a snowflake has six identical sides. So basically you have to repeat yourself six times and then you get a really beautiful design. I came up with a simple way to create a big snowflake on a card: use an easy quilling technique!
Follow this tutorial to find out how to make the card. If you want to make a smaller snowflake simply make the paper strips shorter!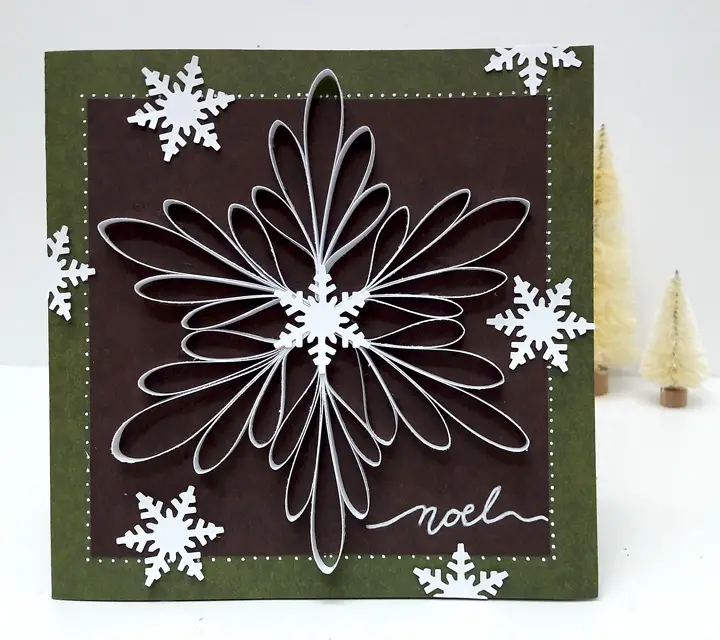 LET IT SNOW CARD
Make your own snow for embellishing a card or any other Christmas project! Here's the recipe to make it!
You can add the snow not only to a tree but on top of a chimney, under trees or on a roof of a house. It will work with every scene you'll create.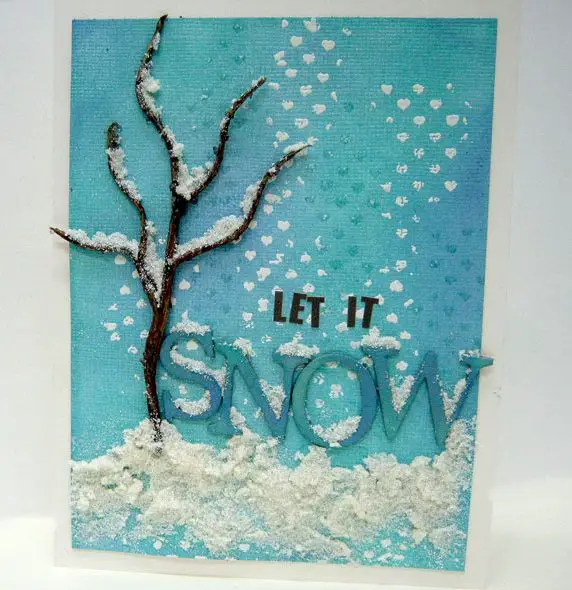 HOW TO DESIGN CARDS WITH SPECIAL EFFECTS
You might think that these cards are really complicated to come up with but it's much easier than you think! When you want to make a special effect card follow these steps:
Think about what kind of card you want to make and design it in your head or on a piece of scrap paper as a traditional card.
Then pick one element to change: it can be the shape, the embellishment, the structure or a movement. Add that element to your design.
Start with easy changes like a fold, an extra flap or a unique embellishment to put on the front.
Then you can make your card or combine another element to your design.
An example for that is a mini album which is also a card - a one page wonder folded card which has so many pages it can also be a mini album. These pages enable you to include a lot of journaling and the pockets are perfect for a gift card or adding money. So this is also a gift card!

Click the link below to get the instructions how to create it!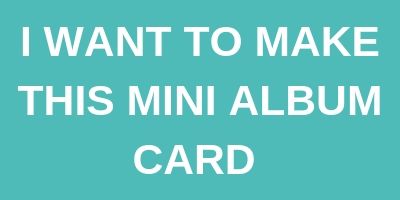 Leave me a comment with a photo of your card or the special effect design you came up with!
SAVE it for later - PIN IT!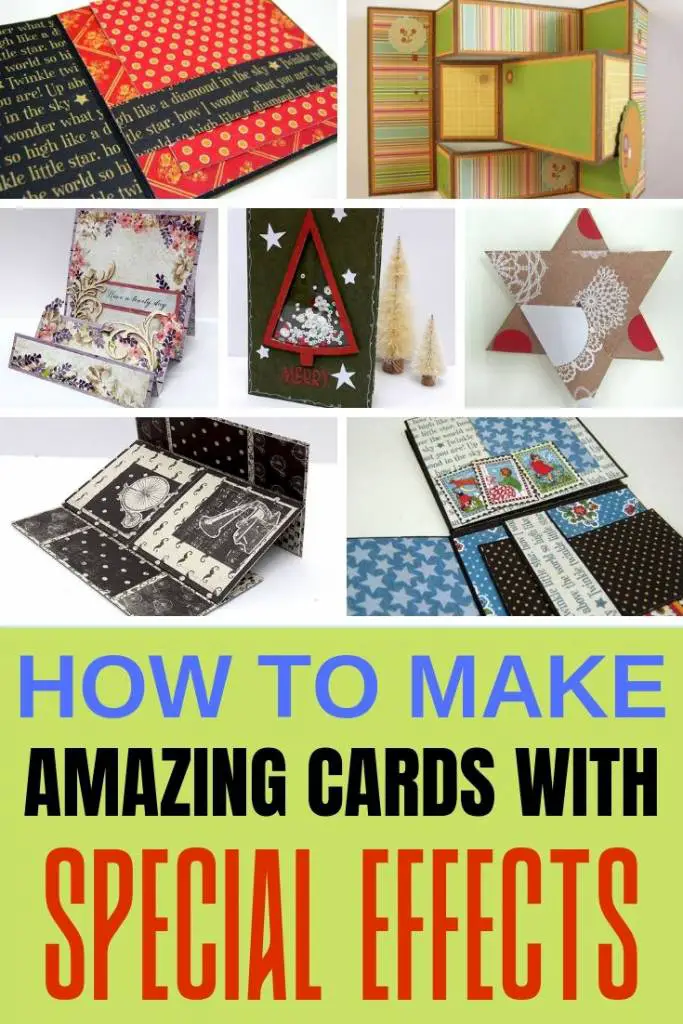 Have fun creating!