Inside: how to make a Christmas junk journal from all your paper scraps
Every year I teach the 12 Cards of Christmas series (see recent 2020 series) and I'm left with a lot of Christmas papers that are too small for making cards but can still be used for something. I hate throwing away paper scraps and actually I almost never do so I'm left with lots of leftovers. I challenge myself to use them in different ways and one of these ways is to collect a pile of papers and turn them into a junk journal.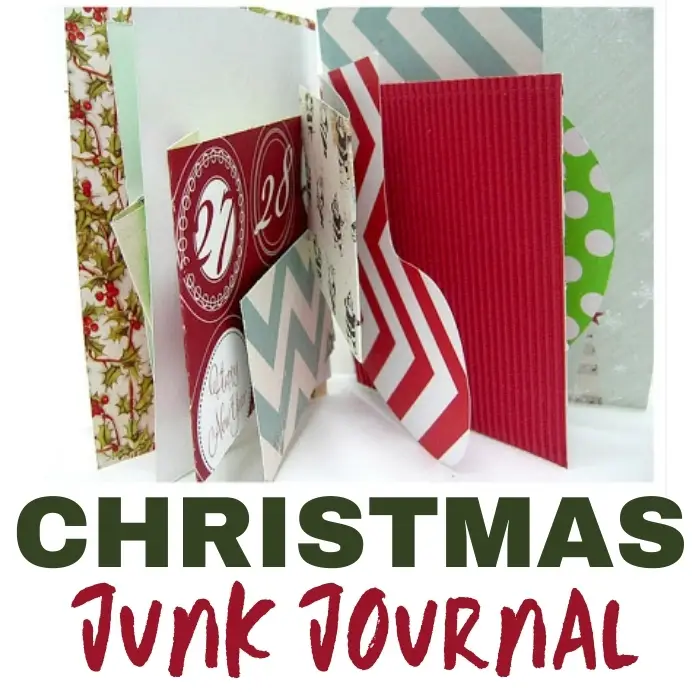 WHAT IS A JUNK JOURNAL
Junk journals can vary from person to person, but it generally most of them do share one primary characteristic: The journal is made with mostly a mix of found and recycled materials mostly papers.
HOW TO MAKE A CHRISTMAS JUNK JOURNAL
Making a junk jornal is easy if you follow three steps:
Choose a theme for your junk journal
Gather papers
Bind the journal
To find out more about making junk journals check out how to easily make a junk journal and what to do with it.
To make the Christmas junk journal I followed the three steps:
I chose to make my journal with a Christmas theme so that meant using all papers that fit the holiday theme.
Then I gathered all my Christmas paper scraps no matter their size. The great hing about a junk journal is that you can make the pages in any shape or size.
Finally I arranged all my papers and binded them with wire. If you don't have a wire like this you can bind the pages with scrapbooking rings instead.
Here are some binding options for you to try:
Check out the video tutorial to see how I arranged all my papers and prepared them for binding so I'll get a really fun and easy to make Christmas junk journal.
CHRISTMAS JUNK JOURNAL PAGE IDEAS
If you have pieces of fabric or felt add them as pages. They'll add a soft fuzzy feeling to the album and a feeling of warm stockings or winter blankets.

Cut the papers to different sizes.
Make the pages in different shapes like a circle or hearts. Christmas shapes like a stocking, triangle for a tree or even a star will be a great addition too.
Use different tpes of paper: currugated cardboard, wrapping papers, transparencies and every other paper scraps you have.
If you want to use a certain paper and it doesn't fit the theme or color change it by painting it or adding a holiday pattern with stamping or stenciling.
Use papers with numbers on them they'll look like an advent calendar or a countdown for Christmas eve.
Use old holiday cards or gift tags as mini pages.
WHAT TO DO WITH A CHRISTMAS JUNK JOURNAL
The idea of using all your paper leftovers is to make something useful out of them so here are a few ideas how to use your Christmas junk journal:
Fill it with holiday photos, inspirational quotes or family memorabilia.

Keep it for yourself as a holiday journal for notes.

Give it as a gift to a crafty friend or an artist.

Make it into an advent calendar counting towards the 24th.
Use it as a brag book for your holiday photos.
Sharing is caring - PIN IT!