Inside: how to make a steampunk shadow box with a romantic style to it
I think shadow boxes are just magical. They combine two things I love, the first is boxes. I love them, I collect them, I buy them even if I don't need them. You can put all your treasures, memories and secrets in a box. The second thing is touching. One of the reasons I love traditional scrapbooking and not digital is you can feel the page. You can touch it, go over all the elements with your hand and bond with them. Bond with the story. Shadow boxes are the same because you can touch everything in the box and feel the story.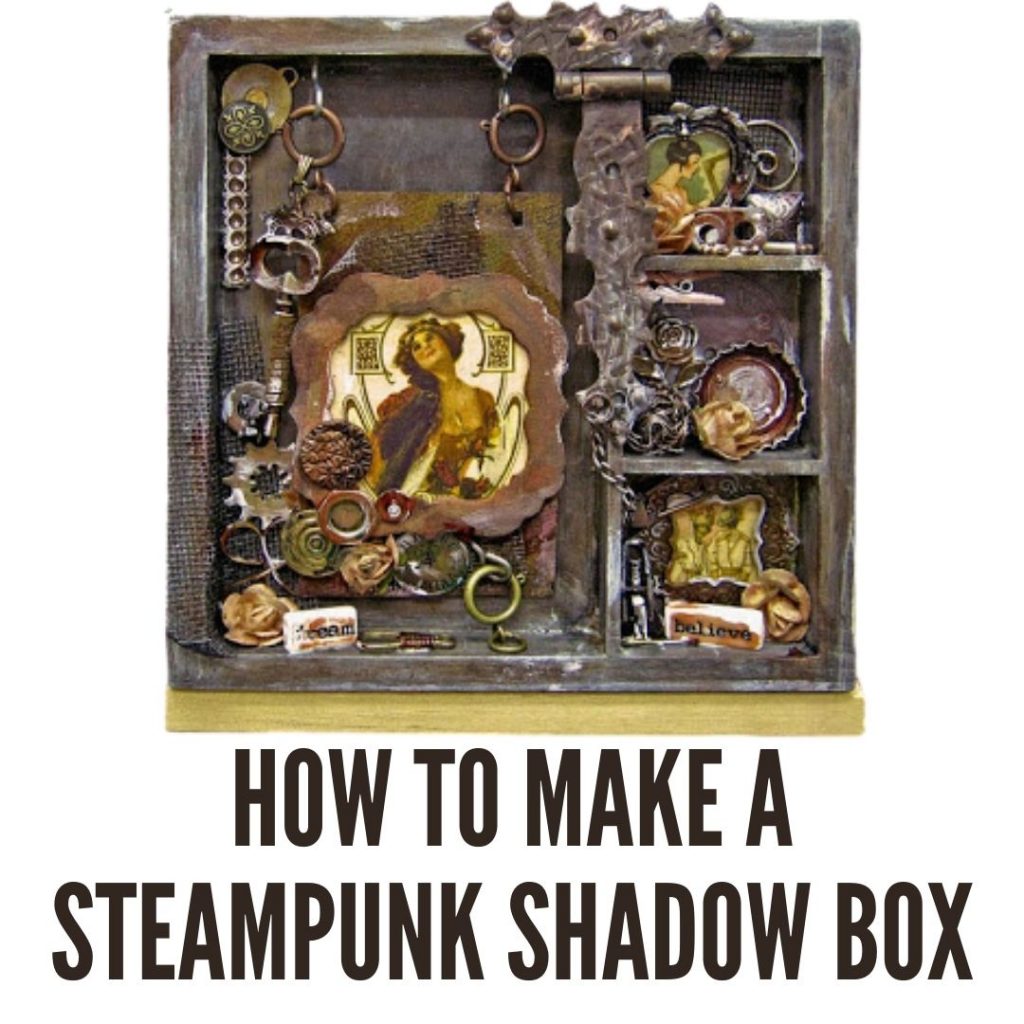 WHAT MAKES A STEAMPUNK SHADOW BOX UNIQUE
There are many styles of shadow box you can make like you would scrapbook pages, cards or mixed meia canvases.
A steampunk shadow box has an industrial mechanical look that is added by using metal embellishmnets like:
Hinges
Cogwheels and washers
Screws, zippers and chains
Bolts
The industrial look is also achieved by the color of the box that is usually brown, rustic and distressed.
HOW TO ADD A ROMANTIC TOUCH TO THE PROJECT
In this project I wanted to complement the steampunk look with something a little softer. One of the steampunk styles is images from the victorial era so I added some images of women (from the 20's not from the victorial era) but they fit in with the overal theme. I also added some less industrial or mechanical shaps like a heart frame and some flowers.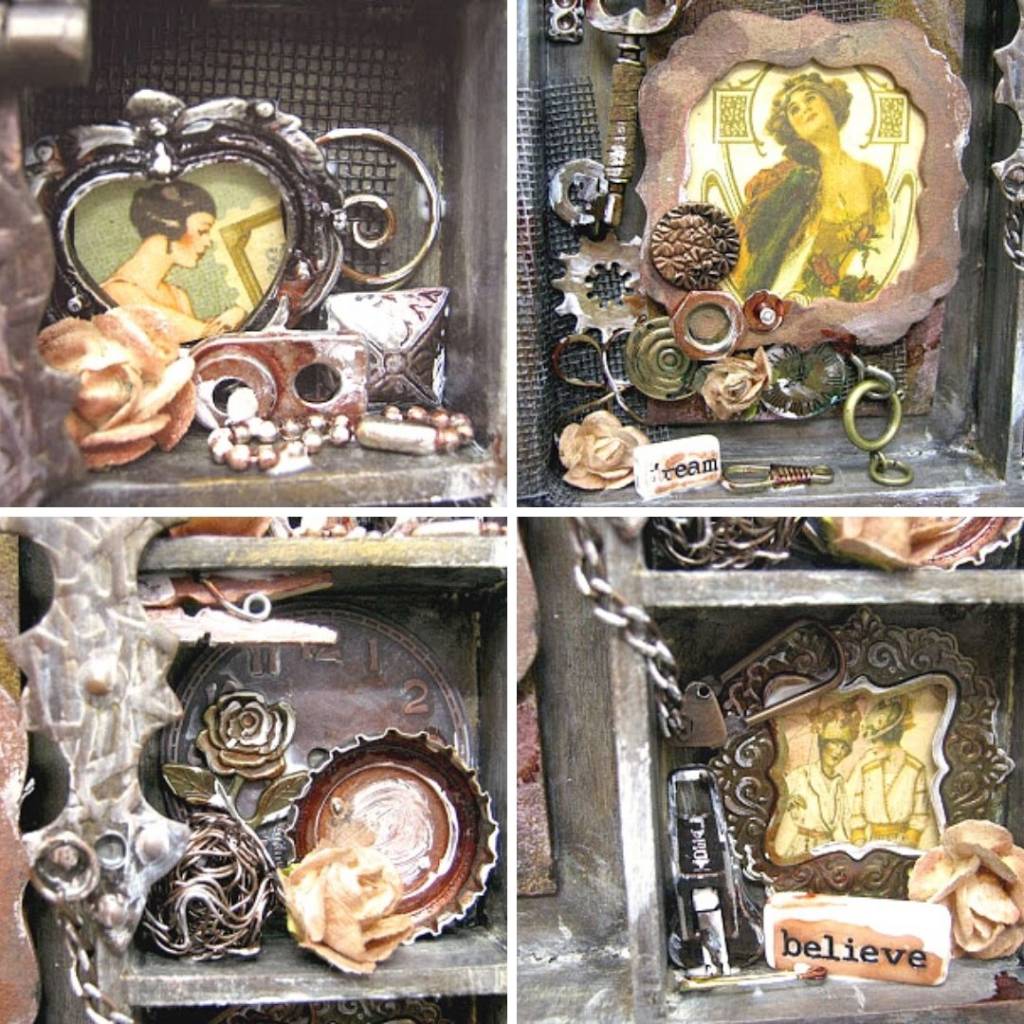 HOW TO MAKE A STEAMPUNK SHADOW BOX
TYPE OF BOX
Shadow box is a deep wooden or chipboard box that is either opened or closed with glass. The box is deep enough to put 3D objects in it and can be divided into compartments.
You can use store bought shadow box or make your own shadow box from chipboard or even unused cardboard or metal boxes.
PROJECT PREPARATION
COLOR
Start by coloring the box if needed. Match the color to the theme. I used a wooden box for this poject so I could have left it as is. I wanted to give it a distressed look so I added some white color to it to make it look more worn and old.
BACKGROUND
You can add details to the background:
Industrial looking nets or metal sheets attached to the walls and frame of the box.
Cover the inside of each compartment with paper.

WHAT TO PUT INSIDE A SHADOW BOX
You can basically put any 3D object inside a shadow box as long as it fits inside. I like to put different objects and fit more than one inside each compartment. This way I can arrange them according to size and put the larger objects in the back while the smaller objects are in the front. The more objects you add to a shadow box the more detailed and interesting it will look.
HOW TO ATTACH THE OBJECTS
Since you are making a shadow box with small items you don't need special materials like wires to secure them into place. Use strong glue to attach the items to the box. I like to use thick gel medium which dries clear and holds metal objects really well. You can also use glues like E6000 or Tacky glue. Hot glue is less recommended because in time it tends to loose its grip.
Heavy gel medium
                  E6000               Tacky glue
In this project I used a few really fun and interesting techniques like: paint layering, building a hanging mechanism and embellishments layering as well. Watch the step by step video tutorial to learn all the techniques and create a shadow box from start to finish.

Making a steampunk shadow box is a great opportunity to use things you have in your stash or your husband's. If you're looking for some interating objects to add to your box you can check some industrial findings, keys and locks and some steampunk buttons here.
Sharing is caring - PIN IT!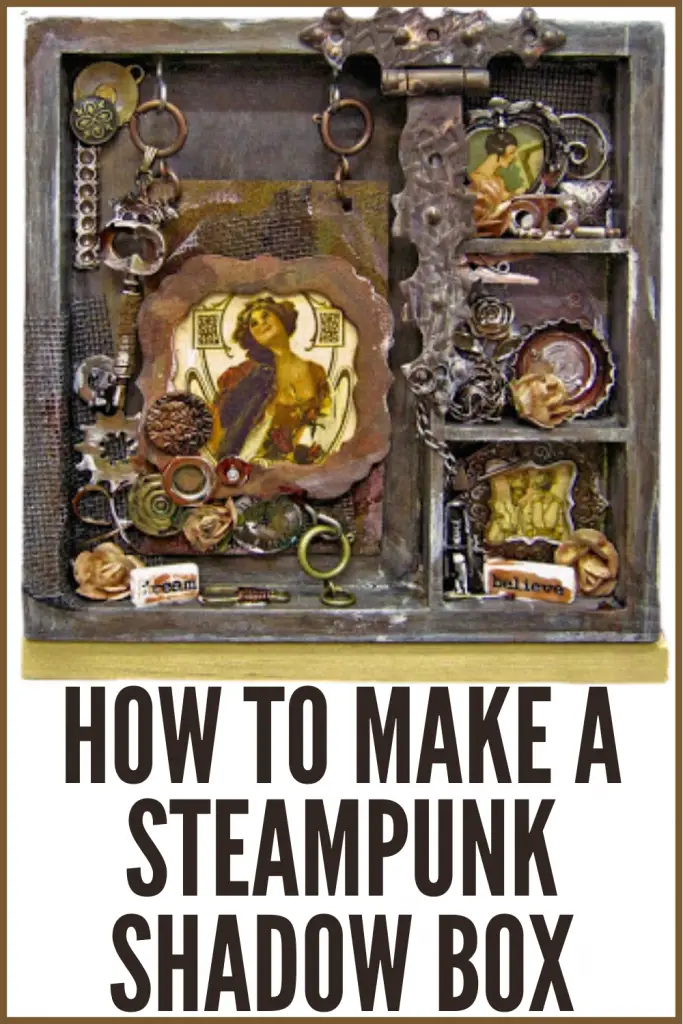 Have fun creating!